FHN Mother & Babycat Can
Complete feed for cats - Specially for the queen and her kittens - Gestating and lactating queen - 1st age kittens from 1 to 4 months old during weaning (ultra soft mousse).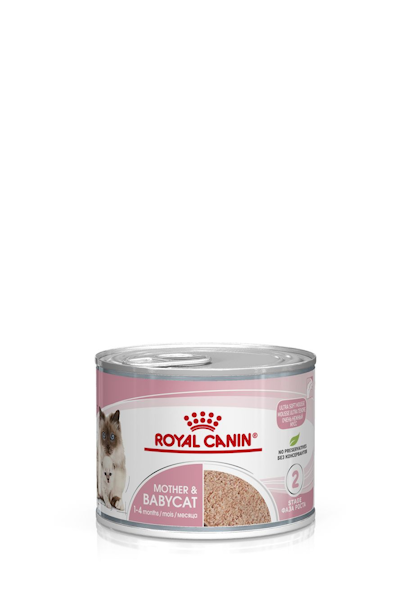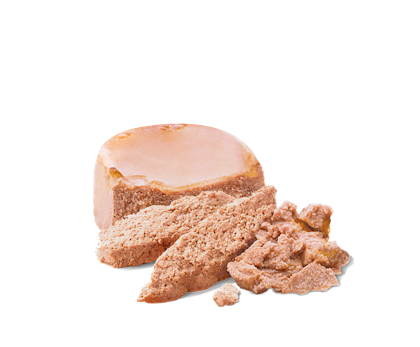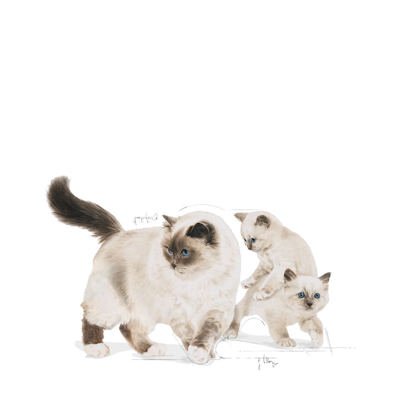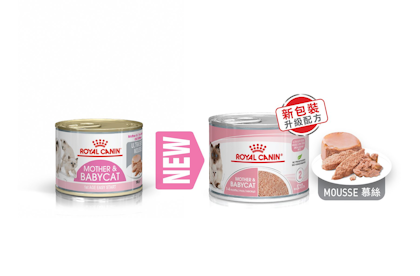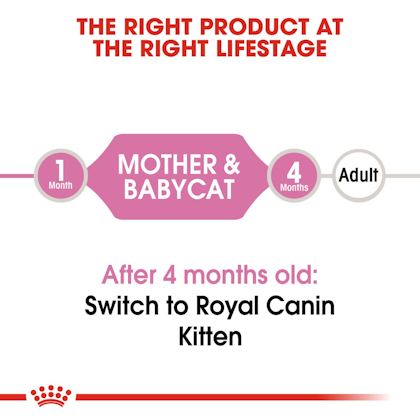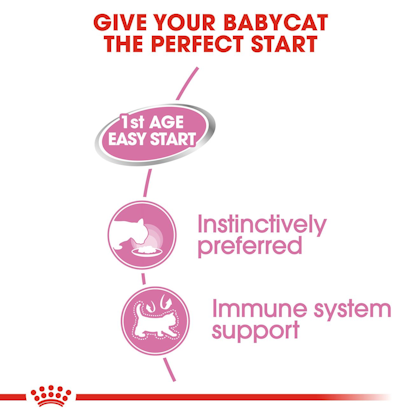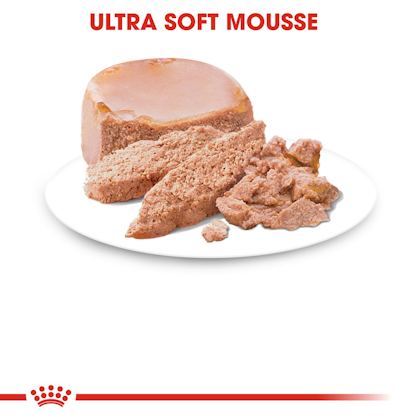 1st age easy start

For 1st age kittens, the "mousse" texture of Mother and Babycat facilitates the transition to solid food.

Instinctively preferred

Nutritional profile instinctively preferred by kittens and gestating queens.

Immune system support

Helps support the 1st age kitten's natural defences.

ROYAL CANIN® Mother & Babycat Loaf is formulated with the nutritional needs of the mother and her kittens in mind. This food is suitable for gestating or lactating queens as well as 1 to 4 month old kittens during their 1st age. Between 4 and 12 weeks after birth, the natural immunity acquired from the mother's colostrum (a milky secretion rich in protective antibodies) gradually decreases. ROYAL CANIN® Mother & Babycat contains a patented complex of antioxidants, including vitamin E, which helps to support the kittens' natural defences while their immune systems are still developing. ROYAL CANIN® Mother & Babycat Loaf is ultra-soft with a delicate mousse texture for easy chewing and effective rehydration. ROYAL CANIN® Mother & Babycat Loaf is also designed to match the optimal nutritional profile instinctively preferred by kittens - making weaning and mealtime routines much easier for the consistent intake of nutrients your kitten needs. To cater to each cat's individual preferences, ROYAL CANIN® Mother & Babycat is also available as dry food, in a tasty and crunchy kibble. If you're considering mixed feeding, simply follow our feeding guidelines to ensure your cat gets an accurate amount of both wet and dry food for optimal benefit.
Working towards a sustainable future
Our belief that pets make our world better inspires and gives life to our purpose of making a better A BETTER WORLD FOR PETS ™
Discover more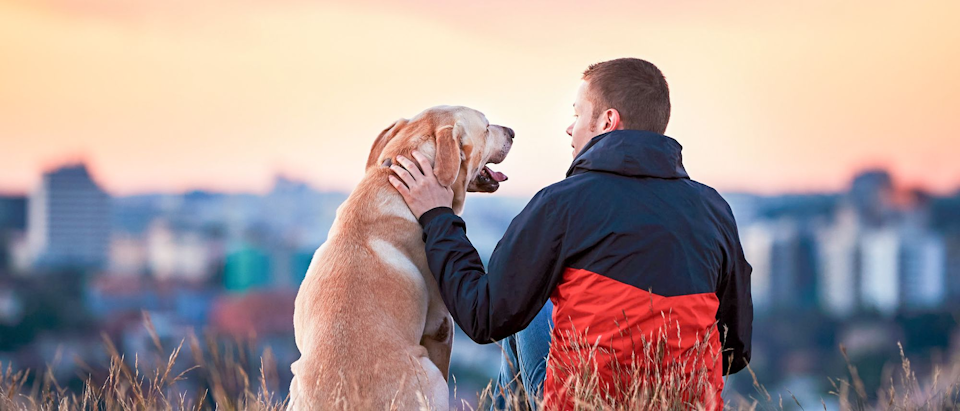 Composition: meat and animal derivatives, cereals, oils and fats, derivatives of vegetable origin, milk and milk derivatives, minerals, yeasts, various sugars.

Additives (per kg): Vitamin D3: 130 IU, E1 (Iron): 5 mg, E2 (Iodine): 0.37 mg, E4 (Copper): 3 mg, E5 (Manganese): 1.5 mg, E6 (Zinc): 15 mg.

Analytical constituants: Protein: 10.5% - Fat content: 5.5% - Crude ash: 1.9% - Crude fibres: 0.9% - Moisture: 79.0%.

Analytical constituants: Protein: 10.5% - Fat content: 5.5% - Crude ash: 1.9% - Crude fibres: 0.9% - Moisture: 79.0%.

| Weight /Age | 5-6 Weeks | 6-7 Weeks | 7-8 Weeks | 8-12 Weeks | 12-16 Weeks |
| --- | --- | --- | --- | --- | --- |
| 3kg | 03-avr | 03-avr | 03-avr | 03-avr | 1 |
| 5kg | 1 | 1 | 1 | 1+1/2 | 1+1/2 |
Alya Blu
09 Oct 2023
Mother and Babycat Ultra Soft Mousse
My rescue kitten loves the Mother and Babycat Ultra Soft Mousse!
Sayrie_04
24 Sep 2023
Shoddy ingredients
I thought this was the best, but after reading the ingredients, I am going to look for an alternative. This is one of the most expensive brands, and also one of the poorest quality ingredient lists. Shameful
Cat mommy
01 Sep 2023
Mother kitten food, stages of food...
Starting newborn kittens off with wheat gluten, carrageenan, and other fillers. Cats are carnivores and your ingredients should read protein based throughout a little veggies is fine. Especially when we gluten is only the 4th ingredient and you don't know the percentage cats are not carbo-based you're starting their little systems off with nothing but wheat and gluten. It could be a fine food if you replace these items and use actual meat based proteins Whole foods please.
Foster Mom and Babies
22 Apr 2023
Moms and Kittens Voted #1 !!
As a Foster to over 160 Moms and Newborns I can say with confidence that Mother and BabyCat Wet and Dry food is a key factor in their health and development. The difference is visible in the kitten's desire to wean and eat on their own. Moms love it ! Often times Moms are undernourished when they arrive and proper nutrition is the difference maker for both themselves and their babies starting at birth.
08 Feb 2023
Best food out there for kittens and seniors
I foster neonate kittens and always use this food as it is the highest quality and gives these kittens the best chance. I also use it for my senior cat who has stomatitis and has had all his teeth removed, he loves this food and it helps keep the weight on him
Bugfan
16 Dec 2022
New to the kitten world
I'm learning as I go through this process of raising kittens. My queen is a bag of bones 5 weeks after they were born. Today I bought this food and mom is back to full nursing, but the babies are full of energy!! Thanks for an awesome product!!
Royal Canin response
Thank you for your kind words. We are very happy to hear that your cat is loving this product.
Opals Mama
20 Jun 2022
Opal loves it
My little orphan Opal gets this mixed with some 2nd stage kmr to gain some weight and she loves it! Will continue using other stages when the time comes
TMVMD
20 May 2022
Has to be good
In response to "holistic cat mom" where are these Ten Commandments of cat food ingredients listed and who wrote them with what educational basis? I will gladly forward to every other vet I know