SHN Maxi Ageing 8+ Dog (Gravy)
Complete feed for dogs - For senior large breed dogs (from 26 to 44 kg) - Over 8 years old.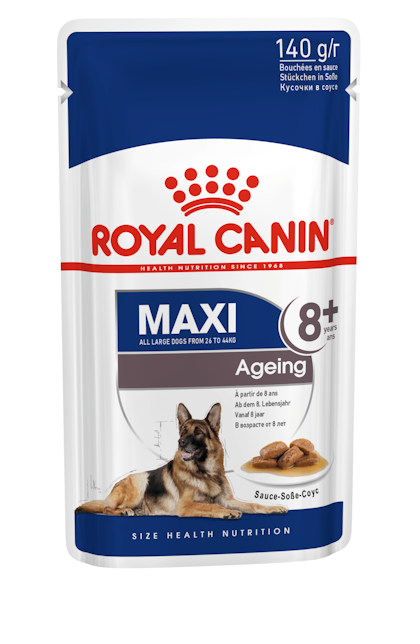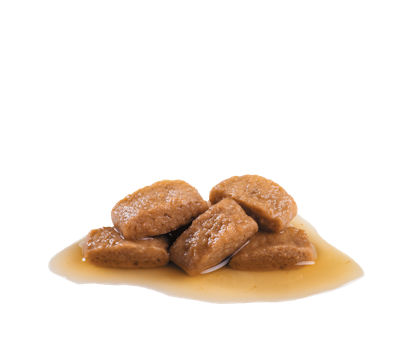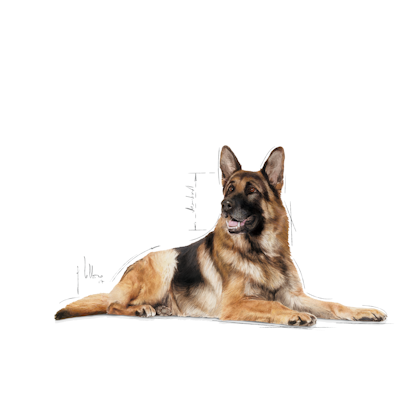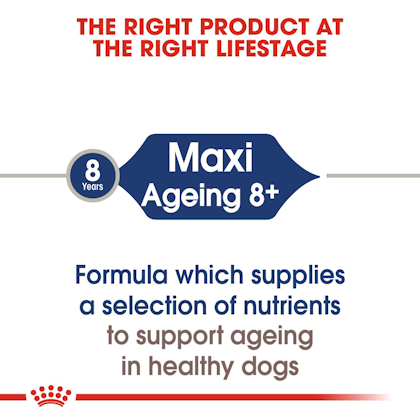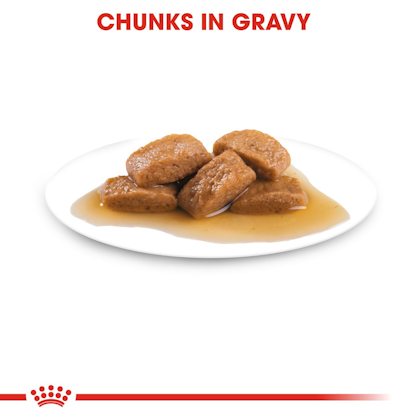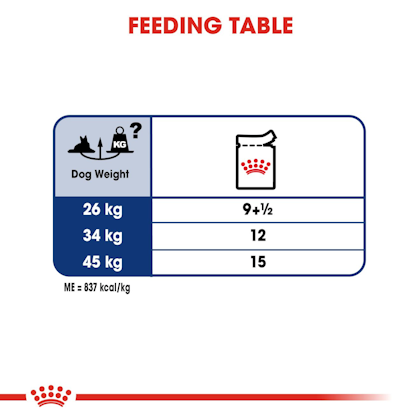 Healthy ageing support

Contains EPA, DHA and an exclusive complex of antioxidants to help neutralise free radicals.

Bone and joint support

Helps maintain healthy bones and joints in ageing large breed dogs.

High digestibility

Helps support digestive health and a balance in the intestinal flora.

Suitable for all large dogs over 8 years old that weigh between 26-44 kg, ROYAL CANIN® Maxi Ageing 8+ in Gravy is specially formulated with all the nutritional needs of your large adult dog in mind. ROYAL CANIN® Maxi Ageing 8+ in Gravy is developed to support healthy ageing in large breed dogs like yours. It's enriched with an exclusive complex of antioxidants to help neutralise free radicals. It also contains EPA and DHA – Omega-3 fatty acids that help to support your dog's bones and joints as it ages. Maintaining the health of your dog's bones and joints is essential at this stage of its life, particularly for large breed dogs as they have more bodyweight to support. What's more, ROYAL CANIN® Maxi Ageing 8+ in Gravy contains very high quality protein – specifically chosen for its high digestibility. To cater to each dog's individual preferences, ROYAL CANIN® Maxi Ageing 8+ is also available as dry food, with crunchy and tasty kibble. If you're considering mixed feeding, simply follow our feeding guidelines to ensure your dog gets an accurate amount of both wet and dry food for optimal benefit.
Working towards a sustainable future
Our belief that pets make our world better inspires and gives life to our purpose of making a better A BETTER WORLD FOR PETS ™
Discover more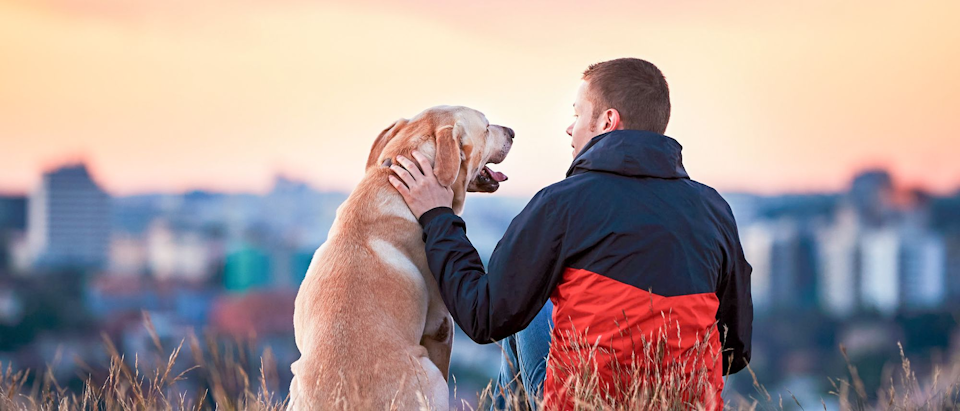 Composition: meat and animal derivatives, oils and fats, cereals, derivatives of vegetable origin, vegetable protein extracts, minerals, vegetables.

Additives (per kg): Nutritional additives: Vitamin D3: 150 IU, Iron (3b103): 6 mg, lodine (3b202): 0.12 mg, Copper (3b405, 3b406): 1 mg, Manganese (3b502, 3b503, 3b504) : 1.8 mg, Zinc (3b603, 3b605,3b606): 18 mg - Technological additives: Clinoptilolite of sedimentary origin: 2 g.

Analytical constituants: Protein: 8.0% - Crude fibres: 1.1% - Fat content: 5.5% - Crude ash: 1.6% - Moisture: 81.0% - EPA and DHA: 0.12%.

Feeding instruction: see table. Batch number, factory registration number and best before date: see information on packaging. To be stored in a cool, dry place.

Guaranteed analysis g/kg: Crude Protein (min) 60 - Moisture (max) 840 - Crude Fat (min) 35 - Crude Fibre (max) 21 - Crude ash (max) 18. Product registration number: XXXXXX - Act 36/1947. For Namibia: N-FF XXXX.

Analytical constituants: Protein: 8.0% - Crude fibres: 1.1% - Fat content: 5.5% - Crude ash: 1.6% - Moisture: 81.0% - EPA and DHA: 0.12%.

| Weight of dog | Pouches per day |
| --- | --- |
| 26 kg | 10 pouches |
| 29 kg | 10+1/2 pouches |
| 34 kg | 12 pouches |
| 35 kg | 12+1/2 pouches |
| 42 kg | 14 pouches |
| 45 kg | 15 pouches |
Dove
12 Mar 2020
Woof
The royal dog food huge size . My dogs tried it out and was not sure if they wanted more or not then next day tried again and it was amazing how much they enjoyed this dog food not to crumbly or hard or to soft easy to get to
DonnaM
17 Jan 2020
My dog Seems to like it
I really don't know what to say but my dogs have been eating it with their dry food and they have been active almost like a young adult ..........................................I love my furry kids ..
WildSngrNY
06 Jan 2020
My Dog Loved This!
I don't often go for the "fancy" food for my dog, but I gave this as a supplement to his regular food for a little while. He absolutely devoured it! It didn't seem to cause any digestive issues, the way new foods often can; it also didn't stink when I opened the package (you all know what I'm talking about!). It's a bit pricey for my household budget, but I would definitely consider getting this again for my aging pooch (12-year-old lab).
Kbaytes
02 Jan 2020
Great for large old dogs
I have a 10 year old mastiff mix and 9 year old mastiff. My dogs love this food. I pour it on top of their regular food at feeding time. The gravy is a great consistency and evenly coats the food. The chunks are a decent size as well. My dogs have been in this food for about 7 weeks now and I can see a difference in their movements. They are more active these days. Their joints do not seem to ache as much. Their coats are shinier as well. My 9 year old mastiff has digestive issues and she has no problems with this food. My new go to for wet food.
Ashleyc518
24 Dec 2019
Great product
I got this a couple weeks ago for my older dog and I have noticed a big difference in him since using this product. He loves the taste. He has more energy and has been wanting to play which he didn't before trying this. I would definitely recommend this to others with older dogs.
tmusgrave86
23 Dec 2019
My Dog Loves It
My dog is 8 years young and I am always looking out for food that has the nutrients and ingredients that he needs. This food is perfect because it can be used as a nutritional supplement, and added to his existing food, or used on its own as his main food. I chose to use it as a supplement and have been really pleased. My dog seems to really enjoy it, and I am happy that he is getting the added nutrients he needs. The packaging is easy to open and put on his food. It also is mess free and convenient. It's a great supplement.
VanesaP
21 Dec 2019
My old girl loves it!
My old girl loves her Canin food pouches she always gets excited for dinner. I always add one pouch to her meal everyday and she loves to devour it, I'm glad she likes it and she's also getting the vitamins that needs it's a win win. Will definitely keep on buying them for her.
Ngoff
18 Dec 2019
Doggy loves it
At first i was very hesitant on switching my dogs food to royal canine because of gastric upsets. I gradually added some to her old food & she gobbles it up like it is going out of style. Her energy level is through the roof now all thanks to royal canine.
Breazy
18 Dec 2019
Dog loved it
These handy packets are great, especially nice when traveling recently and taking my god with! However due to the size of my large breed dog, I have to use multiple per meal. It would be nice if they were packaged as a one pack per meal especially since I got the large breed kind. However my dog did love them so would still purchase this product again!
ccgirl11
17 Dec 2019
my dogs think it's a treat
my dog loves these pouches, I have been mixing the pouches with there normal food and they have been chowing down on it. They have been getting really excited when I come out cause they think it's a treat.