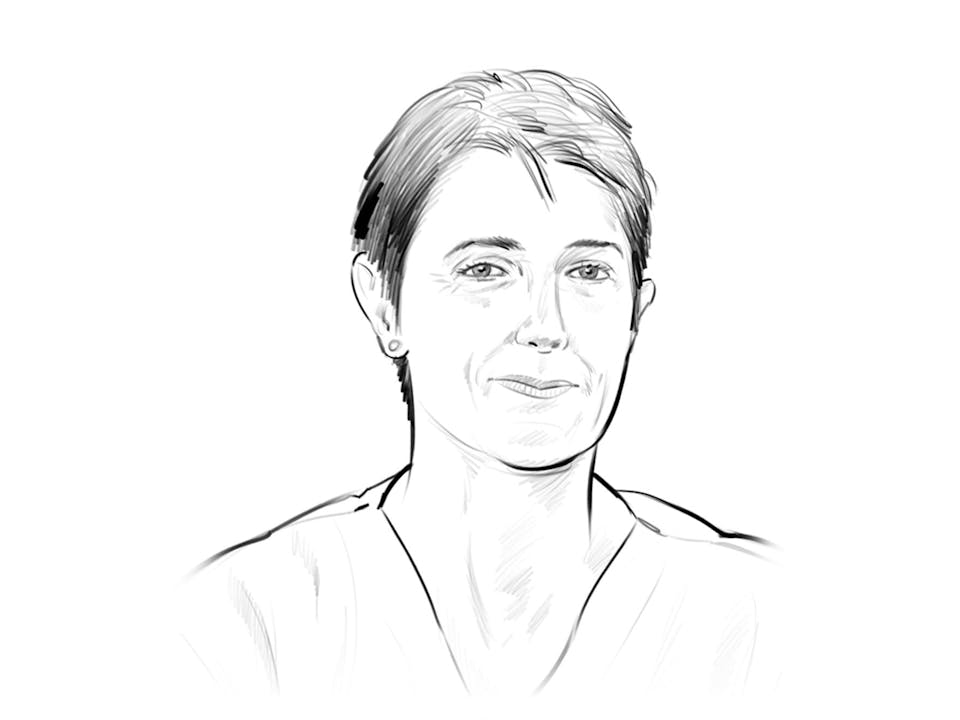 Credentials: Veterinarian • Specialist in Reproductive and Developmental Biology
• Professor of Veterinary Reproduction
Homebase: The Ecole Nationale Vétérinaire de Toulouse
Where in the world: Toulouse, France
The one looking after mothers and their offspring
Professor Sylvie Chastant, a member of our Puppy & Kitten Expert Board, is a professor of Reproduction at the National School of Veterinary Medicine in Toulouse, France. Before her current position, she taught animal reproduction at the prestigious veterinary school in Alfort, near Paris, from which she–- and fellow board member Dr. Pascale Chavatte-Palmer--graduated. A self-described 'total workaholic', Professor Chastant is dedicated to the health of, essentially, kittens and puppies from birth to around 2 months.
According to her parents, she announced she was going to become a veterinarian at the age of 6. Her great- grandfather had also been one. Young Sylvie was fascinated by reproduction from a relatively early age as well, captivated by the fact that two simple cells could join together to form an entire and complex organism, a life. And, as newborns are born so fragile, she rightly thought it would be interesting and worthwhile to work on making their start in life a less bumpy ride.
Historically, household pet health wasn't really studied extensively and, while things are fittingly changing at a rapid pace, it always surprises the professor's students to learn this. As Professor Chastant says, unless an animal was being raised for economic reasons, scientists weren't motivated to spend research money on them. So, while science has had answers for calves and foals for years, domestic animal reproductive and neonatal health knowledge used to lag behind. If at present, the level of medicine and surgery for cats and dogs is close to that of human medicine--because these wonderful animals have taken their rightful place in our human world-- knowledge of their very early days/weeks is still dramatically lacking.
According to Professor Chastant, the movement to ensure better maternal health in the reproductive and newborn areas for cats and dogs is gaining real ground. Preparing a female to reproduce takes planning, from genetic analysis beforehand to see what anomalies she might be carrying and making sure the potential mother is in good health and physical shape to monitoring the bitch, or the queen for cats, throughout gestation, her food included. For Professor Chastant, this is the way forward to help ensure puppies and kittens are born in optimal health.
"Monitoring the mother is the way forward to help ensure puppies and kittens are born in optimal health."
— Prof. Chastant, Professor of Veterinary Reproduction
The latter was also her motivation for joining the Puppy & Kitten Expert Board. As one of 7 people with different specialties, Professor Chastant sees her seat at the table very clearly. On the one hand, she has the "clinical" experience: as a veterinarian, she takes care of newborn puppies and kittens, including in intensive care. And on the other, her work to align with cat and dog breeders led Professor Chastant to develop her neonatal applied research unit. She did it with two main aims: to improve the knowledge of physiology and pathologies of newborns--as Professor Chastant says, few teams in the world do it because the subject is difficult to study in practice on such small specimen--and to provide kitten and puppy owners with the tools and knowledge to raise and maintain their pets in good health over the long-term. They are goals she shares with her fellow expert board members.
Professor Chastant has known fellow expert board member Dr. Chavatte-Palmer for a long time. They are currently collaborating to explore the role of the canine placenta and its relationship to the birth weight of the pups. And her unit has already been working with fellow member Dr. Jan Suchodolski, tapping into his expertise in companion animal microbiota, to understand the digestive microflora installation from birth in puppies. Professor Chastant thinks the expert board can be a powerful ally in improving quality of life for the pets of the world, by promoting the idea that health already starts with the health of the mother. And with scientists and evidence-based medicine leading the way, Professor Chastant believes that Royal Canin, active and present in a lot of countries, can help them have greater reach to set out policy with their findings, not only with vets and breeders, but with pet owners as well.

With a poster of Marie Curie, her idol, above her desk, Professor Chastant has all the inspiration she needs to keep paving new paths. As she points out, "Marie Curie was the first woman in history to get a Nobel Prize in spite of many doors initially closed in her face. She was disruptive. She dared to venture into unknown territories – and was a great scientist, to say the very least." A great reminder indeed of the power of focusing on what you know to be right.
Moments that matter
1999 - Creation of a lab dedicated to dog ovocytes and embryos

2010 - Transfer to Ecole Nationale Vétérinaire de Toulouse, a geographical and thematic change, from bovine reproduction and canine IVF research to teaching cat and dog reproduction
2012 - Creation of NeoCare, research unit devoted to canine and feline neonatalogy
5 questions with Prof. Chastant

Can people be both a cat and dog person?
I think some people are a little Noah's Ark-ish, meaning any animal makes them happy. These are people who have 2 dogs, 3 cats, an iguana, a horse in the garden, 4 mice, etc. But I think that most people, even if they have 2 animals, tend to lean towards one or the other. They're not the same kind of people. Just my opinion!
How many dogs have you owned?
I have had 3 dogs in my life. My first was a golden Cocker Spaniel named Otcho – a female dog who didn't always have the best disposition, but I was her owner and we got along well. So, that was my first dog. After, I had 2 Great Danes. One named Fégor – that was the name the breeder gave him – an abbreviation of Belphégor. He was born during the year of the F's – in France, we name our dogs according to the year they are born, each year gets a letter of the alphabet* - so he had to have a name starting with 'F'. And there was Magellan, famous in the halls of the vet school.
Tell us more about your Great Dane, Magellan?
Magellan came to work with me every day. Where better than a veterinary school to take a dog to work with you? He made the students laugh as he resembled a calf somewhat--I was teaching bovine reproduction and surgery at that time, so it was fitting. Magellan came with me to the stables and sat behind the cows, silently watching them, waiting. The cows always stayed quiet, too, equally interested in Magellan. Perhaps because they saw him as similar to their calves as well? He watched the horses go by at the school. Otherwise, he'd be in my office. He greeted visitors, but when people came in and he stood up, people were generally astonished because, of course, while Great Danes are very sweet animals, they're also very big. I am 1m71, but the top of the dog's head came up to the middle of my chest. And he must have weighed 70 kilos. He was enormous, in both size and personality.
If you were a cat or a dog, which breed would you be?
I'd say a medium-sized Schnauzer. They have a lot of character but aren't aggressive. An animal with a real personality that stands out and knows what they want. If there are intelligent things to do, he's going to do them. He can collaborate, cooperate. I really am describing me as a dog ... I'm happy to do things with people, but there are limits. And, I definitely have a mind of my own. So, yes, I would be a Schnauzer.
What would you be if you weren't a scientist?
When I started my veterinary studies, there was a competition you had to pass before getting into school. And I thought, if I don't get in, I need to be able to do something else. But what else could I do? First, I thought to try and become a gynecologist, to be able to perform obstetrical surgery (the same field under a different flag). And my second thought was to become what we call in France a water and forestry engineer. That is, going out and managing forests. I would have loved that. It would have been completely different.
"The Expert Board can be a powerful ally in improving quality of life for the pets of the world."
— Prof. Chastant, Professor of Veterinary Reproduction