URINARY S/O
Complete dietetic feed for adult cats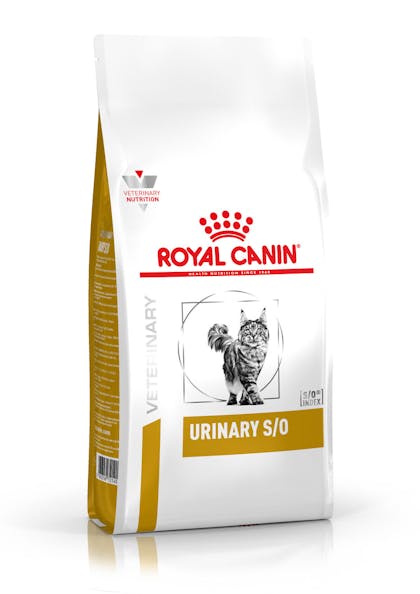 LOW MAGNESIUM

Reduced level of magnesium, a natural component of struvite crystals.

STRUVITE DISSOLUTION

Helps dissolve all types of struvite stones.

URINE DILUTION

Urine dilution makes the urine less liable to form struvite and calcium oxalate stones.

LOW RSS

Helps lower the concentration of ions contributing to crystal formation.

BRAND TEXT VETERINARY

In 1968 in the South of France, a veterinarian named Jean Cathary discovered he could help dogs heal more fully through tailored nutrition. In this visionary act, Royal Canin was born. Today, using advanced veterinary science and careful observation to identify the most adapted nutrients, our 220+ individual formulas support the health of every individual cat and dog.

SENSITIVITIES 1

Urinary crystals are a primary factor in the development of bladder stones and may occur when there is a dietary mineral excess.
Working towards a sustainable future
Our belief that pets make our world better inspires and gives life to our purpose of making a better A BETTER WORLD FOR PETS ™
Discover more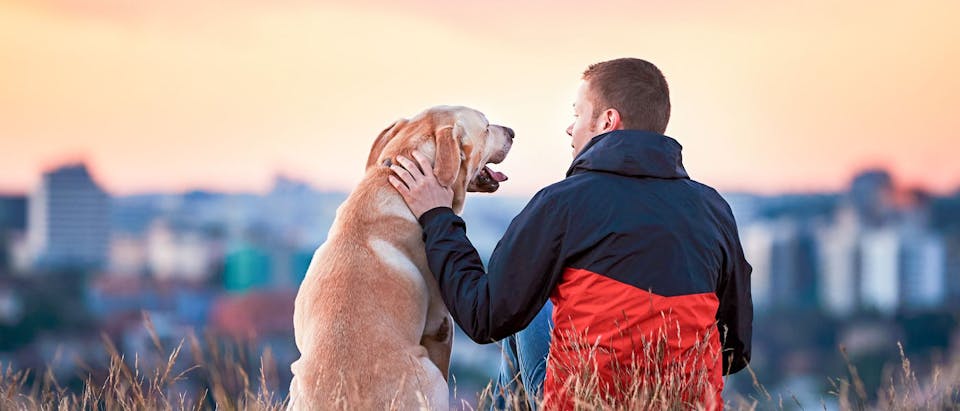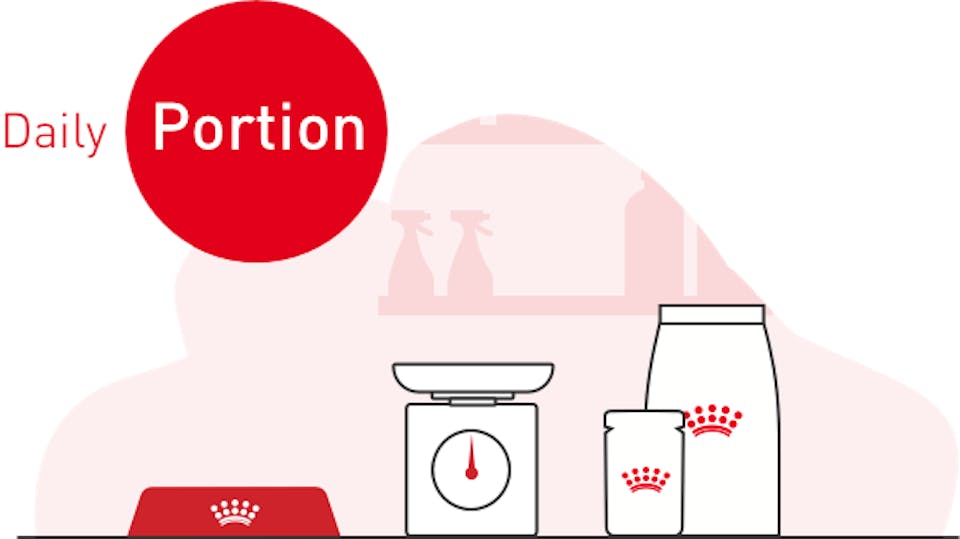 Discover our tool that calculates the daily portion for your pet. Fill in your pet's information and you will get their daily feeding recommendation. In case of weight issues, do not hesitate to consult your vet to adapt this portion. Note that this feeding recommendation is more precise than the feeding table, therefore the values may slightly differ.
Calculate
Complete dietetic feed for adult cats

ROYAL CANIN® URINARY S/O dry is a complete dietetic feed for cats, formulated for the dissolution of struvite stones and the reduction of struvite stone recurrence. Urine undersaturating or metastabilising properties for struvite and/or Urine acidifying properties. RECOMMENDATIONS: It is recommended that advice from a veterinarian be sought before use and before extending the period of use. Feed URINARY S/O dry for 5 to 12 weeks for the dissolution of struvite stones and initially up to 6 months for the reduction of struvite stone recurrence.

COMPOSITION: rice, wheat gluten*, dehydrated poultry protein, maize flour, animal fats, hydrolysed animal proteins, maize gluten, minerals, vegetable fibres, fish oil, soya oil, fructo-oligo-saccharides, marigold extract (source of lutein).

ADDITIVES (per kg): Nutritional additives: Vitamin A: 21500 IU, Vitamin D3: 800 IU, E1 (Iron): 37 mg, E2 (Iodine): 3.7 mg, E4 (Copper): 11 mg, E5 (Manganese): 48 mg, E6 (Zinc): 136 mg, E8 (Selenium): 0.06 mg - Preservatives - Antioxidants.

ANALYTICAL CONSTITUANTS: Protein: 34.5% - Fat content: 15.0% - Crude ash: 8.9% - Crude fibres: 2.9% - Calcium: 0.9% - Phosphorus: 0.9% - Sodium: 1.3% - Chloride: 2.26% - Potassium: 1% - Magnesium: 0.05% - Sulphur: 0.7% - Total taurine: 0.23% - Urine acidifying substances: calcium sulphate (1.25%) - DL-methionine (0.39%)- EPA and DHA = 0.37%.

FOR RSA: Guaranteed analysis g/kg: Crude protein (min) 325 - Moisture (max) 70 - Crude fat (min) 130 - Crude fibre (max) 39 - Crude ash (max) 98. Product registration number: XXXXXX - Act 36/1947. For Namibia: N-FF XXXX.

* L.I.P.: protein selected for its very high digestibility.

FEEDING INSTRUCTION: Water should be available at all times. Batch number, factory registration number and best before date: see information on packaging. To be stored in a cool, dry place.

Complete dietetic feed for adult cats

ROYAL CANIN® URINARY S/O dry is a complete dietetic feed for cats, formulated for the dissolution of struvite stones and the reduction of struvite stone recurrence. Urine undersaturating or metastabilising properties for struvite and/or Urine acidifying properties. RECOMMENDATIONS: It is recommended that advice from a veterinarian be sought before use and before extending the period of use. Feed URINARY S/O dry for 5 to 12 weeks for the dissolution of struvite stones and initially up to 6 months for the reduction of struvite stone recurrence.

COMPOSITION: rice, wheat gluten*, dehydrated poultry protein, maize flour, animal fats, hydrolysed animal proteins, maize gluten, minerals, vegetable fibres, fish oil, soya oil, fructo-oligo-saccharides, marigold extract (source of lutein).

ADDITIVES (per kg): Nutritional additives: Vitamin A: 21500 IU, Vitamin D3: 800 IU, E1 (Iron): 37 mg, E2 (Iodine): 3.7 mg, E4 (Copper): 11 mg, E5 (Manganese): 48 mg, E6 (Zinc): 136 mg, E8 (Selenium): 0.06 mg - Preservatives - Antioxidants.

ANALYTICAL CONSTITUANTS: Protein: 34.5% - Fat content: 15.0% - Crude ash: 8.9% - Crude fibres: 2.9% - Calcium: 0.9% - Phosphorus: 0.9% - Sodium: 1.3% - Chloride: 2.26% - Potassium: 1% - Magnesium: 0.05% - Sulphur: 0.7% - Total taurine: 0.23% - Urine acidifying substances: calcium sulphate (1.25%) - DL-methionine (0.39%)- EPA and DHA = 0.37%.

FOR RSA: Guaranteed analysis g/kg: Crude protein (min) 325 - Moisture (max) 70 - Crude fat (min) 130 - Crude fibre (max) 39 - Crude ash (max) 98. Product registration number: XXXXXX - Act 36/1947. For Namibia: N-FF XXXX.

* L.I.P.: protein selected for its very high digestibility.

FEEDING INSTRUCTION: Water should be available at all times. Batch number, factory registration number and best before date: see information on packaging. To be stored in a cool, dry place.

Complete dietetic feed for adult cats

ROYAL CANIN® URINARY S/O dry is a complete dietetic feed for cats, formulated for the dissolution of struvite stones and the reduction of struvite stone recurrence. Urine undersaturating or metastabilising properties for struvite and/or Urine acidifying properties. RECOMMENDATIONS: It is recommended that advice from a veterinarian be sought before use and before extending the period of use. Feed URINARY S/O dry for 5 to 12 weeks for the dissolution of struvite stones and initially up to 6 months for the reduction of struvite stone recurrence.

COMPOSITION: rice, wheat gluten*, dehydrated poultry protein, maize flour, animal fats, hydrolysed animal proteins, maize gluten, minerals, vegetable fibres, fish oil, soya oil, fructo-oligo-saccharides, marigold extract (source of lutein).

ADDITIVES (per kg): Nutritional additives: Vitamin A: 21500 IU, Vitamin D3: 800 IU, E1 (Iron): 37 mg, E2 (Iodine): 3.7 mg, E4 (Copper): 11 mg, E5 (Manganese): 48 mg, E6 (Zinc): 136 mg, E8 (Selenium): 0.06 mg - Preservatives - Antioxidants.

ANALYTICAL CONSTITUANTS: Protein: 34.5% - Fat content: 15.0% - Crude ash: 8.9% - Crude fibres: 2.9% - Calcium: 0.9% - Phosphorus: 0.9% - Sodium: 1.3% - Chloride: 2.26% - Potassium: 1% - Magnesium: 0.05% - Sulphur: 0.7% - Total taurine: 0.23% - Urine acidifying substances: calcium sulphate (1.25%) - DL-methionine (0.39%)- EPA and DHA = 0.37%.

FOR RSA: Guaranteed analysis g/kg: Crude protein (min) 325 - Moisture (max) 70 - Crude fat (min) 130 - Crude fibre (max) 39 - Crude ash (max) 98. Product registration number: XXXXXX - Act 36/1947. For Namibia: N-FF XXXX.

* L.I.P.: protein selected for its very high digestibility.

FEEDING INSTRUCTION: Water should be available at all times. Batch number, factory registration number and best before date: see information on packaging. To be stored in a cool, dry place.

| Cat weight | Thin | - | Normal | - | Overweight | - |
| --- | --- | --- | --- | --- | --- | --- |
| - | (g) | cup | (g) | cup | (g) | cup |
| 2 kg | 39 g | 4/8 | 33 g | 3/8 | 26 g | 2/8 |
| 2.5 kg | 46 g | 4/8 | 38 g | 4/8 | 31 g | 3/8 |
| 3 kg | 52 g | 5/8 | 44 g | 4/8 | 35 g | 3/8 |
| 3.5 kg | 59 g | 5/8 | 49 g | 5/8 | 39 g | 4/8 |
| 4 kg | 64 g | 6/8 | 54 g | 5/8 | 43 g | 4/8 |
| 4.5 kg | 70 g | 6/8 | 58 g | 5/8 | 47 g | 4/8 |
| 5 kg | 75 g | 7/8 | 63 g | 6/8 | 50 g | 5/8 |
| 5.5 kg | 81 g | 1 | 67 g | 6/8 | 54 g | 5/8 |
| 6 kg | 86 g | 1 | 72 g | 7/8 | 57 g | 5/8 |
| 6.5 kg | 91 g | 1 | 76 g | 7/8 | 61 g | 6/8 |
| 7 | 96 g | 1+1/8 | 80 g | 7/8 | 64 g | 6/8 |
| 7.5 kg | 101 g | 1+1/8 | 84 g | 1 | 67 g | 6/8 |
| 8 | 105 g | 1+2/8 | 88 g | 1 | 70 g | 6/8 |
| 8.5 kg | 110 g | 1+2/8 | 92 g | 1+1/8 | 73 g | 7/8 |
| 9 kg | 115 g | 1+3/8 | 96 g | 1+1/8 | 76 g | 7/8 |
| 9.5 kg | 119 g | 1+3/8 | 99 g | 1+1/8 | 79 g | 7/8 |
| 10 kg | 123 g | 1+3/8 | 103 g | 1+2/8 | 82 g | 1 |