Féline GASTRO INTESTINALE RÉPONSE AUX FIBRES – nourriture sèche pour chats
Nourriture complète et équilibrée pour chats adultes.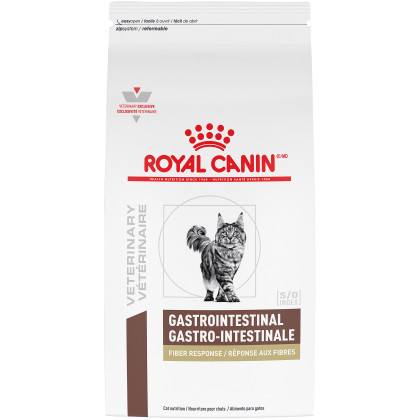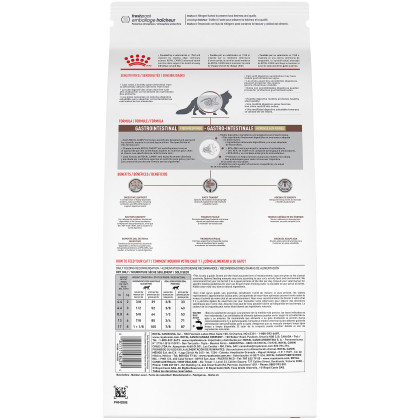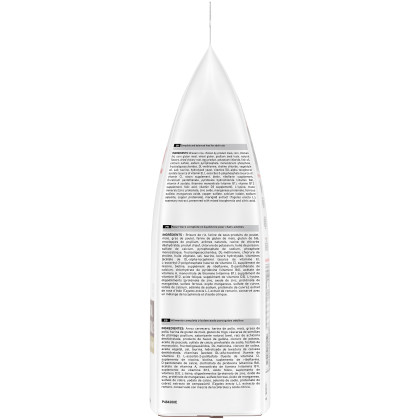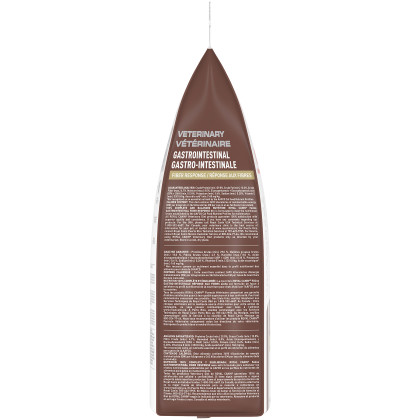 Teneur adéquate en énergie pour maintenir un poids corporel sain.

Un mélange de protéines hautement digestibles et de fibres équilibrées, comprenant desprébiotiques, ainsi que de l'AEP et de l'ADH, aide à soutenir la santé digestive.

Teneur adéquate en énergie pour maintenir un poids corporel sain.

Cette nourriture favorise un milieu urinaire défavorable au développement de cristaux de struviteet d'oxalate de calcium.
Travailler pour un avenir durable
Nous pensons que les animaux de compagnie rendent notre monde meilleur. Cette conviction nous inspire et donne vie à notre objectif de créer UN MONDE MEILLEUR POUR LES ANIMAUX DE COMPAGNIE™.
En savoir plus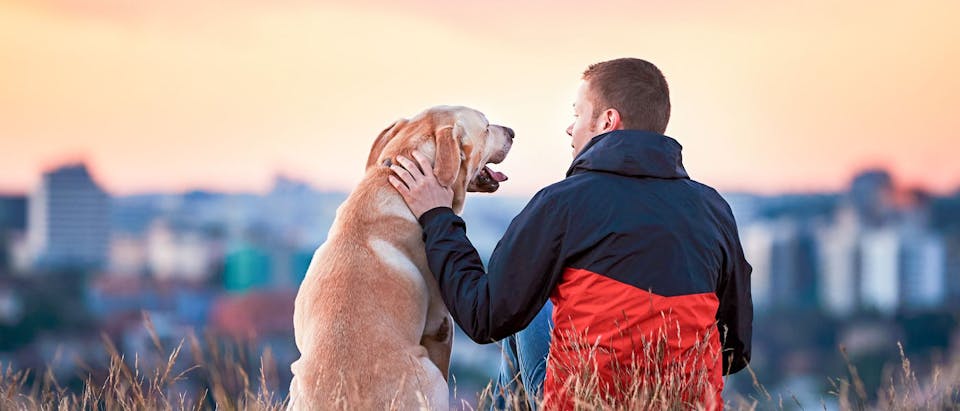 Brisure de riz, farine de sous-produits de poulet, maïs, gras de poulet, farine de gluten de maïs, gluten de blé, enveloppes de psyllium, arômes naturels, racine de chicorée déshydratée, produit d'œuf, chlorure de potassium, huile de poisson, sulfate de calcium, pyrophosphate de sodium, phosphate monocalcique, fructooligosaccharides, DL-méthionine, chlorure de choline, huile végétale, sel, taurine, levure hydrolysée, vitamines [acétate de DL-alpha-tocophérol (source de vitamine E), L-ascorbyl-2-polyphosphate (source de vitamine C), supplément de niacine, biotine, supplément de riboflavine, D-pantothénate de calcium, chlorhydrate de pyridoxine (vitamine B6), acétate de vitamine A, mononitrate de thiamine (vitamine B1), supplément de vitamine B12, acide folique, supplément de vitamine D3], L-lysine, oligoéléments [protéinate de zinc, oxyde de zinc, protéinate demanganèse, sulfate ferreux, oxyde manganeux, sulfate de cuivre, iodate de calcium, sélénite de sodium, protéinate de cuivre], extrait de rose d'Inde (Tagetes erectaL.), extrait de romarin, conservé avec un mélange de tocophérols et d'acide citrique.

Calorie Content

Cette nourriture contient 3690 kilocalories d'énergie métabolisable (EM) par kilogramme ou 362 kilocalories EM par tasse de nourriture donnée (calculée).

| | |
| --- | --- |
| Protéines brutes (min) | 29,0% |
| Matières grasses brutes (min) | 13,0% |
| Fibres brutes (max) | 4,7% |
| Humidité (max) | 8,0% |
| Acide eicosapentaénoïque + docosahexaénoïque (AEP + ADH) (min) | 0,18% |
| Potassium (min) | 0,6% |
| Sodium (min) | 0,28% |
| Vitamine E (min) | 330UI/kg |
| Acide ascorbique* (min) | 160mg/kg. * Non reconnu comme un nutriment essentiel dans le profil nutritionnel des aliments pour chats de l'AAFCO. |

*Non reconnu comme un nutriment essentiel dans le profil nutritionnel des aliments pour chats de l'AAFCO.

| Poids corporel | Activité modérée | Activité moyenne | Activité élevée |
| --- | --- | --- | --- |
| 4.4 lb (2 kg) | 1/4 tasse (26 g) | 3/8 tasse (33 g) | 3/8 tasse (39 g) |
| 5.5 lb (2.5 kg) | 3/8 tasse (31 g) | 3/8 tasse (38 g) | 1/2 tasse (46 g) |
| 6.6 lb (3 kg) | 3/8 tasse (35 g) | 3/8 tasse (43 g) | 1/2 tasse (52 g) |
| 7.7 lb (3.5 kg) | 3/8 tasse (39 g) | 1/2 tasse (48 g) | 5/8 tasse (58 g) |
| 8.8 lb (4 kg) | 3/8 tasse (43 g) | 1/2 tasse (53 g) | 5/8 tasse (64 g) |
| 9.9 lb (4.5 kg) | 1/2 tasse (46 g) | 5/8 tasse (58 g) | 3/4 tasse (69 g) |
| 11 lb (5 kg) | 1/2 tasse (50 g) | 5/8 tasse (62 g) | 3/4 tasse (75 g) |
| 12 lb (5.5 kg) | 1/2 tasse (53 g) | 5/8 tasse (67 g) | 7/8 tasse (80 g) |
| 13 lb (6 kg) | 5/8 tasse (57 g) | 3/4 tasse (71 g) | 7/8 tasse (85 g) |
| 14 lb (6.5 kg) | 5/8 tasse (60 g) | 3/4 tasse (75 g) | 7/8 tasse (90 g) |
| 15 lb (7 kg) | 5/8 tasse (63 g) | 3/4 tasse (79 g) | 1 tasse (95 g) |
| 17 lb (7.5 kg) | 5/8 tasse (67 g) | 7/8 tasse (83 g) | 1 tasse (100 g) |
| 18 lb (8 kg) | 3/4 tasse (70 g) | 7/8 tasse (87 g) | 1 1/8 tasse (105 g) |
| 19 lb (8.5 kg) | 3/4 tasse (73 g) | 7/8 tasse (91 g) | 1 1/8 tasse (109 g) |
| 20 lb (9 kg) | 3/4 tasse (76 g) | 1 tasse (95 g) | 1 1/8 tasse (114 g) |
| 21 lb (9.5 kg) | 3/4 tasse (79 g) | 1 tasse (99 g) | 1 1/4 tasse (118 g) |
| 22 lb (10 kg) | 7/8 tasse (82 g) | 1 tasse (102 g) | 1 1/4 tasse (123 g) |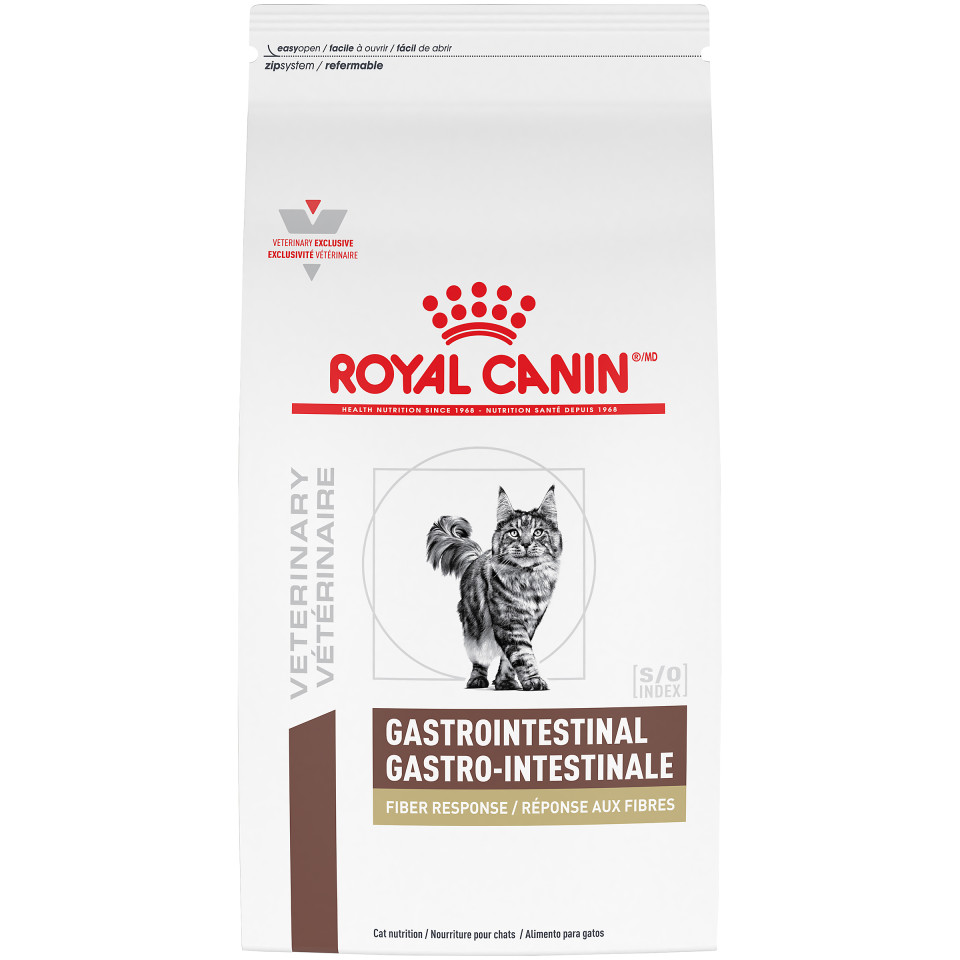 Vous avez encore des questions sur ce produit?
Cette section explique comment accéder à la page Contact en cliquant sur le lien ci-dessous pour poser une question.
Poser une question
Wick11
20 oct. 2023
Megacolon in Cat
10 yr old cat got diagnosed with megacolon and fatty liver disiese. It was a 3 month battle with many stressful nights amd many vet visits including 2 enemas that were unsuccessful amd 1 manual extraction that was successful. Switched to Royal Canine Gastrointestinal Dry food and Tiki Cat Tuna and Pumpkin wet food. Along with Cisapride and Miralax. This combination has saved his life and he has been doing great the last month. Poops every 1 to 2 days now. We ate truly blessed
SabrinaM
14 sept. 2023
11 years going strong
My cat had been chronically constipated and presented with balding and low energy for the first ten years of her life. We thought she was allergic to grain and we're nervous about putting her on this food. Well she's 21 now, been on this food for eleven years, gained proper weight and has the energy of a cat half her age. My other cats also love this food, but it gives one of them some diarrhea because he absolutely doesn't need the help. Tempting him to eat something else is tricky because he just likes this one a lot. However I do have one request. PLEASE make smaller bags! My one little cat can't finish the whole bag before it goes stale. I hate wasting food but I can tell when she's not enjoying it anymore.
Justcynagain
25 août 2023
Cured diarrhea!
This dry food has cured my senior cat of his constant diarrhea and he loves it!
wjfsmart
07 juin 2023
A truly life saving food!
I have been using RC Feline Fiber Response for our Irving. He was a kitten rescue with the congenital birth defect Atresia Ani (no butt hole). We had the surgery, successfully, but he still ended up with megacolon as a complication. Our surgeon highly recommended this food in combination with daily prescribed doses of Cisapride (for intestinal motility) and Lactulose (stool softener). He is about to turn 3 years old, and this food is the only food that he can tolerate without problems!
Jess235
15 mai 2023
New Formula is Horrible, bring back the original!
This food worked like a miracle on my cat for the last few years, but the latest bag the food is a different shape and I'm presuming a different formula since it is no longer working. At least WARN people before you change things! My poor cat is back to being miserable
Sick of these Huge Bags
19 mars 2023
Good food but only one HUGE bag size available
My two cats like this food. They're on it because one of them has to be (the vet prescribed it.) However I really HATE this 8 pound bag nonsense. It takes forever for both my cats to go through a bag because they eat canned food too and sometimes, near the end of the bag, they won't eat it anymore and I have to assume this dry food went stale. I store it in airtight containers but this still happens anyways. This food is WAY too expensive to have to be throwing some of it out at the end of every bag. WHY WHY WHY won't you make 4 pound bags of this so I can buy new and fresh bags more often?
Réponse de Royal Canin
I'm sorry to say it only comes in one size currently. We apologize for the frustration.
Jchaffin27
18 mars 2023
Please bring back the old formula
This worked like a miracle for my cat for years, but suddenly makes him very sick. I thought we got a bad batch so bought a second bag, but both bags made him vomit and have diarrhea. He's had three vet visits because of this and no new food works like the past formula, everything else causes constipation. He's now on prednisone and lactulose daily to try to make a new food work, but it looks like he's going to need a fourth enema since this formula change.
AshleyT
13 mars 2023
Newer formula causes diarrhea
A few years ago I would have given this food 5 stars, but like Isabel100's review from a year ago, something has changed with this food. Going back over a year, we started getting the occasional bag where within 2 days of starting it, my cats would be vomiting regularly and have explosive diarrhea. I'd have that bag exchanged for a new one, and if the new one happened to be an older bag, their issues would clear up immediately. But now all we get are bags that cause the diarrhea. We ended up having to mix it with another gastro food to add some firmness, and the mix worked for awhile...until the most recent bag gave them diarrhea even when mixed with the other food. This is so frustrating as every other food causes constipation - we NEED the old food recipe back!!!
SnowflakesMom
09 mars 2023
Bring back old formula please!
I agree with all the other owners who say this formula no longer works for their cat. Royal Canin please bring back the old formula of GI Fiber Response. My cat with IBD/possible mega colon almost died after the formula change (vet bills to prove this.) He lost 5 pounds before the vet saw the formula had been changed. He is now on prednisolone daily (never before the change.) I have tried other brands of RX GI dry foods and none have worked. I don't know what to do after my last bag of the old formula run out. Royal Canin bring back the old formula please, I would pay a higher price for the old formula, it would be less expensive than bringing the cat to the vet weekly.
Westchesterite
20 janv. 2023
There is something different about this product
We have been using this product for years and it has really helped our cat. With the last bag, as others have mentioned, something has changed. The quantity and quality of his bowel movements are different (ie, smaller, harder, less frequent). It is very upsetting, because the previous formulation worked perfectly. If this is a new formula, it is awful. Why change something that is working?