Protect your dog's sensitive skin
Help your dog maintain a full, healthy coat with high-quality nutrients crafted to care for their sensitive skin.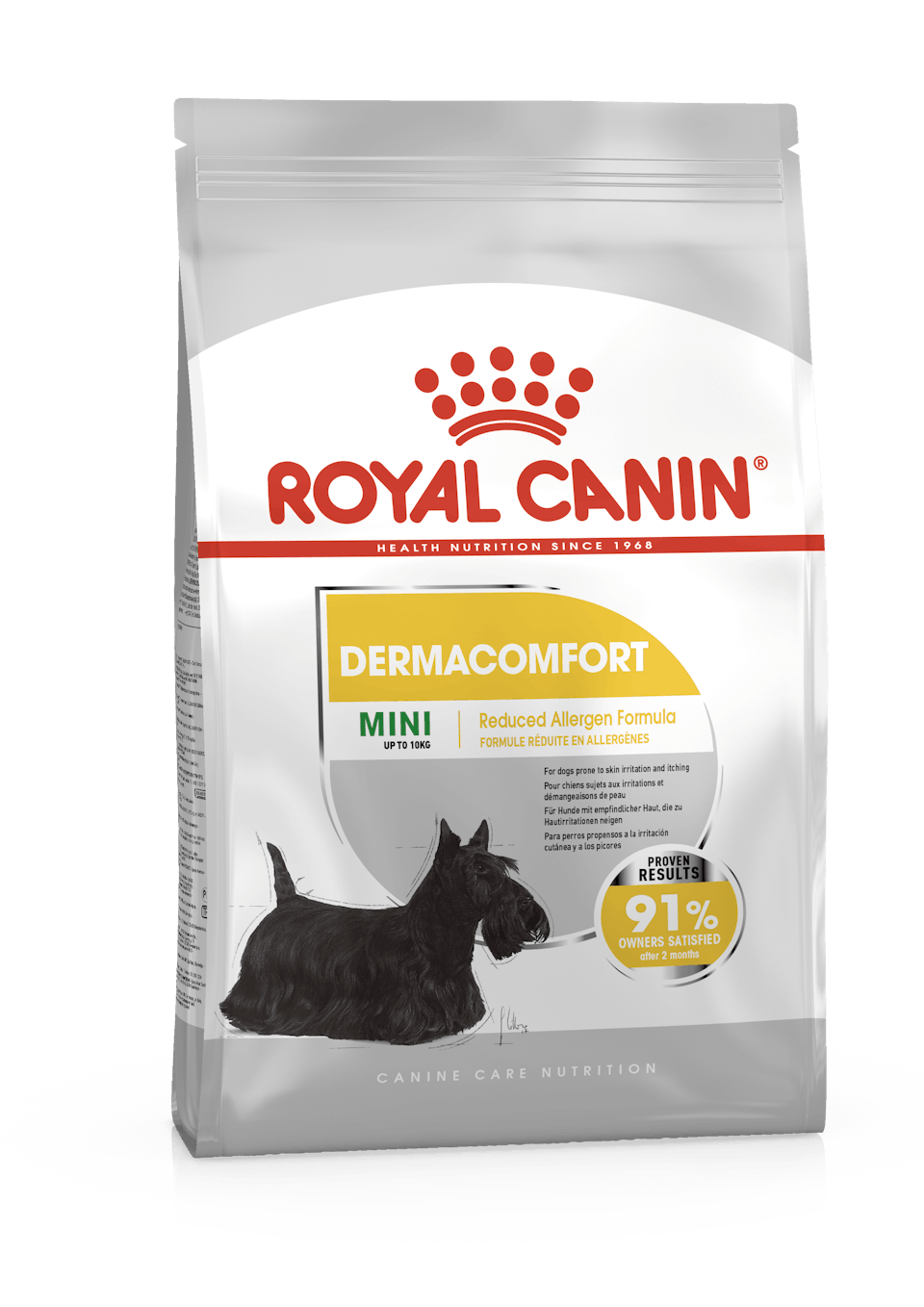 Is your dog scratching himself frequently?
All dogs scratch themselves. More often than not it's just an itch. But if you see your pet scratching a bit too often, you need to try our specialized nutrition to tackle the problem.
91% of owners are satisfied with Dermacomfort
Enriched with Omega 3 & 6 fatty acids, Royal Canin Dermacomfort soothes your dog's sensitive skin by making it less sensitive to irritants. 91% of owners are satisfied with it after 2 months. It's a great way to comfort your dog! Want to know what else you can do?
You can do more to help your dog
You can help protect your dog's skin by keeping his bed and favorite resting places clean. This helps remove dust and dandruff, a breeding ground for itchy parasites. In most cases, this is enough to solve your dog's problems.
Does the problem still persist?
Skin irritation is the number one reason that dogs get taken to the vets. So if you find that the frequency of scratching hasn't reduced even after 60 days, please contact your veterinarian and arrange for a checkup.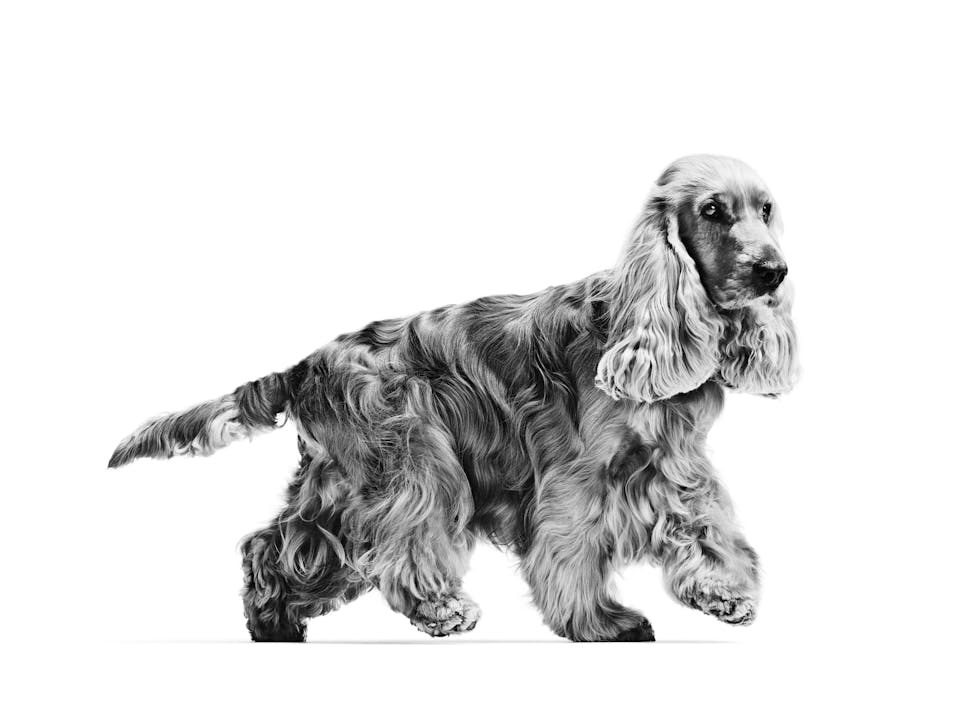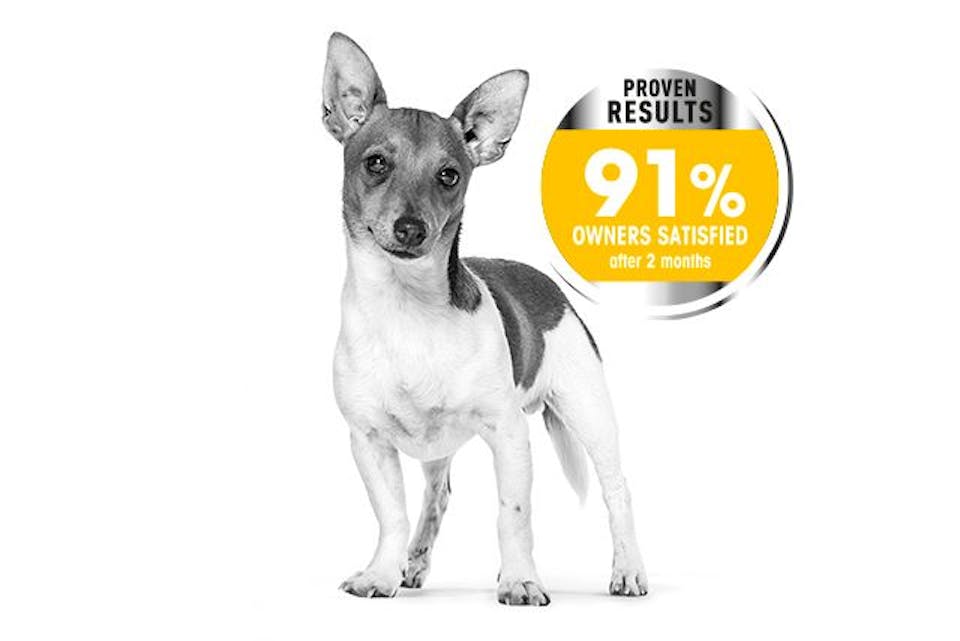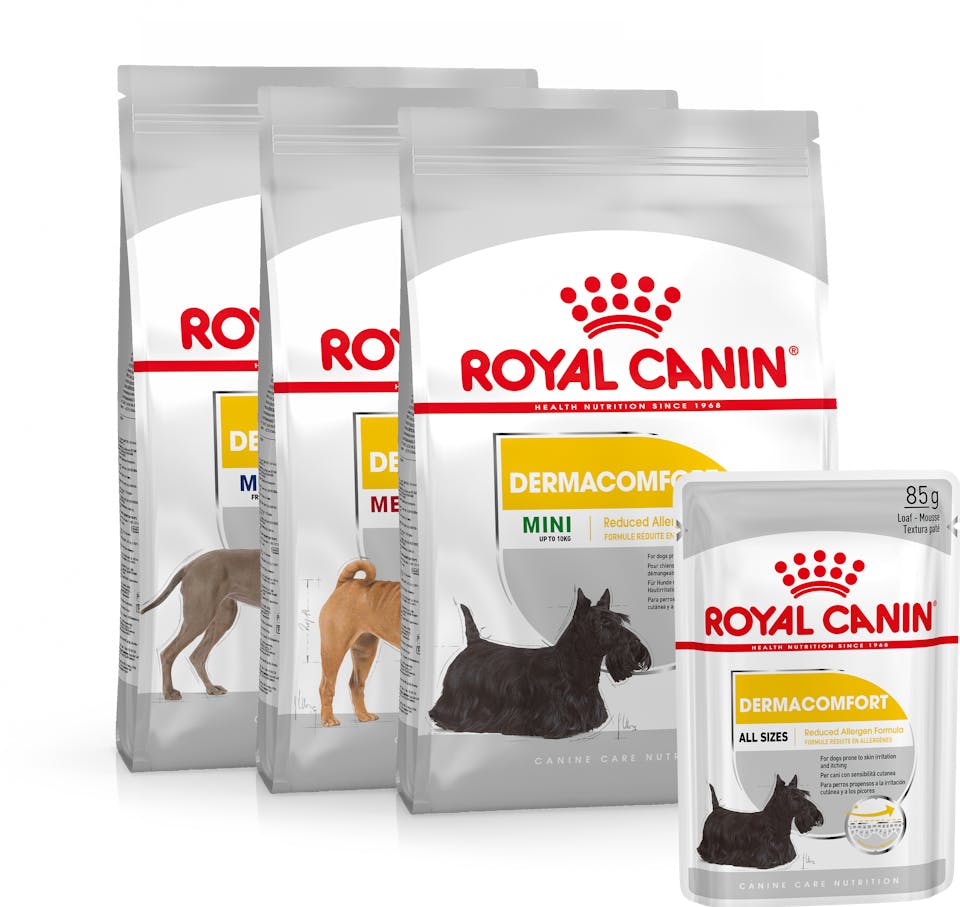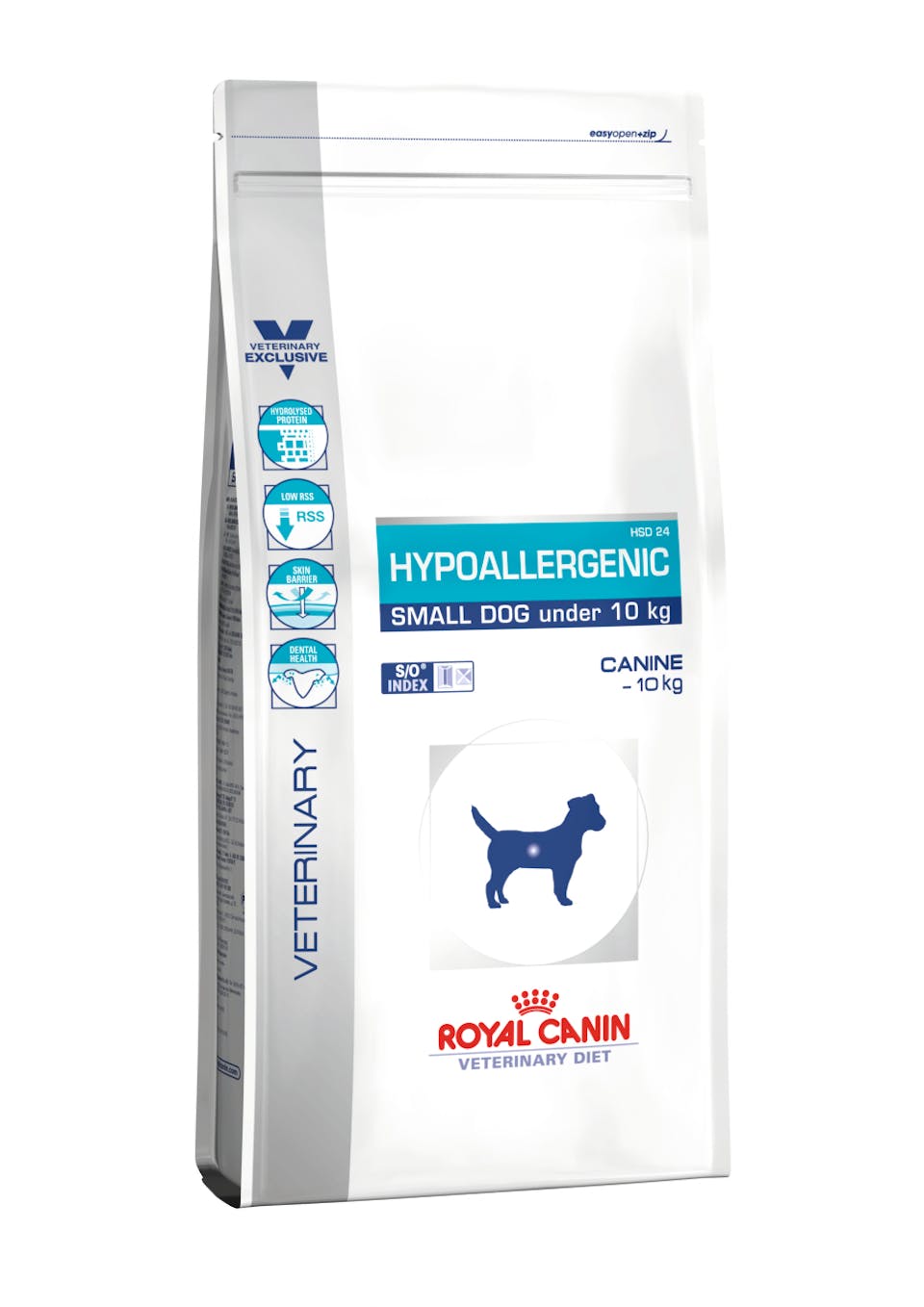 Nutrition to protect sensitive skin
This formula is crafted to support your dog's overall health as well as nourishing its sensitive skin. It's enriched with the essential fatty acids Omega 3 and 6, which help to calm and protect your dog's skin and make it less sensitive to irritation. While EPA, DHA and GLA are especially beneficial Omegas that help its coat to stay full and healthy. The Dermacomfort range is also rich in carefully selected low-allergen, high-quality proteins that reduce the risk of intolerance.
Our Dermacomfort Dry Range
Our crunchy kibbles are designed to fit between the teeth of dogs of all sizes, and offer all the nutrients needed for a healthy diet and a healthy coat.
Our Dermacomfort Wet Range
Our wet food range is nutritionally complete and a perfect complement to our dry kibbles. By mixing wet and dry foods you can add variety and texture to your dog's diet.
Tips to protect your dog's skin
A few hints and tips to help keep your dog's sensitive skin comfortable and healthy.
Cleaning
It's really important to keep your dog's bed and other favourite resting places as clean as possible. This will help to remove dust and dandruff, which create a breeding ground for itchy parasites that can transfer to your dog's skin.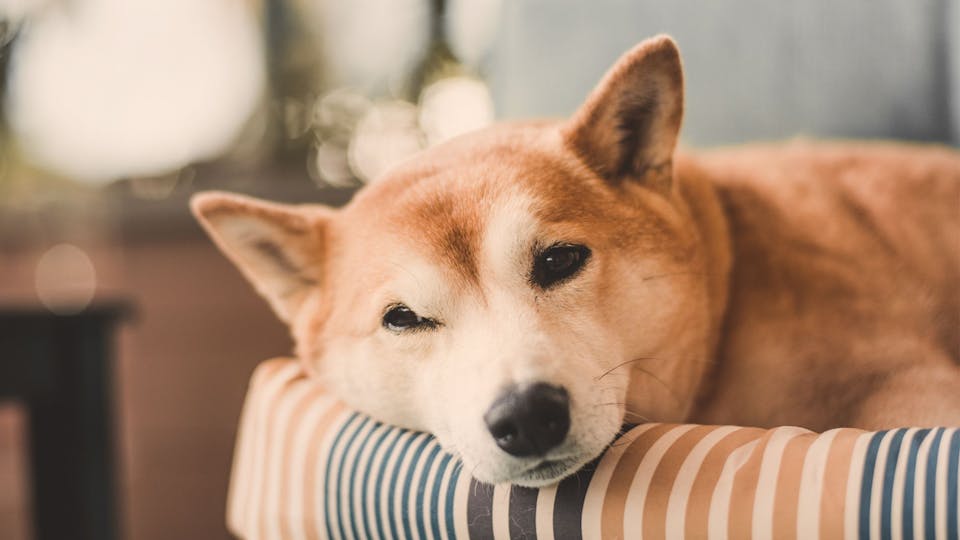 Shampooing
Shampooing your dog helps to remove irritants from their skin. Remember to always use a gentle shampoo that's suitable for dogs.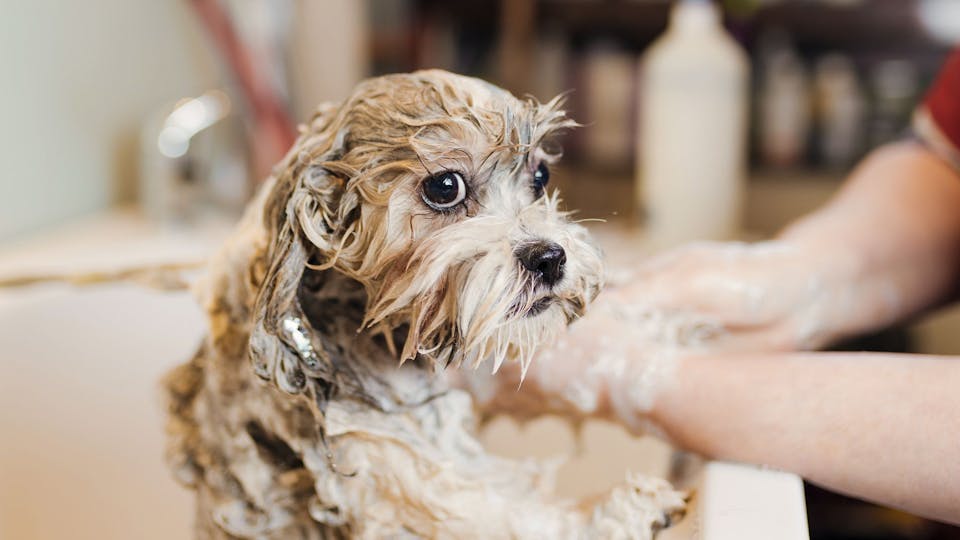 Moisturising
Moisturising lotions suitable for dogs can help to soothe their skin. While you're applying the lotion, check for any scratches. If your dog's scratching is starting to damage its skin, it's best to take it to the vet for a check.