Mini Junior
Complete feed for dogs - For small breed puppies (adult weight between 1 and 10 kg) - Up to 10 months old.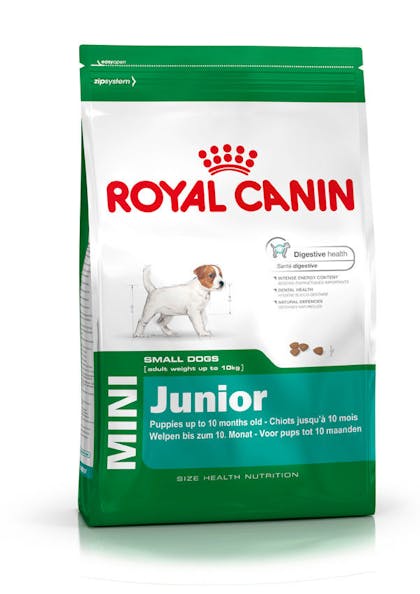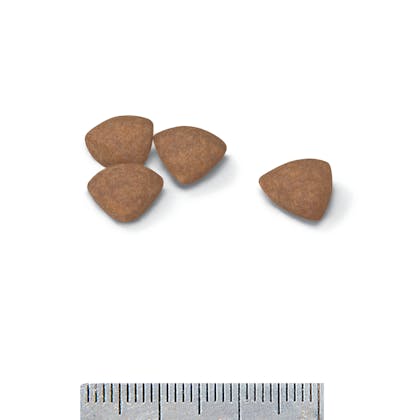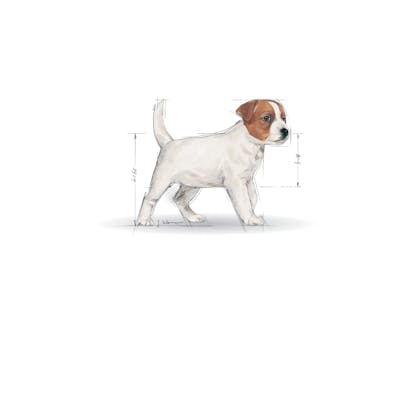 Digestive health

An exclusive combination of nutrients to support digestive health (L.I.P. proteins) and a balanced intestinal flora (prebiotics) which contributes to good stool quality.

Intense energy content

Meets the high energy needs of small breed puppies during the growth period, and satisfies fussy appetites.

Dental health

Helps reduce tartar formation thanks to the chelation agents in calcium.

Natural defences

Helps support the puppy's natural defences, thanks particularly to a patented antioxidant complex and prebiotics.

ROYAL CANIN® Mini Puppy food is formulated with the nutritional needs of your puppy in mind and is suitable for puppies aged 2-10 months that will have an adult weight of up to 10kg.Your puppy's growth period is such an essential stage in its life; it's the time of big changes and new discoveries. Within this period, your puppy's immune system is developing gradually. That's why ROYAL CANIN® Mini Puppy contains a patented complex of antioxidants - including vitamin E - to help support your puppy's natural defences as it grows.The shape of the kibble is small and easy to chew, perfect for your puppy's small mouth, and both the smell and flavour are optimised to tempt even the fussiest of dogs; it also helps to support its dental health and general oral hygiene.By containing a combination of nutrients with high quality protein (such as L.I.P - known for its high digestibility) as well as prebiotics, ROYAL CANIN® Mini Puppy supports the digestive health and balance of intestinal flora, which contributes to good stool quality by reducing faecal smell and quantity.
COMPOSITION: dehydrated poultry protein, rice, animal fats, vegetable protein isolate*, maize, beet pulp, maize flour, hydrolysed animal proteins, maize gluten, minerals, fish oil, soya oil, fructo-oligo-saccharides (0.34%), hydrolysed yeast (source of manno-oligo-saccharides), yeast extracts (source of betaglucans), marigold extract (source of lutein). ADDITIVES (per kg): Nutritional additives: Vitamin A: 21500 IU, Vitamin D3: 1000 IU, Vitamin E: 510 mg, E1 (Iron): 38 mg, E2 (Iodine): 3.8 mg, E4 (Copper): 12 mg, E5 (Manganese): 49 mg, E6 (Zinc): 126 mg, E8 (Selenium): 0.06 mg - Technological additives: Clinoptilolite of sedimentary origin: 10 g - Sensory additives: Yucca extract: 125 mg - Preservatives - Anti- oxidants. ANALYTICAL CONSTITUENTS: Protein: 31% - Fat content: 20% - Crude ash: 7.7% - Crude fibres: 1.4%. FEEDING INSTRUCTIONS: see table. Batch number, factory registration number and best before date: see information on packaging. To be stored in a cool, dry place. For RSA: Guaranteed analysis g/kg: Crude protein (min) 290 - Moisture (max) 110 - Crude fat (min) 180 - Crude fibre (max) 24 - Crude ash (max) 85. Product registration number: XXXXXX - Act 36/1947. For Namibia: N-FF XXXX. *L.I.P.: protein selected for its very high digestibility.

COMPOSITION: rice, dehydrated poultry meat, animal fats, dehydrated beef and pork protein*, vegetable protein isolate*, maize, beet pulp, maize flour, hydrolysed animal proteins, maize gluten, minerals, soya oil, fish oil, fructo-oligo-saccharides, hydrolysed yeast (source of manno-oligo-saccharides), marigold extract (source of lutein).ADDITIVES (per kg): Nutritional additives: Vitamin A: 17300 IU, Vitamin D3: 1000 IU, E1 (Iron): 49 mg, E2(Iodine): 3.8 mg, E4 (Copper): 10 mg, E5 (Manganese): 64 mg, E6 (Zinc): 211 mg, E8 (Selenium): 0.08 mg -Technological additives: Pentasodium triphosphate: 3.5 g - Preservatives -Antioxidants.ANALYTICAL CONSTITUENTS: Protein: 31% - Fat content:20% - Crude ash: 7% - Crude fibres: 1.3%.*L.I.P.: protein selected for its very high assimilation.

| Age (months) | Adult weight = 2 kg | Adult weight = 6 kg | Adult weight = 10 kg |
| --- | --- | --- | --- |
| 2 m | 49 g (4/8 cups) | 103 g (1+1/8 cups) | 146 g (1+5/8 cups) |
| 3 m | 54 g (5/8 cups) | 119 g (1+2/8 cups) | 172 g (1+7/8 cups) |
| 4 m | 55 g (5/8 cups) | 125 g (1+3/8 cups) | 182 g (2 cups) |
| 5 m | 55 g (5/8 cups) | 126 g (1+3/8 cups) | 185 g (2 cups) |
| 6 m | 48 g (4/8 cups) | 125 g (1+3/8 cups) | 184 g (2 cups) |
| 7 m | 40 g (4/8 cups) | 113 g (1+2/8 cups) | 167 g (1+7/8 cups) |
| 8 m | 39 g (3/8 cups) | 101 g (1+1/8 cups) | 149 g (1+5/8 cups) |
| 9 m | 39 g (3/8 cups) | 90 g (1  cups) | 133 g (1+4/8 cups) |
| 10 m | 39 g (3/8 cups) | 89 g (1 cups) | 132 g (1+4/8 cups) |
| 11 m | Transition to Mini Adult | Transition to Mini Adult | Transition to Mini Adult |