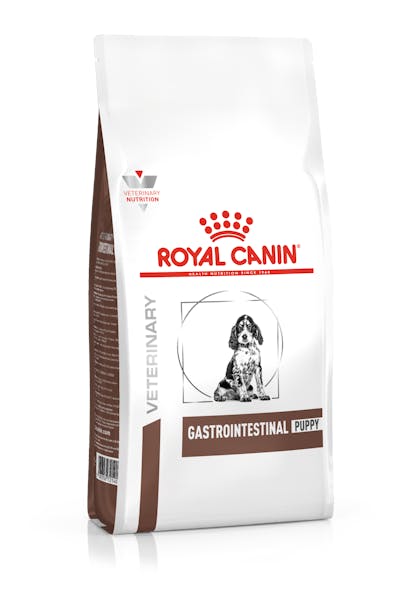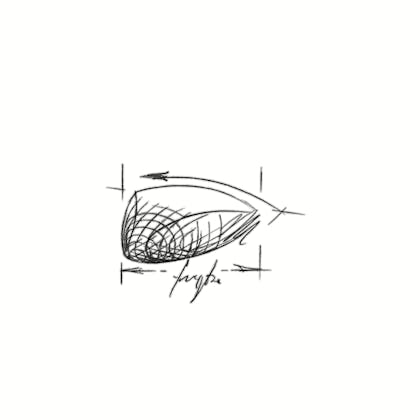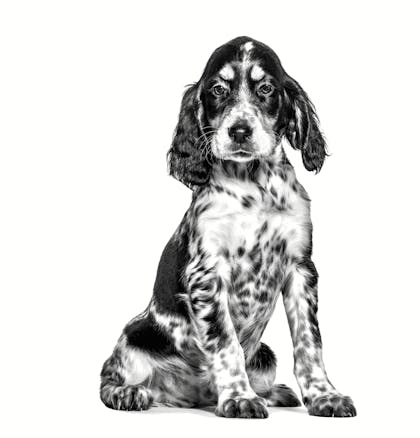 5A. DIGESTIVE SUPPORT

A highly digestible formula with balanced fibres, including prebiotics, to support a healthy digestion and transit.

5B. OPTIMAL GROWTH

High energy formula with adapted levels of nutrients (including protein and calcium) to meet the needs of a growing puppy.

5C. EASY REHYDRATION

Kibble that can be easily rehydrated to facilitate food intake in puppies with decreased appetite and help transition from milk to solid food.

SENSITIVITIES

2A. An impaired digestive function prevents dogs from properly benefiting from nutrients contained in their food.

SENSITIVITIES

2B. Their immature digestive system make puppies more prone to digestive issues.

SENSITIVITIES

2C. Vomiting, diarrhea or loose stools are the most common signs of digestive issues.
Working towards a sustainable future
Our belief that pets make our world better inspires and gives life to our purpose of making a better A BETTER WORLD FOR PETS ™
Discover more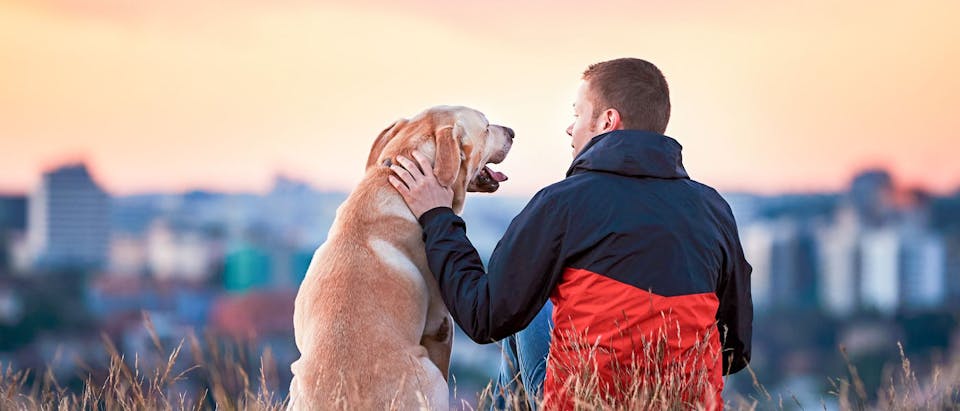 COMPOSITION : Rice*, dehydrated poultry protein*, animal fats*, maize*, dehydrated pork protein*, wheat gluten*, beet pulp, hydrolysed animal proteins*, minerals, egg powder*, soya oil*, fish oil*, yeasts products, psyllium husks and seeds (source of mucilaginous substances), fructo-oligosaccharides (0.5%), hydrolysed yeast (source of manno-oligo-saccharides (0.2%) and betaglucans), marigold extract (source of lutein). *highly digestible ingredients.

ADDITIVES (per kg): Nutritional additives: Vitamin A: 17000 IU, Vitamin D3: 1100 IU, Iron (3b103): 52 mg, Iodine (3b201, 3b202): 5.2 mg, Copper (3b405, 3b406): 15 mg, Manganese (3b502, 3b504): 67 mg, Zinc (3b603, 3b605, 3b606): 137 mg, Selenium (3b801, 3b811, 3b812): 0.1 mg - Technological additives: Clinoptilolite of sedimentary origin: 10 g - Preservatives - Antioxidants.

ANALYTICAL CONSTITUANTS: Protein: 29.0% - Fat content: 22.0% - Crude ash: 7.9% - Crude fibres: 1.3% - Calcium: 1.28% - Sodium: 0.4% - Potassium: 0.8% - Omega-6 fatty acids: 4.1% - Omega-3 fatty acids: 0.9%.

For RSA: Guaranteed analysis g/kg: Crude protein (min) 270 - Moisture (max) 95 - Crude fat (min) 200 - Crude fibre (max) 23 - Crude ash (max) 87. Product registration number: XXXXXX - Act 36/1947. For Namibia: N-FF XXXX.

null null

FEEDING INSTRUCTION: FEEDING INSTRUCTIONS: see table. Water should be available at all times. Batch number, factory registration number and best before date: see information on packaging. To be stored in a cool, dry place.​

ANALYTICAL CONSTITUANTS: Crude Protein 27.0% (min.), Crude Fat 20.0% (min.), Calcium 1.02% (min.), Phosphorus 0.88% (min.), Ash 8.7% (max.), Crude Fiber 2.3% (max.), Moisture 9.0% (max.).

COMPOSITION: rice, dehydrated poultry protein (chicken, turkey, etc.), animal fats (poultry fat, etc.), corn, dehydrated pork protein, wheat gluten, beet pulp, hydrolysed animal proteins (poultry, etc.), minerals, egg powder, soybean oil, fish oil, yeast, psyllium husks and seeds, fructo oligosaccharide, hydrolysed yeast (source of manno-oligo-saccharides), yeasts extracts (source of betaglucans), marigold extract.

ADDITIVES (per kg) Vitamin A: 17000 IU, Vitamin D3: 1100 IU, Iron: 52 mg, Iodine: 5.2 mg, Copper: 15 mg, Manganese: 67 mg, Zinc: 137 mg, Selenium: 0.1 mg, zeolite: 10 g - potassium sorbate, Antioxidants.

FEEDING INSTRUCTION: FEEDING INSTRUCTIONS: see table. Water should be available at all times. Batch number, factory registration number and best before date: see information on packaging. To be stored in a cool, dry place.​

LEGAL NOTICE Expiration date: Displayed at the bottom of the bag (date/month/year) - Manufacture date: Displayed at the bottom of the bag - Manufacturing source: ROYAL CANIN FRANCE SAS - Address: Jipyungsun-sandan-2 gil, 72, Baeksan-myun, Gymje City, Jeollabukdo, Korea - Weight: Separately declared on the bag - Customer Care no.: 080-041-5161 - Animal medicine & Re-packaging: Not applied - NOTICE: Do not feed the ruminant cattle. Store in a cool, dry place away from direct sunlight and pests. This product can be exchanged or compensated for the legitimate consumer damage in accordance with the Fair Trade Commission's Notice of Consumer Dispute Resolution Standards. - Country of origin: France.

| | | Adult | weight | | | |
| --- | --- | --- | --- | --- | --- | --- |
| | 2 kg | | 5 kg | | 10 kg | |
| Puppy's age (months) | grams | cup(s) | grams | cup(s) | grams | cup(s) |
| 1-2 | 39 - 47 | 3/8 | 65-90 | 5/8 - 7/8 | 91 - 141 | 7/8 - 1+2/8 |
| 3-4 | 52 - 54 | 4/8 | 101 - 106 | 7/8 - 1 | 166 - 176 | 1+4/8 - 1+5/8 |
| 5-6 | 53 - 46 | 4/8 - 3/8 | 106 - 96 | 1 - 7/8 | 179 - 178 | 1+5/8 |
| 7-8 | 39 - 38 | 3/8 | 87 - 77 | 6/8 | 161 - 144 | 1+4/8 - 1+2/8 |
| 9-10 | 38 | 3/8 | 76 - 75 | 6/8 - 5/8 | 129 - 128 | 1+1/8 |
| 11-12 | | | | | 126 | 1+1/8 |
| | | | | | | |
| | 20 kg | | 30 kg | | 40 kg | |
| 1-2 | 129 - 226 | 1+1/8 - 2 | 143 - 248 | 1+2/8 - 2+2/8 | 156 - 270 | 1+3/8 - 2+4/8 |
| 3-4 | 273 - 293 | 2+4/8 - 2+5/8 | 311 - 339 | 2+7/8 - 3+1/8 | 350 - 385 | 3+1/8 - 3+4/8 |
| 5-6 | 301 | 2+6/8 | 374 - 407 | 3+3/8 - 3+6/8 | 448 - 505 | 4 - 4+5/8 |
| 7-8 | 280 - 261 | 2+4/8 - 2+3/8 | 408 - 380 | 3+6/8 - 3+4/8 | 506 - 475 | 4+5/8 - 4+2/8 |
| 9-10 | 238 - 217 | 2+1/8 - 2 | 354 - 322 | 3+2/8 - 2+7/8 | 445 - 414 | 4 - 3+6/8 |
| 11-12 | 214 - 213 | 2 - 1+7/8 | 292 - 290 | 2+5/8 | 389 - 364 | 3+4/8 - 3+2/8 |
| | | | | | | |
| | | Mother | weight (kg) | | | |
| Gestation (weeks) | 2 kg | | 5 kg | | 10 kg | |
| 1 à 5 | 44 | 3/8 | 87 | 6/8 | 146 | 1+3/8 |
| 6-7 | 48 - 53 | 3/8 - 4/8 | 96 - 104 | 7/8 - 1 | 161 - 176 | 1+4/8 - 1+5/8 |
| 8-9 | 57 - 61 | 4/8 | 113 - 122 | 1 - 1+1/8 | 190 - 205 | 1+6/8 - 1+7/8 |
| | | | | | | |
| | 20 kg | | 30 kg | | 40 KG | |
| 1 à 5 | 246 | 2+2/8 | 334 | 3 | 414 | 3+6/8 |
| 6-7 | 271 - 295 | 2+4/8 - 2+5/8 | 367 - 400 | 3+3/8 - 3+5/8 | 455 - 497 | 4+1/8 - 4+4/8 |
| 8-9 | 320 - 345 | 2+7/8 - 3+1/8 | 434 - 467 | 3+7/8 - 4+2/8 | 538 - 579 | 4+7/8 - 5+2/8 |
| | | | | | | |
| Lactation | ad libitum | | | | | |