Urinary S/O Small Dog
It is recommended that a veterinarian's opinion be sought before use. Feed Urinary S/O Small Dog under 10 kg for 5 to 12 weeks for the dissolution of struvite stones and up to 6 months for the reduction of struvite stone recurrence.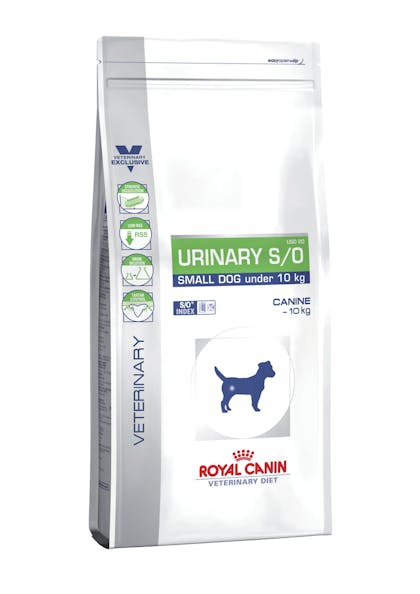 Struvite dissolution

Helps dissolve all types of struvite stones.

Low RSS

Helps lower the concentration of ions contributing to struvite and calcium oxalate crystal formation.

Urine dilution

Urine dilution makes the urine less liable to form struvite and calcium oxalate stones.

Tartar control

Nutrient that traps the calcium in saliva so reducing tartar deposits.
COMPOSITION: rice, maize flour, dehydrated poultry meat, animal fats, maize gluten, hydrolysed animal proteins, minerals, vegetable fibres, wheat gluten*, egg powder, soya oil, fish oil, fructo-oligo-saccharides, marigold extract (source of lutein).

ADDITIVES (per kg): Nutritional additives: Vitamin A: 11500 IU, Vitamin D3: 1000 IU, E1 (Iron): 46 mg, E2 (Iodine): 3.5 mg, E4 (Copper): 10 mg, E5 (Manganese): 59 mg, E6 (Zinc): 195 mg, E8 (Selenium): 0.06 mg - Technological additives: Pentasodium triphosphate: 3 g - Preservatives - Antioxidants.

ANALYTICAL CONSTITUENTS: Protein: 20% - Fat content: 17% - Crude ash: 7.2% - Crude fibres: 2.2% - Sulphur: 0.23% - Calcium: 0.7% - Phosphorus: 0.7% - Sodium: 1.2% - Potassium: 0.8% - Magnesium: 0.05% - Chloride: 1.91% - Urine acidifying substances: calcium sulphate (0.7%), DL-methionine.

*L.I.P.: protein selected for its very high assimilation.

| Dog weight | Lean | Lean | Ideal Weight | Ideal Weight | Overweight | Overweight |
| --- | --- | --- | --- | --- | --- | --- |
| 2 kg | 70 g | 6/8 cup | 55 g | 5/8 cup | 40 g | 3/8 cup |
| 3 kg | 95 g | 1 cup | 75 g | 6/8 cup | 55 g | 5/8 cup |
| 4 kg | 115 g | 1+2/8 cup | 90 g | 1 cup | 70 g | 6/8 cup |
| 5 kg | 135 g | 1+3/8 cup | 110 g | 1+1/8 cup | 80 g | 7/8 cup |
| 6 kg | 155 g | 1+5/8 cup | 125 g | 1+2/8 cup | 95 g | 1 cup |
| 7 kg | 175 g | 1+7/8 cup | 140 g | 1+4/8 cup | 105 g | 1+1/8 cup |
| 8 kg | 190 g | 2 cup | 155 g | 1+5/8 cup | 115 g | 1+2/8 cup |
| 9 kg | 210 g | 2+2/8 cup | 165 g | 1+6/8 cup | 125 g | 1+2/8 cup |
| 10 kg | 225 g | 2+3/8 cup | 180 g | 1+7/8 cup | 135 g | 1+3/8 cup |
| 11 kg | 240 g | 2+4/8 cup | 195 g | 2 cup | 145 g | 1+4/8 cup |
| 12 kg | 260 g | 3+6/8 cup | 205 g | 2+1/8 cup | 155 g | 1+5/8 cup |
| 13 kg | 275 g | 2+7/8 cup | 220 g | 2+2/8 cup | 165 g | 1+6/8 cup |
| 14 kg | 290 g | 3 cup | 230 g | 2+3/8 cup | 175 g | 1+7/8 cup |
| 15 kg | 305 g | 3+1/8 cup | 245 g | 2+4/8 cup | 180 g | 1+7/8 cup |
| 16 kg | 320 g | 3+3/8 cup | 255 g | 2+5/8 cup | 190 g | 2 cup |
| 17 kg | 330 g | 3+4/8 cup | 265 g | 2+6/8 cup | 200 g | 2+1/8 cup |
| 18 kg | 345 g | 3+5/8 cup | 275 g | 2+7/8 cup | 210 g | 2+2/8 cup |
| 19 kg | 360 g | 3+6/8 cup | 290 g | 3 cup | 215 g | 2+2/8 cup |
| 20 kg | 375 g | 3+7/8 cup | 300 g | 3+1/8 cup | 225 g | 2+3/8 cup |
| 21 kg | 390 g | 4+1/8 cup | 310 g | 3+2/8 cup | 235 g | 2+4/8 cup |
| 22 kg | 400 g | 4+1/8 cup | 320 g | 3+3/8 cup | 240 g | 2+4/8 cup |
| 23 kg | 415 g | 4+3/8 cup | 330 g | 3+4/8 cup | 250 g | 2+5/8 cup |
| 24 kg | 425 g | 4+3/8 cup | 340 g | 3+4/8 cup | 255 g | 2+5/8 cup |
| 25 kg | 440 g | 4+5/8 cup | 350 g | 3+5/8 cup | 265 g | 2+6/8 cup |