Pomeranian Adult
Complete feed for dogs - Specially for adult and mature Pomeranians - Over 8 months old.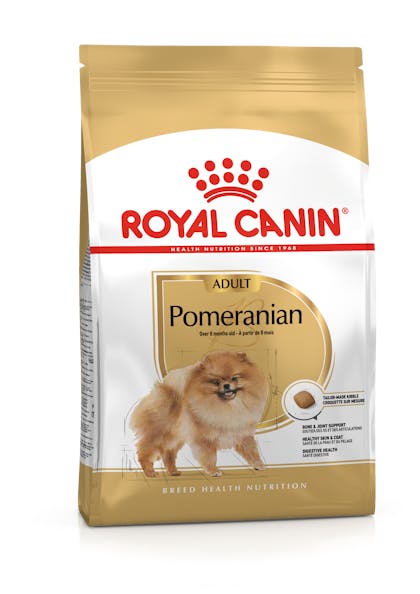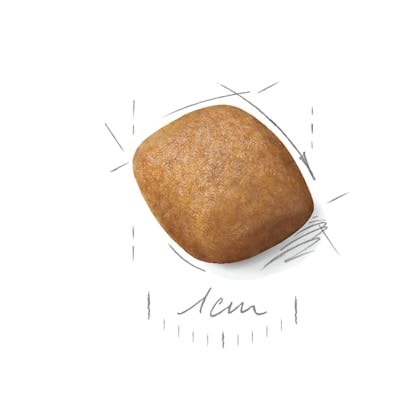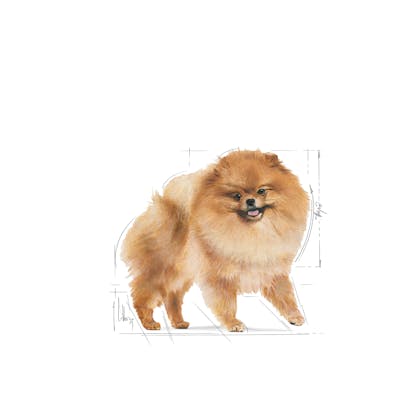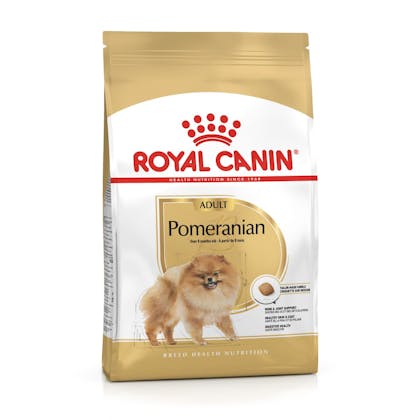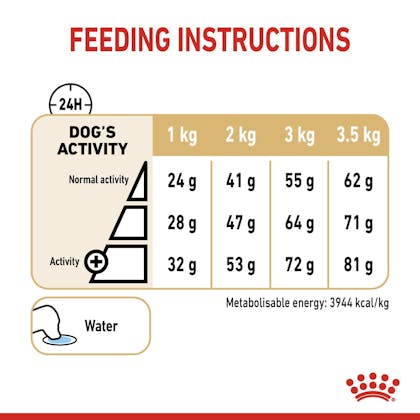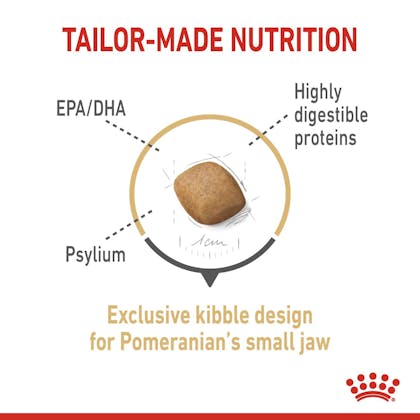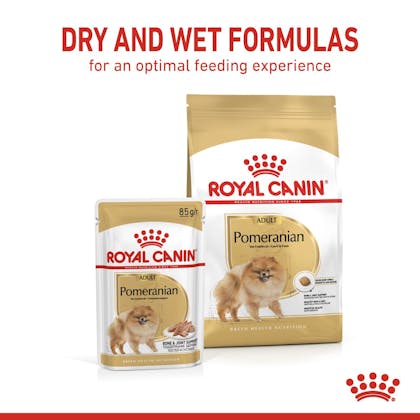 Bone & joint support

Pomeranian Adult contributes to supporting the Pomeranian's healthy bones and joints with an adapted mineral content. Enriched with EPA & DHA.

Healthy skin & coat

The glorious coat doubled by an abundant undercoat is one of the Pomeranian's extraordinary features. This exclusive formula helps support the skin's role as a barrier, helps maintain skin health and nourishes the coat. Enriched with an adapted content of EPA & DHA and borage oil.

Digestive health

A balanced blend of fibres, including psyllium, helps facilitate intestinal transit and highly digestible L.I.P.* proteins contribute to optimal stool quality. *Protein selected for its very high digestibility.

Tailor-made kibble / exclusive kibble design / dental health

The kibble's shape, size, texture and formula are adapted to the Pomeranian's small jaw. This formula helps reduce tartar formation thanks to calcium chelators to support dental health.

Brand text SPTR

Royal Canin supports the health of your dog by providing precise nutrition based on a true understanding of the dog's specific needs and over 50 years of science and observation.

ROYAL CANIN® Pomeranian Adult is a tailor-made, breed-exclusive formula especially for adult Pomeranian dogs like yours. ROYAL CANIN® Pomeranian Adult contains advanced nutrients and an adapted mineral content to help support healthy joints and bones. This formula helps to support the natural protective barrier function of your dog's skin, while also nourishing the Pomeranian's glorious coat. This recipe uses high quality, highly digestible proteins to help support efficient digestion. Its balanced blend of fibres helps to facilitate healthy internal transit and promote optimal stool quality. ROYAL CANIN® Pomeranian Adult features tailor-made kibble, with an adapted shape, size, texture, and density to cater to the size and shape of the Pomeranian's jaw. To appeal to each dog's appetite, ROYAL CANIN® Pomeranian Adult is also available as wet food with a loaf-like texture and the same supportive nutrition. If your dog enjoys a diet of both wet and dry food, be sure to check the on-pack feeding guides to make sure you give them an accurate amount of each.
Working towards a sustainable future
Our belief that pets make our world better inspires and gives life to our purpose of making a better A BETTER WORLD FOR PETS ™
Discover more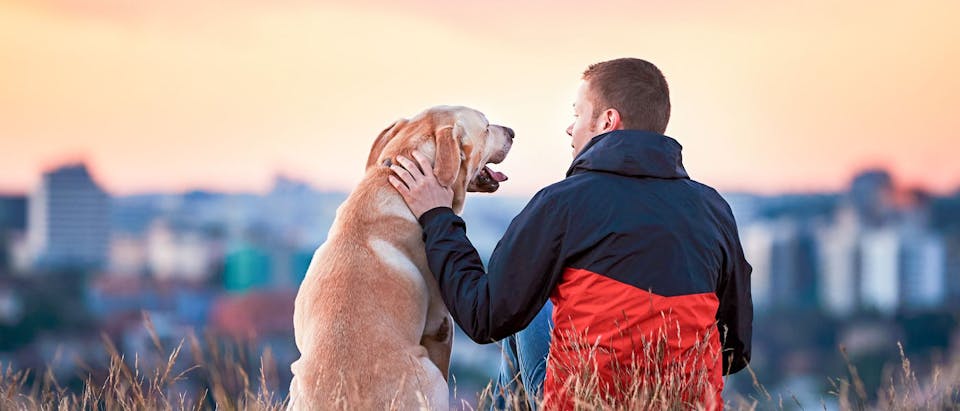 Composition: Maize, dehydrated poultry protein, wheat flour, rice, wheat gluten*, animal fats, hydrolysed animal proteins, chicory pulp, fish oil, minerals, soya oil, psyllium husks and seeds (0.50%), fructo-oligosaccharides, borage oil (0.10%), hydrolysed crustaceans (source of glucosamine), marigold extract (source of lutein), hydrolysed cartilage (source of chondroitin).

Additives (per kg): Nutritional additives: Vitamin A: 29500 IU, Vitamin D3: 800 IU, Iron (3b103): 41 mg, Iodine (3b201, 3b202): 4.1 mg, Copper (3b405, 3b406): 13 mg, Manganese (3b502, 3b504): 54 mg, Zinc (3b603, 3b605, 3b606): 136 mg, Selenium (3b801, 3b811, 3b812): 0.09 mg - Technological additives: Clinoptilolite of sedimentary origin: 10 g - Sensory additives: Tea extract (source of polyphenols): 150 mg - Preservatives - Antioxidants.

Analytical constituants: Protein: 26.0% - Fat content: 16.0% - Crude ash: 5.4% - Crude fibres: 1.6% - EPA/DHA: 0.40% - Pentasodium triphosphate: 3.5 g/kg.

For RSA: Guaranteed analysis g/kg: Crude protein (min) 240 - Moisture (max) 110 - Crude fat (min) 140 - Crude fibre (max) 26 - Crude ash (max) 59. Product registration number: XXXXXX - Act 36/1947. For Namibia: N-FF XXXX.

* L.I.P.: protein selected for its very high digestibility.

Feeding instruction: see table. Batch number, factory registration number and best before date: see information on packaging. To be stored in a cool, dry place.

Composition: maize, meat (chicken, turkey), rice, wheat flour, very high digestible vegetable protein isolate (digestibility over 90%), animal fats, hydrolysed proteins (chicken, turkey), chicory pulp, fish oil (source of EPA/DHA), soya oil, psyllium husks and seeds, fructo-oligo-saccharides, borage oil, glucosamine, marigold extract (source of lutein), green tea extracts (source of polyphenols), hydrolysed cartilage (source of chondroitin), amino acids (taurine, DL-methionine, L-lysine, L-tyrosine, L-carnitine), zeolite, sodium polyphosphate), minerals (Cl, Ca, K, Na, P, Zn, Mn, Fe, Cu, I, Se), vitamins (choline, E, niacin, C, calcium pantothenate, B6, B2, B1, folic acid, A, biotin, B12, D3), preservatives (potassium sorbate), antioxidants (BHA, propyl gallate).

Legal notice : Dog food (complete nutritional feed for adult dogs). This product is certified as satisfying the criteria for complete nutritional feeds as a result of analytical testing specified by the Pet Food Fair Trade Association. Any variation in the colour and shape of grains is due to the raw materials and does not affect quality. Due to temperature changes during export and storage, some oil may visibly float on the surface of the kibbles, but there is no problem in terms of the product quality.

Calorie content : 394 kcal/100 g (metabolisable energy).

Guaranteed analysis : Protein 24.0% (min.), Fat Content 14.0% (min.), Crude fiber 2.6% (max.), Crude ash 5.9% (max.), Moisture 10.5% (max.).

Dietary fibres : 7.2%.

Origin: COUNTRY OF ORIGIN France (Royal Canin SAS) - IMPORTER Royal Canin Japan Inc. - 108-0075 Tokyo, Minato-ku, Konan, 1-2-70.

Vitamins (per kg) : A: 31000 IU, D3: 800 IU, E: 600 mg.

Composition: corn, dehydrated poultry protein (chicken, turkey, etc.), wheat, rice, wheat gluten, animal fats (pork fat, etc.), hydrolysed animal proteins (poultry, etc.), chicory pulp, fish oil, minerals, soybean oil, psyllium husks and seeds, fructo oligosaccharide, borage oil, glucosamine, marigold extract, mucossacharides-protein (source of chondroitin).

Additives (per kg) Vitamin A: 29500 IU, Vitamin D3: 800 IU, Iron: 41 mg, Iodine: 4.1 mg, Copper: 13 mg, Manganese: 54 mg, Zinc: 136 mg, Selenium: 0.09 mg, zeolite: 10 g - potassium sorbate, Antioxidants.

Analytical constituants: Crude Protein 24.0% (min.), Crude Fat 14.0% (min.), Calcium 0.600% (min.), Phosphorus 0.480% (min.), Ash 5.9% (max.), Crude Fiber 2.6% (max.), Moisture 10.5% (max.), EPA/DHA 0.40%.

Feeding instruction: see table. Batch number, factory registration number and best before date: see information on packaging. To be stored in a cool, dry place.

Analytical constituants: Protein: 26.0% - Fat content: 16.0% - Crude ash: 5.4% - Crude fibres: 1.6% - EPA/DHA: 0.40% - Pentasodium triphosphate: 3.5 g/kg.

| Dog Weight | Low activity | Normal activity | Hight activity |
| --- | --- | --- | --- |
| 1 kg | 24 g (2/8 cup) | 28 g ( 2/8 cup) | 32 g (3/8 cup) |
| 2kg | 41 g (3/8 cup) | 47 g (4/8 cup) | 53 g (4/8 cup) |
| 3 kg | 55 g (5/8 cup) | 64 g (5/8 cup) | 72 g (6/8 cup) |
| 3,5 kg | 62 g (5/8 cup) | 71 g (6/8 cup) | 81 g (7/8 cup) |