Sensitivity Control Chicken and Rice
Sensitivity Control Chicken & Rice is a highly digestible diet formulated for cats with digestive sensitivities and ingredients intolerances. Recommended for (indications): Food hypersensitivity with dermatological and/or gastrointestinal signs Food intolerance (including lactose intolerance) Acute or chronic diarrhoea in adult cats Not recommended for (contraindications): Pregnancy, lactation, growth.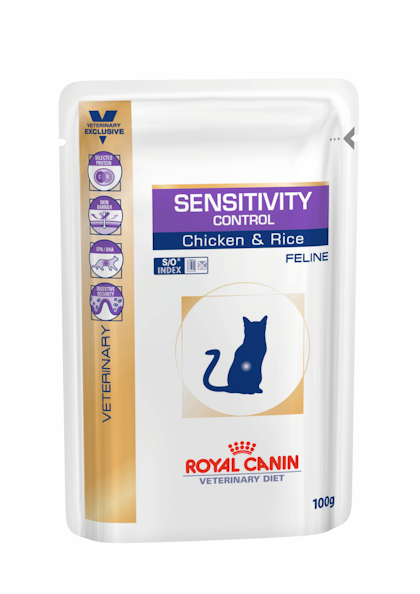 Selected protein

A limited number of protein sources may help reduce the risk of food allergies

Skin barrier

A patented complex to support the barrier effect of the skin.

EPA/DHA

Fatty acids help maintain a healthy digestive system and a healthy skin.

Digestive health

Adapted nutrients support a balanced digestive system.
Composition:meat and animal derivatives (chicken 34%), cereals (rice 6%), oils and fats, minerals, derivatives of vegetable origin, various sugars. Additives (per kg): Nutritional additives: Vitamin D3: 370 IU, E1 (Iron): 7 mg, E2 (Iodine): 0.5 mg, E4 (Copper): 3 mg, E5 (Manganese): 2 mg, E6 (Zinc): 21 mg - Technological additives: Pentasodium triphosphate: 3 g, Calcium sulphate: 2.8 g, Cassia gum: 3 g. Analytical constituents: Protein: 8% - Fat content: 5.5% - Crude ash: 2.2% - Crude fibres: 0.5% - Moisture: 78% - Essential fatty acids: 1.3% - EPA/DHA: 0.25%. Sensitivty Control Chicken & Rice is a complete dietetic feed for cats formulated to reduce ingredient and nutrient intolerances. This dietetic feed contains selected sources of protein and carbohydrate. Selected protein source: chicken. Selected carbohydrate source: rice

| Cat's weight | Thin | Normal | Overweight |
| --- | --- | --- | --- |
| 2 kg | 150 g (1 + 1/2 cups) | 125 g (1 + 1/4 cups) | 100 g (1 cups) |
| 3 kg | 200 g (2 cups) | 165g (1 + 3/4 cups) | 130 g (1 + 1/4 cups) |
| 4 kg | 245 g (2 + 1/2 cups) | 205 g (2 cups) | 160 g (1 + 1/2 cups) |
| 5 kg | 285 g (2 + 3/4 cups) | 240 g (2 + 1/2 cups) | 190 g (2 cups) |
| 6 kg | 325 g (3 + 1/4 cups) | 270 g (2 + 3/4 cups) | 215 g (2 + 1/4 cups) |
| 7 kg | 360 g (3 + 1/2 cups) | 300 g (3 cups) | 240 g (2 + 1/2 cups) |
| 8 kg | 400 g (4 cups) | 330 g (3 + 1/4 cups) | 265 g (2 + 3/4 cups) |
| 9 kg | 435 g (4 + 1/4 cups) | 360 g (3 + 1/2 cups) | 290 g (3 cups) |
| 10 kg | 465 g (4 + 3/4 cups) | 390 g (4 cups) | 310 g (3 cups) |