Mother and Babycat Ultra Soft Mousse in Sauce Canned Cat Food
Royal Canin Mother & Babycat Ultra-Soft Mousse in Sauce wet cat food is formulated for the specific needs of growing baby kittens (1-4 months) and queen cats (pregnant or nursing)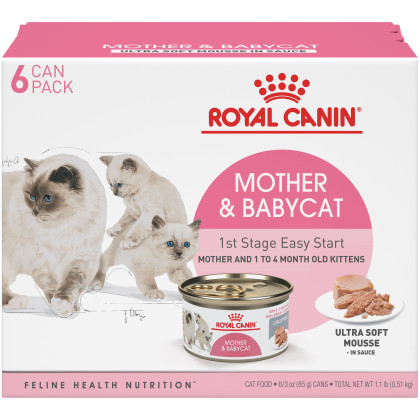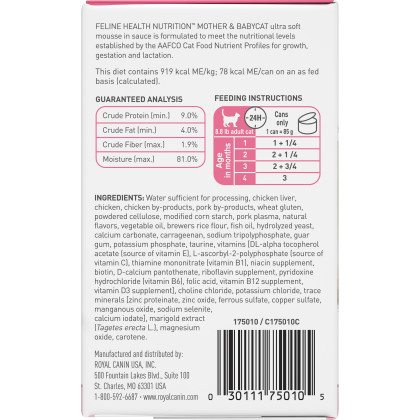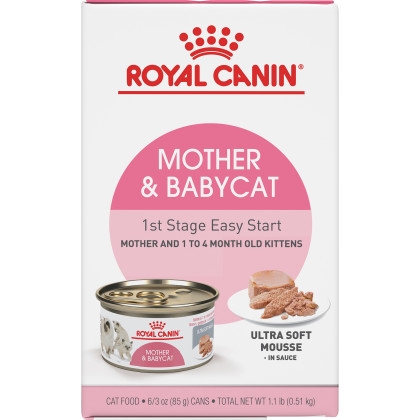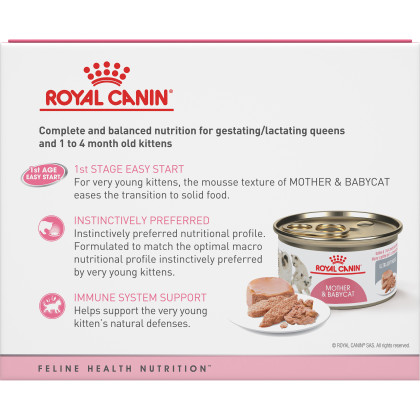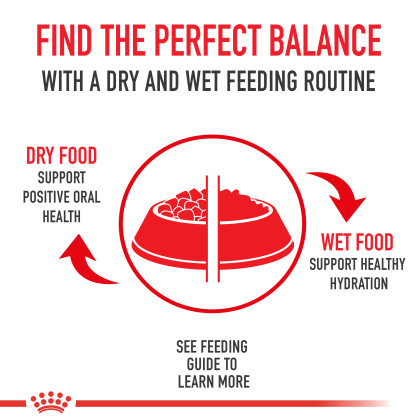 Fluffy mousse texture in sauce is easy to eat and helps kittens transition from milk to solid food; a perfect complement to Mother & Babycat dry cat food

Promotes healthy digestive system development with highly digestible proteins and prebiotics

Includes DHA to build a strong foundation for brain development, starting in the womb and continuing throughout the mother cat's pregnancy

Baby cats grow so quickly that certain kitten foods aren't tailored to their nutritional needs. A mother cat's milk has protective antibodies to support her kitten's natural defenses. But as a baby cat transitions to eating solids, their immune systems are still developing. This "immunity gap" leaves a kitten in a fragile state. With growing bones, emerging teeth, and developing immune and digestive systems, they need the right nutrition for healthy growth.

Royal Canin Mother & Babycat Ultra-Soft Mousse in Sauce feeds your young kitten's magnificence from the very start with the building blocks needed for healthy growth: Essential nutrients like DHA for brain development. Immune system-strengthening antioxidants and vitamins. Highly digestible proteins and prebiotics for a maturing digestive system. And with its ultra-soft mousse texture made for tiny mouths, you can easily transition your newborn kitten into a more "grown-up" diet of solids.
Water sufficient for processing, chicken liver, chicken, chicken by-products, pork by-products, wheat gluten, powdered cellulose, modified corn starch, pork plasma, natural flavors, vegetable oil, brewers rice flour, fish oil, hydrolyzed yeast, calcium carbonate, carrageenan, sodium tripolyphosphate, guar gum, potassium phosphate, taurine, vitamins [DL-alpha tocopherol acetate (source of vitamin E), L-ascorbyl-2-polyphosphate (source of vitamin C), thiamine mononitrate (vitamin B1), niacin supplement, biotin, D-calcium pantothenate, riboflavin supplement, pyridoxine hydrochloride (vitamin B6), folic acid, vitamin B12 supplement, vitamin D3 supplement], choline chloride, potassium chloride, trace minerals [zinc proteinate, zinc oxide, ferrous sulfate, copper sulfate, manganous oxide, sodium selenite, calcium iodate], marigold extract (Tagetes erecta L.), magnesium oxide, carotene.

Calorie Content

This diet contains 919 kcal ME/kg; 78 kcal ME/can on an as fed basis (calculated).

| | |
| --- | --- |
| Crude Protein (min) | 9.0% |
| Crude Fat (min) | 4.0% |
| Crude Fiber (max) | 1.9% |
| Moisture (max) | 81.0%. |

For the Kitten (3 oz Can)

Age in Months
Adult Weight
6.6 lb (3kg)
11lb (5kg)
Cans/Day
Kcals
Cans/Day
Kcals
1
1 1/2 - 1 3/4
128 - 157
2 - 2 1/4
166 - 204
2
2
169
2 1/2
225
3
2 1/2
215
3 1/4
290

For the Mother (3 oz Can)

Queen Weight
Gestating
Lactating
6.6 lb (3 kg)
2 ½ - 3 ¾ cans (225 - 330 Kcals)
Ad Libitum
11 lb (5 kg)
4 ¼ - 6 cans (375 - 555 Kcals)

For the Kitten (5.8 oz Can)

Age in Months
Adult Weight
6.6 lb (3kg)
11lb (5kg)
Cans/Day
Kcals
Cans/Day
Kcals
1
3/4 - 1
128 -157
1 - 1 1/4
166 - 204
2
1
169
1 1/4
225
3
1 1/4
215
1 3/4
290

For the Mother (5.8 oz Can)

Queen Weight
Gestating
Lactating
6.6 lb (3 kg)
1 1/4 - 1 3/4 cans (225 - 330 Kcals)
Ad Libitum
11 lb (5 kg)
2 1/4 - 3 1/4 cans (375 - 555 Kcals)
SepiaSister
09 Jan 2021
Easy to mix in extra water
My cats love that this food is well pureed, so that it is easy to lap up. I like it because I can easily mix in extra water for them.
DeeCat
31 Oct 2019
Helps to build up orphaned kittens.
Our rescue found this food years ago and great for bottle feeders. High quality nutrition that helps them gain weight and build up their immune system. They really love it!
31 Oct 2019
Perfect for pregnant & nursing mom & young kittens
My first rescue was 2 week old kittens, second rescue rescue were 4-5 week old kittens; unfortunately, due to the food I feed them, they had health issue that cost me about $3,000.00 for all 8 of them. When the vet recommended Royal Canin to me, I never had any similar issues with any young kittens afterward. I feed the pregnant feral and rescue and young kittens dumped without their mom and with their mom. I cannot ever imagine not feeding my cats, rescues, and my dogs any other brand. Royal Canin helped the kittens grow healthier and sustain a health life for many years to come and the mother to continue to replenish the nutrition she loses from nursing her kittens for too.
LFRNA
30 Oct 2019
Perfect food for weaning and raising kittens
As a rescue, we go through a lot of kitten food and we LOVE the Momma and Baby cat canned and hard food for weaning and raising our kittens. They love it and it is easy on their delicate tummies. Highly recommend!
Monkey1
30 Oct 2019
Purrrrrfect for a rescued cat and kittens
I foster numerous rescued kittens both with mothers and without - the Mother & Babycat food is the very best! Thank you!
Volunteer
30 Oct 2019
Best for babies!
Mother and Babycat food is the best choice for supplementing mom and weaning baby cats. They like it and it hasn't caused diarrhea.
Anne39
30 Oct 2019
Appetite Pleasing
We have an old cat who is a picky eater and his system will only tolerate canned food. Keeping weight on him is a problem but we have found that adding some of the MOTHER & BABYCAT canned diet to his prescription food helps to get him to eat. It has turned out to be a lifesaver, literally.
Devi
30 Oct 2019
Perfect for orphaned kittens
I am volunteer for a rescue and take care of orphaned kittens. This is the only food I feed my fosters. It is great to feed alone but I also blend it with kitten formula and it is so smooth I can put it in bottles for kittens who are just starting to be weaned.
Nikki5737
30 Oct 2019
Perfect for weaning kittens!
I foster for a local animal shelter and this is the absolute BEST food for kittens weaning off mama's milk. I've tried every variety of kitten food out there, and this is the ONLY one that all kittens have eaten, and has NEVER caused intestinal distress. Mama cats should also be eating kitten food while nursing, and every mom I've fostered has eaten Mother and Babycat with no issues. I can't recommend Mother and Babycat enough and will always use it for my mom's and babies.