Urinary SO Loaf in Sauce Canned Cat Food
Royal Canin Urinary SO is a veterinary-exclusive wet cat food for cats with urinary health concerns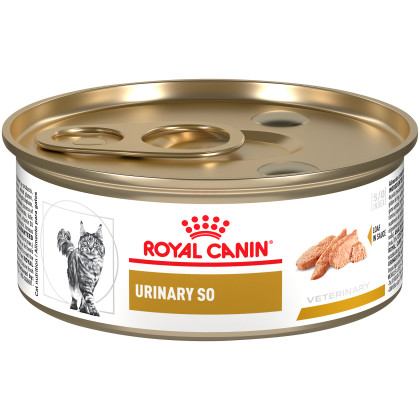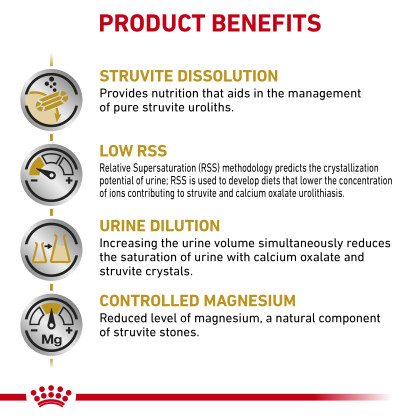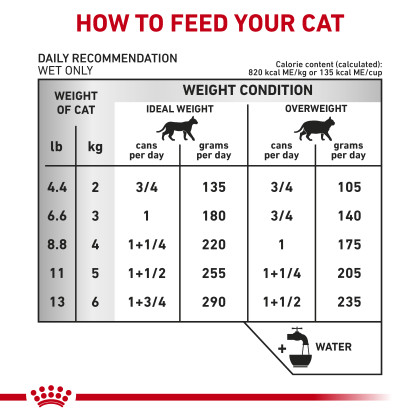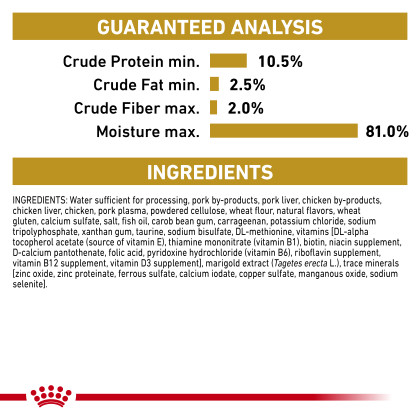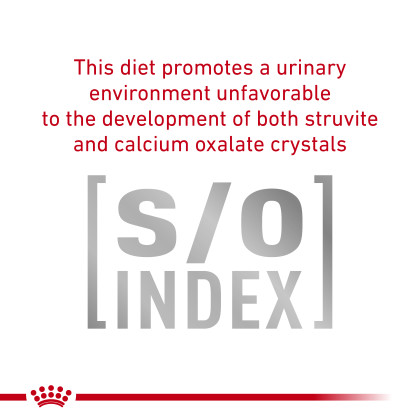 Helps dissolve pure struvite stones and helps prevent calcium oxalate stones

Lowers the risk of crystal formation using RSS methodology for bladder health

Supports urinary health with an exclusive S/O Index, and creates an environment unfavorable to crystal formation in the bladder

Helps prevent struvite stones from reoccurring

When your cat has urinary issues, easing their discomfort requires special care. But with the help of your veterinarian and Royal Canin, there's not just hope—there can be a true difference.

This veterinary-exclusive loaf in sauce wet cat food was developed to nutritionally support your adult cat's urinary tract and bladder health. It increases the amount of urine your cat produces to help dilute excess minerals that can cause crystals and stones. Relative Super Saturation (RSS) methodology is used to help lower ion concentration in urine, which contributes to stone formation. This formula promotes a urinary environment unfavorable to the formation of both struvite and calcium oxalate crystals. And this specialized nutrition, with a reduced level of magnesium, helps dissolve pure struvite stones and prevent struvite stones from forming. Lower urinary tract issues may be a recurring concern for some cats. Talk to your veterinarian about keeping your cat on this urinary cat food for long-term urinary support. And ask them about the right Royal Canin dry cat food and treats to complement your cat's diet.
Working towards a sustainable future
Our belief that pets make our world better inspires and gives life to our purpose of making a better A BETTER WORLD FOR PETS ™
Discover more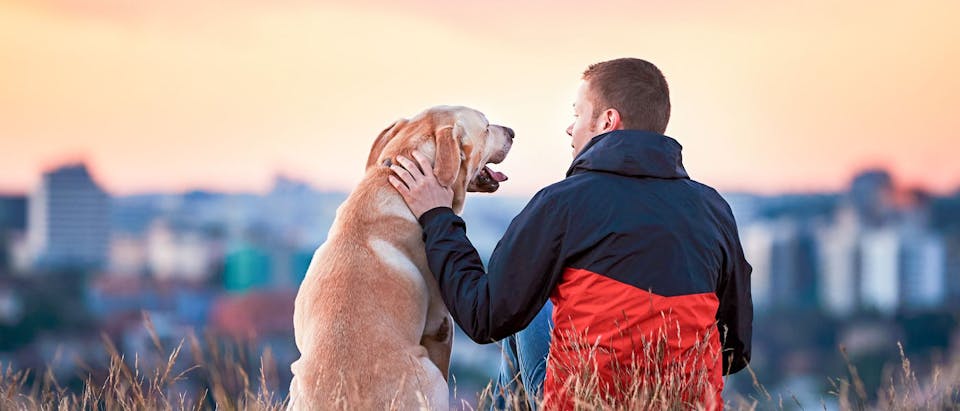 | Nutrient | Amount |
| --- | --- |
| Crude Protein (min) | 10.5% |
| Crude Fat (min) | 2.5% |
| Crude Fiber (max) | 2.0% |
| Moisture (max) | 81.0%. |

Wet Feeding

| Cat Weight | Low Activity | Medium Activity | High Activity |
| --- | --- | --- | --- |
| 4.4 lb (2 kg) | 3/4 can (105 g) | 3/4 can (135 g) | 1 can (160 g) |
| 6.6 lb (3 kg) | 3/4 can (140 g) | 1 can (180 g) | 1 1/4 cans (215 g) |
| 8.8 lb (4 kg) | 1 can (175 g) | 1 1/4 cans (220 g) | 1 1/2 cans (260 g) |
| 11 lb (5 kg) | 1 1/4 cans (205 g) | 1 1/2 cans (255 g) | 1 3/4 cans (305 g) |
| 13.2 lb (6 kg) | 1 1/2 cans (235 g) | 1 3/4 cans (290 g) | 2 cans (350 g) |
| 17.6 lb (8 kg) | 1 3/4 cans (285 g) | 2 1/4 cans (360 g) | 2 1/2 cans (430 g) |

Mixed Feeding

| Cat Weight | Cans / Day | Low Activity | Medium Activity | High Activity |
| --- | --- | --- | --- | --- |
| 4.4 lb (2 kg) | 1/4 | 1/8 cup (16 g) | 1/4 cup (23 g) | 3/8 cup (30 g) |
| 6.6 lb (3 kg) | 1/2 | 1/8 cup (15 g) | 1/4 cup (25 g) | 3/8 cup (34 g) |
| 8.8 lb (4 kg) | 1/2 | 1/4 cup (23 g) | 3/8 cup (36 g) | 1/2 cup (47 g) |
| 11 lb (5 kg) | 1/2 | 3/8 cup (30 g) | 1/2 cup (46 g) | 3/4 cup (60 g) |
| 13.2 lb (6 kg) | 1/2 | 3/8 cup (37 g) | 5/8 cup (56 g) | 7/8 cup (71 g) |
| 17.6 lb (8 kg) | 1 | 3/8 cup (30 g) | 5/8 cup (54 g) | 7/8 cup (73 g) |
MinasMom
15 Mar 2021
Very disconcerting...
Our senior kitty has been on this food all her life as she is prone to urinary tract infections. Over the last year or so, we've noticed that our kitty has not been eating regularly or seems so famished that she goes through extra food. My husband and I have discussed whether there was something wrong with the food - maybe more or less water content or SOMETHING - and now I see that may actually be the case. We've even done additional bloodwork at the vet thinking something was wrong with her. As we have the food auto-shipped through Chewy, they recently advised that they will not be getting the food in the future. When I looked elsewhere - out of stock. Why did I have to come to this website to learn that the formula was changed and that other cats are struggling similarly. Have already contacted the vet to find an alternative. Not cool, Royal Canin. Not cool.
Not happy
08 Mar 2021
What's going on
My cats health has recently been deteriorating. And now I see in the reviews that it's making Other cats sick? Why can't I find any more information on what is going on with this food? Nothing! We pay an arm and a leg for the food this company provides to keep our animals in good health. We Deserve to know what's going on. What is it March now? I don't trust this company.
JustmeAC
12 Feb 2021
Worked on my kitty
Here's my, or his, story. I feed my cats wet Ziwipeak. Went to clean the litterbox and there was blood in his pee. The did testing at the vet and turns out he's got crystals. They prescribed this (or Hills) and I have to admit, I fed him the RC 70% and Ziwi 30% in a day. I love Ziwi and the quality ingredients and I was upset about having to give that up, plus he was losing weight on the RC too. Thirty day check-up he was good and no crystals. About a month later he was having trouble holding it in and I noticed small red spots. Took him back, got scolded a bit by the doctor and was told he needs to be only on diet food. He can have one treat a day but no more Ziwi as it created high a PH balance. She said it's not from Ziwi but his body is changing to senior age and we all know what that does to us. So I had to stick to the RC, with dry food added in to keep his weight up cause he's a big cat, and with the next vet check he was clear of crystals. That last vet appt was a month ago and all seems fine now but for the minor incontinences he experiences. I put puppy pads outside the litterbox for that. He has also had minor issues though, being diagnosed with IBS many years ago. All cats are different and even though I don't like the ingredients in this food it does work, at least for my kitty. Now let's talk about my how this affects my bank account lol...
KStew
08 Feb 2021
It really works
I don't understand all of the bad reviews. My kitty is prone to crystals and after just one day on this food she started peeing normally again. Prior to this food, she would visit the litter box dozens of times a day and just sit and strain for up to 5 minutes. I'll continue to give her this food as long as she will eat it!
aaak26
29 Jan 2021
I wish I could give it 0 stars.
My vet recommended this food for my cat who is prone to crystals in her urine and UTI's. I bought 12 cans from my vet about a month ago and apparently those cans contained the original formula. I received 24 cans from a different distributor today and my cat will not touch this food now. Normally, I would take the time to gradually switch my cat to a new food if she doesn't seem immediately interested in it but I am very hesitant considering that most of these reviews say that the new formula made their cat(s) vomit. I am super disappointed. I will be switching to a different brand.
Deborah C
30 Nov 2020
Dried out
My cat will no longer eat this product. You changed the formula and now it is dried out. Will find another company
jacqueline 62
18 Nov 2020
refused to eat after 3 yrs on this diet
My cat has been on this food for 3 years and now he refuses to eat sniffs and runs away. What did you do to the formula... will be going to vet to change his diet.. awful
Dragonlady
30 Aug 2020
Royal canin urinary so
I bought this food for my cat and every time he eats a little of it he throws it back up
kittycatmaryland99
15 Aug 2020
VOMIT
Bought a few cans from the vet because my cat was just diagnosed with urinary crystals. Within minutes of eating this wet food she vomited all over. Dinner that night I gave it to her again not realizing it was the food. Again within minutes she vomited it all up! I had another brand - Hills C/D and I gave her that and she ate it just fine. The next morning I tried the Royal Canin again and bam - vomited all over. Will never feed this food again! Gave her the hills c/d and she's been fine for days now - no vomiting.