Urinary SO Loaf in Sauce Canned Cat Food
Royal Canin Urinary SO is a veterinary-exclusive wet cat food for cats with urinary health concerns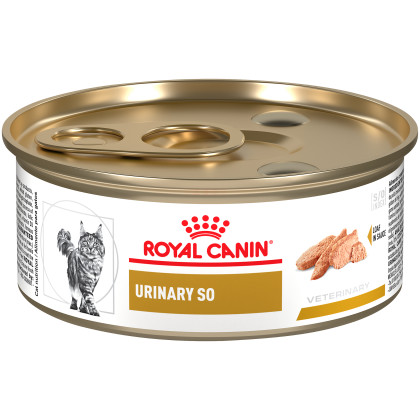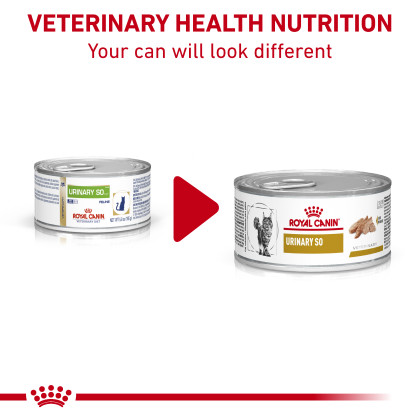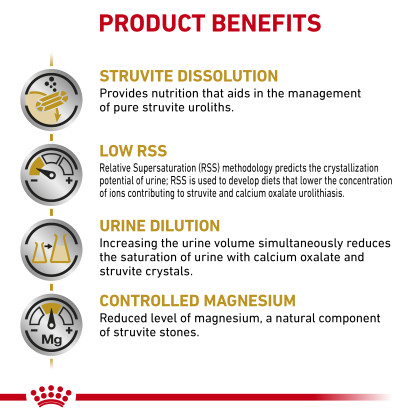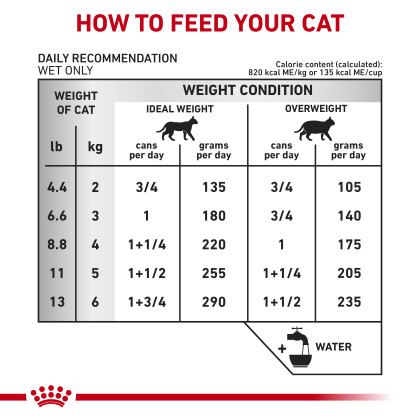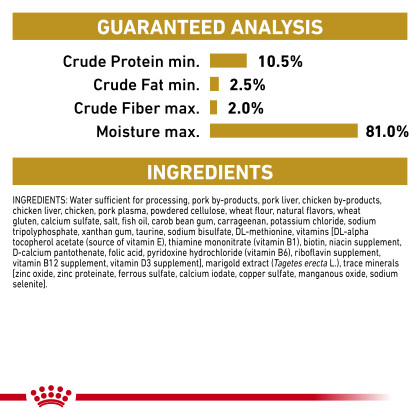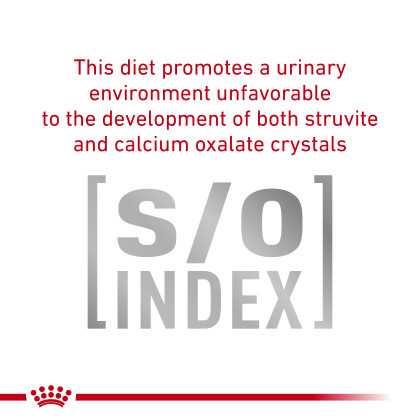 Helps dissolve pure struvite stones and helps prevent calcium oxalate stones

Lowers the risk of crystal formation using RSS methodology for bladder health

Supports urinary health with an exclusive S/O Index, and creates an environment unfavorable to crystal formation in the bladder

Helps prevent struvite stones from reoccurring

When your cat has urinary issues, easing their discomfort requires special care. But with the help of your veterinarian and Royal Canin, there's not just hope—there can be a true difference.

This veterinary-exclusive loaf in sauce wet cat food was developed to nutritionally support your adult cat's urinary tract and bladder health. It increases the amount of urine your cat produces to help dilute excess minerals that can cause crystals and stones. Relative Super Saturation (RSS) methodology is used to help lower ion concentration in urine, which contributes to stone formation. This formula promotes a urinary environment unfavorable to the formation of both struvite and calcium oxalate crystals. And this specialized nutrition, with a reduced level of magnesium, helps dissolve pure struvite stones and prevent struvite stones from forming. Lower urinary tract issues may be a recurring concern for some cats. Talk to your veterinarian about keeping your cat on this urinary cat food for long-term urinary support. And ask them about the right Royal Canin dry cat food and treats to complement your cat's diet.
Water sufficient for processing, pork by-products, pork liver, chicken by-products, chicken liver, chicken, pork plasma, powdered cellulose, wheat flour, natural flavors, wheat gluten, calcium sulfate, salt, fish oil, carob bean gum, carrageenan, potassium chloride, sodium tripolyphosphate, xanthan gum, taurine, sodium bisulfate, DL-methionine, vitamins [DL-alpha tocopherol acetate (source of vitamin E), thiamine mononitrate (vitamin B1), biotin, niacin supplement, D-calcium pantothenate, folic acid, pyridoxine hydrochloride (vitamin B6), riboflavin supplement, vitamin B12 supplement, vitamin D3 supplement], marigold extract (Tagetes erecta L.), trace minerals [zinc oxide, zinc proteinate, ferrous sulfate, calcium iodate, copper sulfate, manganous oxide, sodium selenite].

Calorie Content

This diet contains 820 kcal ME/kg; 135 kcal ME/can on an as fed basis (calculated).

| | |
| --- | --- |
| Crude Protein (min) | 10.5% |
| Crude Fat (min) | 2.5% |
| Crude Fiber (max) | 2.0% |
| Moisture (max) | 81.0%. |

Wet Feeding

| Cat Weight | Low Activity | Medium Activity | High Activity |
| --- | --- | --- | --- |
| 4.4 lb (2 kg) | 3/4 can (105 g) | 3/4 can (135 g) | 1 can (160 g) |
| 6.6 lb (3 kg) | 3/4 can (140 g) | 1 can (180 g) | 1 1/4 cans (215 g) |
| 8.8 lb (4 kg) | 1 can (175 g) | 1 1/4 cans (220 g) | 1 1/2 cans (260 g) |
| 11 lb (5 kg) | 1 1/4 cans (205 g) | 1 1/2 cans (255 g) | 1 3/4 cans (305 g) |
| 13.2 lb (6 kg) | 1 1/2 cans (235 g) | 1 3/4 cans (290 g) | 2 cans (350 g) |
| 17.6 lb (8 kg) | 1 3/4 cans (285 g) | 2 1/4 cans (360 g) | 2 1/2 cans (430 g) |

Mixed Feeding

| Cat Weight | Cans / Day | Low Activity | Medium Activity | High Activity |
| --- | --- | --- | --- | --- |
| 4.4 lb (2 kg) | 1/4 | 1/8 cup (16 g) | 1/4 cup (23 g) | 3/8 cup (30 g) |
| 6.6 lb (3 kg) | 1/2 | 1/8 cup (15 g) | 1/4 cup (25 g) | 3/8 cup (34 g) |
| 8.8 lb (4 kg) | 1/2 | 1/4 cup (23 g) | 3/8 cup (36 g) | 1/2 cup (47 g) |
| 11 lb (5 kg) | 1/2 | 3/8 cup (30 g) | 1/2 cup (46 g) | 3/4 cup (60 g) |
| 13.2 lb (6 kg) | 1/2 | 3/8 cup (37 g) | 5/8 cup (56 g) | 7/8 cup (71 g) |
| 17.6 lb (8 kg) | 1 | 3/8 cup (30 g) | 5/8 cup (54 g) | 7/8 cup (73 g) |
Raehawk87
24 Jun 2020
New formula is terrible
My cat has had urinary issues for years and the only thing that works for him was the old formula. I noticed a change in his physical health once they changed the formula in his food in the last year or so. He's having more problems than ever with leaking, and we were able to test this theory because we had half a case of the old formula left. I believe when I called to reach out they said that they had removed some kind of egg protein which I now have been substituting by making eggs or chicken for his food. The price also increased $8 a month, what's the point of spending the money if the food isn't going to do the trick anymore? Raw diet here we come.
Asiauser
18 Jun 2020
RC executives - read these bad reviews
I read the bad reviews but due to the pandemic I couldn't get anything else. My cat gulps it down every time but then spits it right back up in 10-20 minutes. We tried it for almost 2 weeks, slowly easing it in with his old food, but he wouldn't have any of it. He was fine with the Urinary SO Calm formula, and he likes the dry food, but this is terrible. It's also disappointing that senior managers are not reading these bad reviews and helping customers choose an alternative.
mam1210
10 Jun 2020
New Formula is Awful don't waist your money!!
My cat was on the original Urinary SO for 9 years and loved his food. Since the new formula, he will not eat it and now has allergy issues as well. They added Wheat and Wheat gluten, also reduced the fat and moisture. They removed the egg and cornflower and increased the protein. This consistency is like paste and obviously very dry. Even though I add water to the food my cat will not eat it and I am now forced to look for another option. Please bring back the original formula so I don't have to continue stressing out my cat and myself.
Ticked Off Tom
10 Jun 2020
This is making my cat sick
My cat had urinary issues and the vet recommended this product for her. Unfortunately, she is reluctant to eat it and it's now making her vomit. This seems to be a reoccurring issue by the amount of recent negative reviews. I don't recommend anyone waste their money on this as we did.
VeryUpsetCatOwner
12 May 2020
are you even paying attention to the complaints?
We have 2 cats - 1 of which has bladder issues. At 13 years old, he has had 2 bladder surgeries. At his age, we will not put him thru that again. After the last surgery, the vet switched us to Royal Canin. Both cats loved the food - but that was the old formula with the green label. At the beginning of this year, my Chewy order showed up and the label was now brown. I didn't think much of it and figured it was a packaging update, because surely you would not change the formula on a VETERINARIAN diet with no notice. Boy was I wrong! After eating both the wet and dry of the new formula, BOTH of my cats were vomiting. Every....single....time. Something is clearly wrong with the new formula. Look at the change in your ratings. Yes, overall the food still has a good rating, but that is because of all of the good ratings for the OLD formula. Like others have said, why not just add another option if you wanted to change the formula? It's not like pet owners buy the more expensive vet diets for fun....or having to get a prescription to feed your cat. People are spending a lot of money to take their kitties to the vet because of the HARM this food is causing them. What is your plan to address all of this? How many cats have to get sick? How much vomit do pet owners have to clean up as a direct result of the formula change you made? What happens when someone's cat dies because of bladder stones as a result from not eating the food that WAS helping with their medical condition? What are you going to do?
CoachRenee22
22 Apr 2020
New Formula Disappoints
This rating is for your new formula with the brown label. Your previous formula in the green labeled cans was the first canned food my kitty cat of 15 years ever ate and would have gotten all 5 stars in every category. After her bladder stones surgery 5 years ago, and the one remaining stone sitting in her kidney that we watch, eating wet food became more important and I didn't think after the vet prescribed this that she would eat it but she loved it and couldn't get enough of it. My other cat by default eats the same food she does and he loved it too! For the last 5+ years this has been their diet. This new formula though is so much drier than the last and smells weird. The only way I have gotten them to eat it is by mixing in some water to each of their servings. It took 2-4 servings completely waisted that they turned their nose up at before I figured out that they missed the moisture the most, but even with the added water they still aren't eating as much of it as they used too and now one of them has started regularly vomiting and he never used to. Please go back to the old formula so I can continue to give my cats the proper diet and health that they need.
TwoBlackCats
22 Apr 2020
Giving our cat diarrhea
We had to change our one male cat to this food earlier in the year after some urinary issues and surgery. He liked it at first and there seemed to be no problems, initially crediting his softer stool to post surgery and anesthesia. Once we introduced some dried food, it was obvious that he no longer enjoyed the Urinary S/O "Loaf in Sauce", leaving entire portions uneaten and only ever consuming it if there was no dry food to be had, and if we coaxed him with treats hidden into the wet food. As we've read, it turns out we are not the only ones with this problem, as it might be due to a recent switch in formula! We are beginning to think that he only ever ate the food in early January because it was all he had, and that his recent diarrhea issues have been because we are leaning more on this Urinary S/O "Loaf in Sauce" again (trying not to be lazy and overfeed him dry food). For anyone experiencing issues with their cat, definitely take them to the vet (as diarrhea in cats can be a sign of larger issues), but do not hesitate to switch them off of this food to see whether or not their digestive issues resolve as well.
gwenb
21 Apr 2020
Why did you change the formula? Cat hates it
Why did Royal Canin change the formula? My cat is refusing to eat it. Don't know what I'm going to do. I already alternate with Hills c/d to give him variety, but I preferred the s/o green label. PLEASE go back to the old formula, or offer it in addition to the new formula. I have a whole case of the brown label I'm not going to be able to use.
Mikachu
15 Apr 2020
unlike others
My boy loves the new formula.. it was impossible to get him to eat the green label. He develops calcium oxalate stones after his first blockage/surgery we put him on another brand... the stones came back 7 months later. After the second surgery we switched him to royal + potassium citrate we are on 6 months no stones but getting him to eat the green can was hard. This new formula he loves no loose stools unlike others. Cats are picky eaters.
Thigpen
09 Apr 2020
Awful new formula
Not understanding why you guys took all of the moisture out of the new formula. My cat doesnt like it and needs this to maintain urinary Wellness. It smells, it hardens very quickly. The only time he eats it is when I open a fresh can and it is somewhat soft on the top...I have to throw away the rest of the can as it hardens and smells. I beg your company to go back to the green label can!!! Such a disappointment for our felines!!!