Urinary SO Moderate Calorie Dry Cat Food
Royal Canin Urinary SO Moderate Calorie is a veterinary-exclusive dry cat food for cats prone to weight gain with urinary health concerns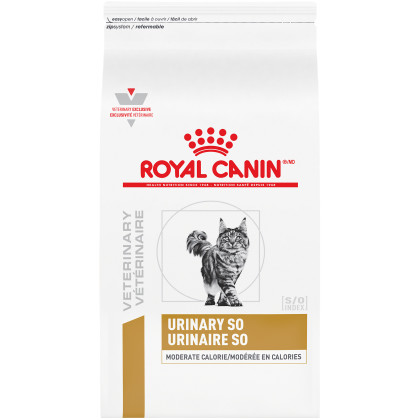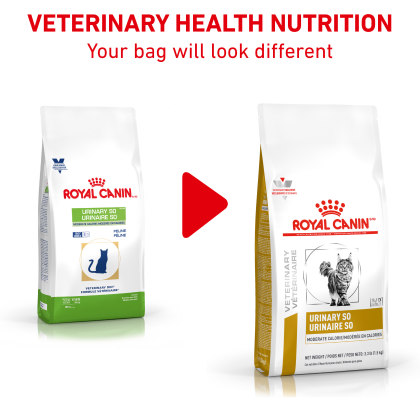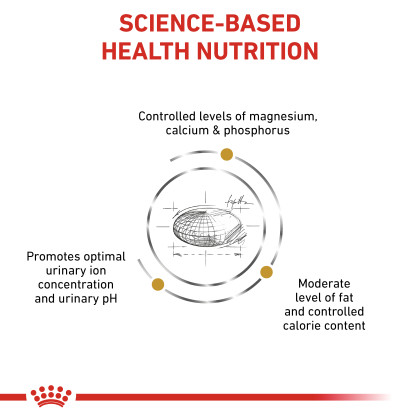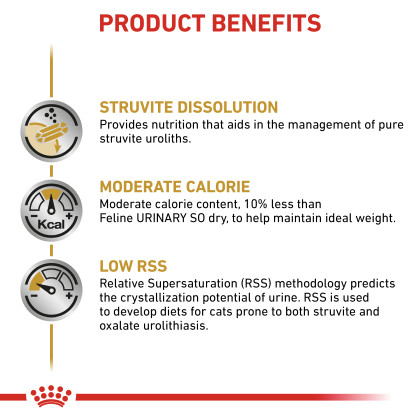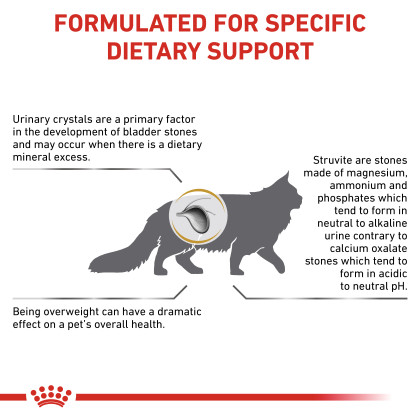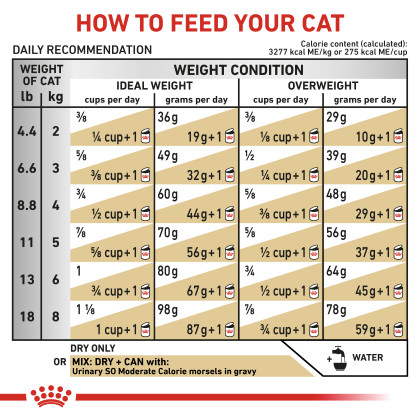 Helps dissolve pure struvite stones and helps prevent calcium oxalate stones

Moderate calorie content (10% less calories than Royal Canin Feline Urinary SO dry cat food for ideal weight maintenance

Lowers the risk of crystal formation using RSS methodology for bladder health

Supports urinary health with an exclusive S/O Index, and creates an environment unfavorable to crystal formation in the bladder

When your cat has urinary issues, easing their discomfort requires special care. But with the help of your veterinarian and Royal Canin, there's not just hope—there can be a true difference.

This veterinary-exclusive dry cat food was developed to nutritionally support your adult cat's urinary tract and bladder health. It increases the amount of urine your cat produces to help dilute excess minerals that can cause crystals and stones. Moderate calorie content (10% less than Royal Canin Urinary SO dry cat food) helps them maintain a healthy weight. Relative Super Saturation (RSS) methodology is used to help lower ion concentration in urine, which contributes to stone formation. This formula promotes a urinary environment unfavorable to the formation of both struvite and calcium oxalate crystals. Lower urinary tract issues may be a recurring concern for some cats. Talk to your veterinarian about keeping your cat on this urinary cat food for long-term urinary support. And ask them about the right Royal Canin wet cat food and treats to complement your cat's diet.
Chicken by-product meal, brewers rice, corn, corn gluten meal, powdered cellulose, wheat gluten, natural flavors, chicken fat, salt, fish oil, potassium chloride, calcium sulfate, egg product, sodium bisulfate, vegetable oil, sodium pyrophosphate, DL-methionine, fructooligosaccharides, monocalcium phosphate, choline chloride, vitamins [DL-alpha tocopherol acetate (source of vitamin E), niacin supplement, biotin, riboflavin supplement, D-calcium pantothenate, pyridoxine hydrochloride (vitamin B6), vitamin A acetate, thiamine mononitrate (vitamin B1), vitamin B12 supplement, folic acid, vitamin D3 supplement], taurine, trace minerals [zinc proteinate, zinc oxide, manganese proteinate, ferrous sulfate, manganous oxide, copper sulfate, calcium iodate, sodium selenite, copper proteinate], marigold extract (Tagetes erecta L.), L-carnitine, rosemary extract, preserved with mixed tocopherols and citric acid.

Calorie Content

This diet contains 3277 kilocalories of metabolizable energy (ME) per kilogram or 275 kilocalories ME per cup on an as fed basis (calculated).

| Nutrient | Amount |
| --- | --- |
| Crude Protein (min) | 32.0% |
| Crude Fat (min) | 9.0% |
| Crude Fat (max) | 13.0% |
| Crude Fiber (max) | 9.3% |
| Moisture (max) | 8.0% |
| Calcium (max) | 1.4% |
| Phosphorus (max) | 1.3% |
| Magnesium (max) | 0.08%. |

Dry Feeding

| Cat Weight | Low Activity | Medium Activity |
| --- | --- | --- |
| 4.4 lb (2 kg) | 3/8 cup (29 g) | 3/8 cup (36 g) |
| 6.6 lb (3 kg) | 1/2 cup (39 g) | 5/8 cup (49 g) |
| 8.8 lb (4 kg) | 5/8 cup (48 g) | 3/4 cup (60 g) |
| 11 lb (5 kg) | 5/8 cup (56 g) | 7/8 cup (70 g) |
| 13.2 lb (6 kg) | 3/4 cup (64 g) | 1 cup (80 g) |
| 15.4 lb (7 kg) | 7/8 cup (71 g) | 1 cup (89 g) |
| 17.6 lb (8 kg) | 7/8 cup (78 g) | 1 1/8 cups (98 g) |

Mixed Feeding

| Cat Weight | Cans / Day | Low Activity | Medium Activity |
| --- | --- | --- | --- |
| 4.4 lb (2 kg) | 1 | 1/8 cup (10 g) | 1/4 cup (19 g) |
| 6.6 lb (3 kg) | 1 | 1/4 cup (20 g) | 3/8 cup (32 g) |
| 8.8 lb (4 kg) | 1 | 3/8 cup (29 g) | 1/2 cup (44 g) |
| 11 lb (5 kg) | 1 | 1/2 cup (37 g) | 5/8 cup (56 g) |
| 13.2 lb (6 kg) | 1 | 1/2 cup (45 g) | 3/4 cup (67 g) |
| 15.4 lb (7 kg) | 1 | 5/8 cup (52 g) | 7/8 cup (77 g) |
| 17.6 lb (8 kg) | 1 | 3/4 cup (59 g) | 1 cup (87 g) |
MHJG
18 Sep 2021

One of my cats had urinary issues and the vet recommended RC Urinary SO. She said I could feed it to all my cats...(of course she did because I had to buy it at her clinic and it costs a small fortune when you're feeding it to 3 cats). Shortly thereafter all my cats began puking up the food. Between the three cats there was at least one puke to clean up daily. Horrible. I switched to Hills Urinary dry and wet food and the puking has greatly reduced to once a week. And I can get it at all pet supply stores. Amazing
Shoutydavis
27 Jun 2021
Cats vomiting
I have three cats, and they've all eaten RC urinary SO mod calorie for quite a few years. We've noticed vomiting of full kibble and thought maybe they're just gorging, but we have an automatic feeder. I've noticed my one guy has lost some weight over the last few months, but I thought it was due to increased activity. But the vomiting has gotten worse and I frantically left a message for my vet this weekend since one cat puked 5 times in one day and has avoided the dry food like the plague. I've been giving can food and he has not puked since, and neither have the other two. I decided to investigate reviews on this food and found many cat parents having the same issue!!!! Turns out royal canin has changed the product! My poor babies!!! I feel like such a terrible cat mom for letting this happen to them! I'm expecting a call from my vet as soon as they open, and of course to be safe I'm taking him in, but what a shame to spend $77 on a bag of food that all three eat and then have to pay for vet bills because said food has been making them sick!
Moe_the_Tuxedo
10 May 2021
Great Product
I put my cat on this after a urinary blockage. He loves it and is doing great. He has slimmed down a lot from his previous weight of 21 pounds (he's part Maine Coon) and his fur doesn't get matted like it did before. The calming effects of it are very noticeable as well. He used to be scared of everyone and everything. He is much more calm and has really come out of his shell. He is almost 7 and it has been a great change of diet for him. My other 3 cats love it as well and will eat from his bowl whenever they can.
Royal Canin response
Great to hear he is doing so well!
Smzinnoho
01 Apr 2021
New for ula is awful
My cat shave both gained weight after the formula change. No happy with wheat being added. Switching to another brand
Jhawes
17 Feb 2021
Good bad all of a sudden
Have been getting for years although past few months my cats have gained weight and have been vomiting.
For Jackson
18 Oct 2020
Very disappointed new formula
I have purchased this food now for about close to two years, and my cats do not like the new formula. Typically they can eat the top 1/4-1/2 of the bag, but past that even the cat that will eat anything, walks away from it. I close the bag tightly and even flip it upside down to see if that works if some flavors are settling. They also get sick on it like the others I see in the review. They are also opposed to the wet version as well. I have to throw 1/2 of the bag away every time I purchase it. Very disheartening. The old formula was a little better. It is very challenging since the boys need the SO food. We even buy the medium sized bag.
Heather38
27 Aug 2020
Formula Change
My cat used to eat the old formula (green label) and we had no issues. I called Royal Canin when the bag switched to the (gold label) and was told that they added "Wheat" to the ingredients. This may be the problem why everyone's cats no longer like the food or vomit a lot when eating this food. Wheat can be bad especially if your cats is allergic to wheat which a lot of cats are. Also, the same thing with the wet SO food, my cat will no longer eat it.
EricaR
12 Aug 2020
Cat Gained Weight and Vomited with new Formula!
I used to feed the RCVD Urinary SO to both my cats and they were overweight and would have the occasional hairball but I was working in feeding them less and doing stuff to help hairballs. When the Moderate Calorie diet version came out my Vet recommended it so of course I switched and ever since both my cats vomit without hairballs, one of the gained weight even though I have restricted the calories more and the other cat who loves to eat stopped eating it and was recently diagnosed with Diabetes (this is mot likely unrelated to the food however this is a very high carb diet which I didn't not realize.) I will be switching my cat with Urinary issues to a different diet. The only good thing and the reason I gave 2 stars is because since being on the diet my cat didn't get anymore struvite crystals.
AprilVetAssistant
19 Jul 2020
I am a veterinary assistant - Dissatisfied
I have worked in veterinary medicine for 8 years. I have all 3 of my male cats on urinary S/O or an Royal Canin S/O indexx food. The S/O Mod Cal food makes my cats excessively vomit and has done so for several months. This did not used to be the case. They used to love eating it and would hound me to be fed. Now when it put it down they just look at me. There is no way that Royal Canin hasn't changed their formula. I'm really annoyed about this and won't recommend it to clients. I recommend sticking with the regular Urinary S/O food that is not the Mod Cal diet or switching to another Royal Canin diet that has the S/O index in it. I also feed the Royal Canin Feline Dental Diet b/c it has the S/O index in it. I do not have problems with this food and my cats teeth (8 yrs old) look like a 2 yr old cat. I've never brushed their teeth and they've never had a dental.
LCpalmbay
08 Jul 2020
no bladder stone worries now
my female cat developed bladder stones and thankfully they were small enough to be flushed out without surgery thanks to my great vet. He recommended using prescription dry food. My cat loves this one and has had no issues and it's been at least six months. Highly recommend.
Royal Canin response
Wonderful to hear!