Anallergenic
Complete dietetic feed for adult cats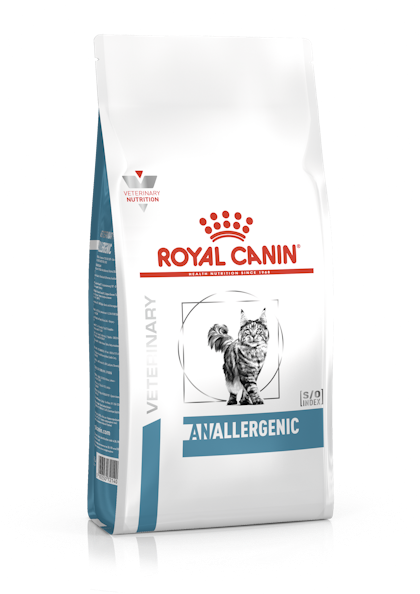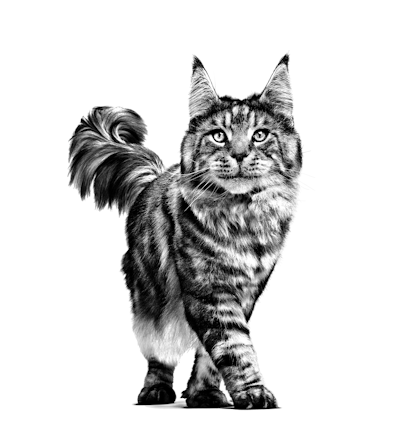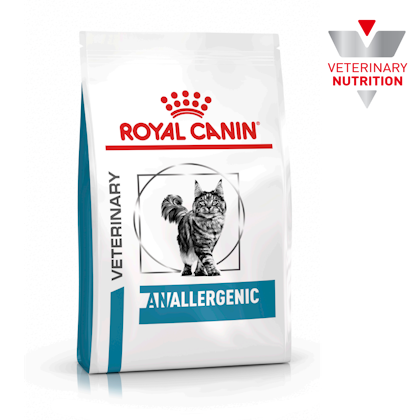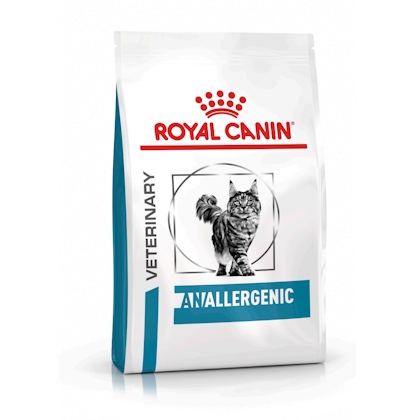 Skin barrier

Formulated to support the skin's natural protective barrier for optimal skin health

Oligopeptides

Low molecular weight peptides to reduce the risk of adverse food reaction

Allergen restriction

Formula and production process aimed at excluding sources of food allergens

Antioxidant complex

A synergistic complex of antioxidants to help neutralise free radicals

Precise formula

In 1968 in the South of France, a veterinarian named Jean Cathary discovered he could help dogs heal more fully through tailored nutrition. In this visionary act, ROYAL CANIN was born. Today, using advanced veterinary science and careful observation to identify the most adapted nutrients, our 220+ individual formulas support the health of every individual cat and dog.
COMPOSITION: maize starch, feather hydrolysate with low molecular weight (source of L amino acids and oligopeptides), copra oil, soya oil, vegetable fibres, minerals, animal fat, fish oil, chicory pulp, fructo-oligo-saccharides, maltodextrin, mono - and diglycerides of palmitic and stearic acids esterified with citric acid, dextrose, marigold extract (source of lutein). Protein source: feather hydrolysate with low molecular weight. Carbohydrate source: maize starch.

ADDITIVES (per kg): Nutritional additives: Vitamin A: 36500 IU, Vitamin D3: 800 IU, E1 (Iron): 42 mg, E2 (Iodine): 3.8 mg, E4 (Copper): 15 mg, E5 (Manganese): 55 mg, E6 (Zinc): 162 mg, E8 (Selenium): 0.26 mg - Technological additives: Clinoptilolite of sedimentary origin: 10 g - Antioxidants. - Preservatives - Antioxidants.

| Cat's weight | Thin | Thin | Normal | Normal | Overweight | Overweight |
| --- | --- | --- | --- | --- | --- | --- |
| | grams | cups | grams | cups | grams | cups |
| 2kg | 39 | 3/8 | 32 | 3/8 | 26 | 2/8 |
| 3kg | 52 | 4/8 | 43 | 4/8 | 35 | 3/8 |
| 4kg | 64 | 5/8 | 53 | 5/8 | 42 | 4/8 |
| 5kg | 75 | 6/8 | 62 | 5/8 | 50 | 4/8 |
| 6kg | 85 | 7/8 | 71 | 6/8 | 57 | 5/8 |
| 7kg | 95 | 1 | 79 | 7/8 | 63 | 5/8 |
| 8kg | 104 | 1 + 1/8 | 87 | 7/8 | 69 | 6/8 |
| 9kg | 113 | 1 + 2/8 | 95 | 1 | 76 | 6/8 |
| 10kg | 122 | 1 + 2/8 | 102 | 1 + 1/8 | 81 | 7/8 |