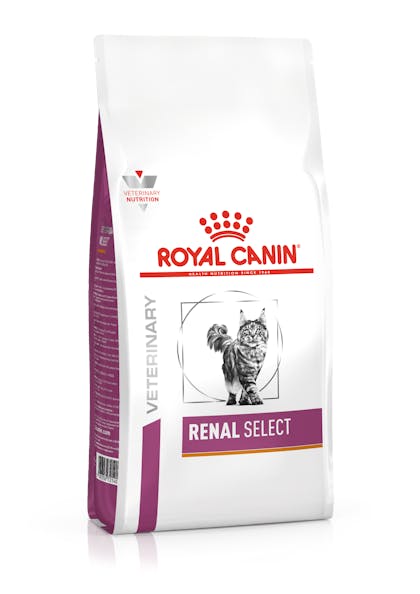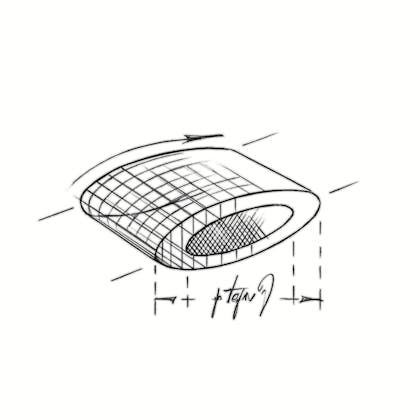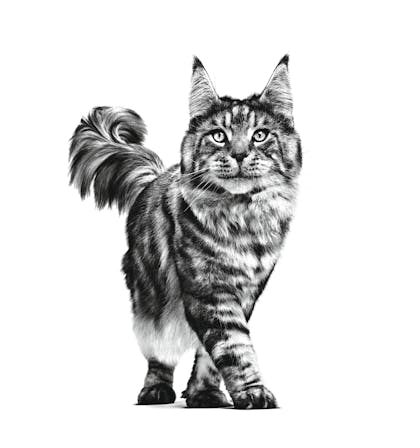 Renal support

Formulated with low phosphorous and a moderate level of highly digestible protein to assist renal health and to help improve quality of life.

Adapted energy

Adapted energy content to reduce mea lvolume and help compensate for decreases in appetite.

Appetite stimulation

An appealing aromatic profile to helpstimulate appetite, particularly in cases of food aversion. Special pillow-shaped kibble facilitate easy prehension and maximum palatability.

ROYAL CANIN® Renal Select dry is a complete dietetic feed for cats formulated to support renal function in the case of chronic renal insufficiency, through its restricted levels of phosphorus and high-quality proteins. Renal Select dry is also formulated to reduce oxalate stone formation through its low level of calcium and Vitamin D, and its urine alkalising properties. Recommendations: It is recommended that a veterinarian's opinion be sought before use or before extending the period of use. Initially feed Renal Select dry for up to 6 months in cases of chronic renal insufficiency and reduction of oxalate stone formation. Recommended in cases of: Azotemic Chronic Kidney Disease (IRIS stage 2 to stage 4), Management of calcium oxalate urolith recurrence in cats with impaired renal function, Prevention of recurrence of urolithiasis requiring urine alkalinisation: urate & cystine uroliths. Not recommended in case of: Growth, gestation and lactation. This diet is complete and balanced and can be fed long-term. A full health check should be performed by a veterinarian every 6 months.
Working towards a sustainable future
Our belief that pets make our world better inspires and gives life to our purpose of making a better A BETTER WORLD FOR PETS ™
Discover more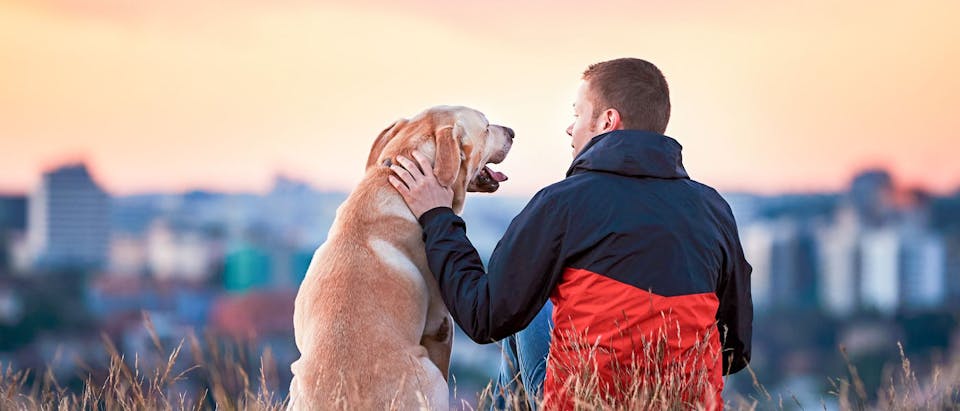 Composition: Animal fats, rice, pre-cooked wheat flour, dehydrated pork protein**, wheat flour, wheat gluten**, vegetable fibres, maize gluten, hydrolysed animal proteins, dehydrated fish, minerals, chicory pulp, fish oil, soya oil, mono - and diglycerides of palmitic and stearic acids esterified with citric acid, psyllium husks and seeds, fructo-oligosaccharides, marigold extract (source of lutein). Protein sources: dehydrated pork protein**, wheat gluten**, maize gluten, hydrolysed animal proteins. ** L.I.P.: protein selected for its very high digestibility.

Additives (per kg): Nutritional additives: Vitamin A: 21000 IU, Vitamin D3: 800 IU, Iron: 45 mg, Iodine: 4.5 mg, Copper: 14 mg, Manganese: 58 mg, Zinc: 148 mg, Selenium: 0.08 mg - Technological additives: Clinoptilolite of sedimentary origin: 10 g - Preservatives - Antioxidants.

Analytical Consituants: Protein: 24.5% - Fat content: 21.5% - Crude ash: 6.6% - Crude fibres: 4.6% - Calcium: 0.7% - Phosphorus: 0.41% - Potassium: 0.9% - Sodium: 0.45% - Magnesium: 0.08% - Chloride: 0.94% - Sulphur: 0.4% - Vitamin D (Total): 900.0 IU/kg - Hydroxyproline: 0.42% - EPA/DHA: 0.41% - Essential Fatty Acids (Linoleic Acid - Arachidonic Acid): 3.51% - Urine alkalising substances: potassium citrate - calcium carbonate. Metabolisable energy: 408.30 kcal/100g.

For RSA: Guaranteed analysis g/kg: Crude protein (min) 225 - Moisture (max) 70 - Crude fat (min) 195 - Crude fibre (max) 56 - Crude ash (max) 73.

* L.I.P.: protein selected for its very high digestibility.

Feeding instructions: see table. Water should be available at all times. Batch number, factory registration number and best before date: see information on packaging. To be stored in a cool, dry place.​ Renal diets are recommended in cases of proteinuria, and once creatinine levels elevate past reference ranges (from CKD stage 2), before inappetance develops. After commencing a Renal diet, in addition to periodic measurement of renal biomarkers, blood mineral level monitoring is also recommended. In cases of diet-induced hypercalcaemia, cats should be switched to Early Renal diet. Renal diets may be continued for the cat's lifetime. In case of food aversion, cats can be switched to another renal option without transition. It is recommended that a full health check be performed every 6 months.

| - | - | Adult's weight | - | - | - | - |
| --- | --- | --- | --- | --- | --- | --- |
| - | Thin | - | Normal | - | Overweight | - |
| Cat's weight (kg) | grams | cup(s) | grams | cup(s) | grams | cup(s) |
| 2 | 37 | 3/8 | 31 | 2/8 | 25 | 2/8 |
| 2.5 | 43 | 3/8 | | 3/8 | 29 | 2/8 |
| 3 | 49 | 4/8 | 41 | 3/8 | 33 | 3/8 |
| 3.5 | 55 | 4/8 | 46 | 3/8 | 37 | 3/8 |
| 4 | 61 | 5/8 | 51 | 4/8 | 40 | 3/8 |
| 4.5 | 66 | 5/8 | 55 | 4/8 | 44 | 3/8 |
| 5 | 71 | 5/8 | 59 | 4/8 | 47 | 4/8 |
| 5.5 | 76 | 6/8 | 64 | 5/8 | 51 | 4/8 |
| 6 | 81 | 6/8 | 68 | 5/8 | 54 | 4/8 |
| 6.5 | 86 | 7/8 | 72 | 5/8 | 57 | 4/8 |
| 7 | 90 | 7/8 | 75 | 6/8 | 60 | 5/8 |
| 7.5 | 95 | 7/8 | 79 | 6/8 | 63 | 5/8 |
| 8 | 99 | 1 | 83 | 6/8 | 66 | 5/8 |
| 8.5 | 104 | 1 | 87 | 7/8 | 69 | 5/8 |
| 9 | 108 | 1 | 90 | 7/8 | 72 | 5/8 |
| 9.5 | 112 | 1 | 94 | 7/8 | 75 | 6/8 |
| 10 | 116 | 1+1/8 | 97 | 7/8 | 78 | 6/8 |