Skin & Coat
ROYAL CANIN® Skin & Coat is scientifically formulated to support the skin's natural strength and help reduce the signs of skin disease in cats. If you are a veterinarian or veterinary nurse and wish to see the full product information in more detail, please visit our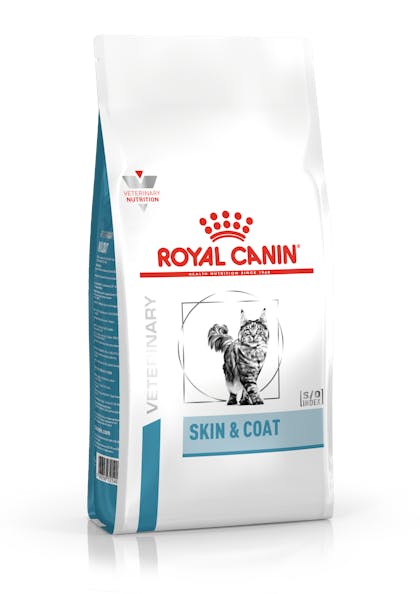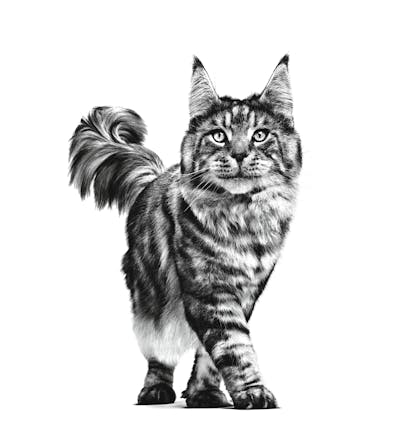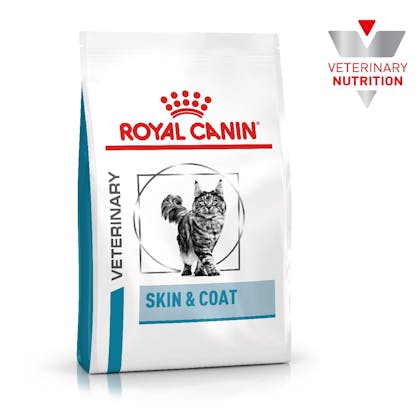 Skin barrier

Formulated to support the skin's natural protective barrier for optimal health.

Skin & Coat

Contains specific key nutrients including EPA and DHA to help support healthy skin & shiny coat in cats with senstitive skin.

Lean body mass

A high protein diet helps maintain muscle mass.

ROYAL CANIN® Skin & Coat is scientifically formulated to support the skin's natural strength and help reduce the signs of skin disease in cats. For neutered cats with sensitive skin, from 6 months to 7 years of age. Recommended for: Feline atopic dermatitis | skin and hair support in case of other dermatitis* such as: flea-bite allergic dermatitis, other external parasites, skin infections. *In association with medical treatment (such as antiparasitic or antibiotic medications) if needed. Not recommended for: Cats younger than 6 months and over 7 years of age.
Working towards a sustainable future
Our belief that pets make our world better inspires and gives life to our purpose of making a better A BETTER WORLD FOR PETS ™
Discover more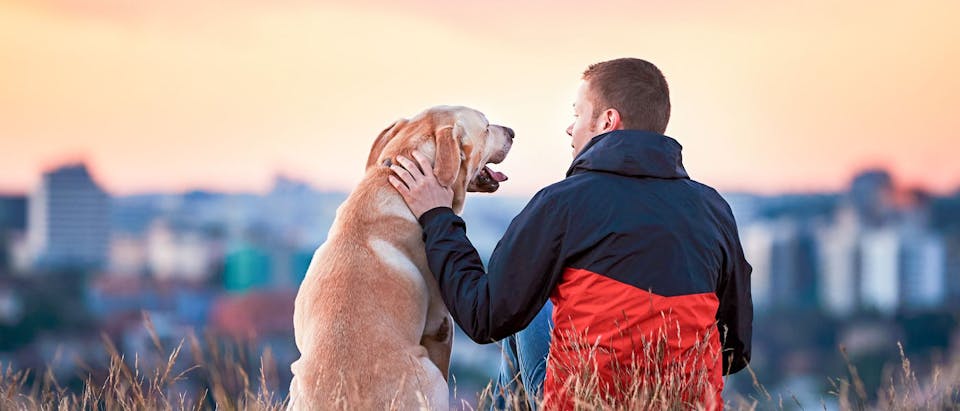 ROYAL CANIN® Skin & Coat is scientifically formulated to support the skin's natural strength and help reduce the signs of skin disease in cats. If you are a veterinarian or veterinary nurse and wish to see the full product information in more detail, please visit our

ROYAL CANIN® Skin & Coat is scientifically formulated to support the skin's natural strength and help reduce the signs of skin disease in cats.

Composition: Maize, dehydrated poultry protein, wheat gluten**, rice, maize gluten, hydrolysed animal proteins, animal fats, vegetable fibres, beet pulp, minerals, fish oil, psyllium husks and seeds, fructo-oligosaccharides, soya oil, borage oil, marigold extract (source of lutein). **L.I.P.: protein selected for its very high digestibility

Additives (per kg): Nutritional additives: Vitamin A: 29500 IU, Vitamin D3: 800 IU, E1 (Iron): 33 mg, E2 (Iodine): 3.4 mg, E4 (Copper): 10 mg, E5 (Manganese): 44 mg, E6 (Zinc): 131 mg, E8 (Selenium): 0.07 mg - Preservatives - Antioxidants.

Analytical constituants: Protein: 36.0% - Fat content: 14.0% - Crude ash: 8.0% - Crude fibres: 3.5%. Per kg: Essential fatty acids (Linoleic acid - Arachidonic acid): 31.8 g - EPA/DHA: 4.3 g - Omega 3: 9.2 g - Omega 6: 33.1 g - Magnesium: 0.7 g - Calcium: 11.6 g - Phosphorus: 10.0 g. Metabolisable energy: 384 kcal / 100 g.

FOR RSA: Guaranteed analysis g/kg: Crude protein (min) 340 - Moisture (max) 70 - Crude fat (min) 120 - Crude fibre (max) 45 - Crude ash (max) 88.

* L.I.P.: protein selected for its very high digestibility.

Feeding instructions: Water should be available at all times. Batch number, factory registration number and best before date: see information on packaging. To be stored in a cool, dry place.

| CAT'S WEIGHT (kg) | Thin | Thin | Normal | Normal | Overweight | Overweight |
| --- | --- | --- | --- | --- | --- | --- |
| - | grams | cups | grams | cups | grams | cups |
| 2 | 39 | 3/8 | 33 | 3/8 | 26 | 2/8 |
| 2.5 | 46 | 4/8 | 38 | 3/8 | 30 | 3/8 |
| 3 | 52 | 5/8 | 43 | 4/8 | 35 | 3/8 |
| 3.5 | 58 | 5/8 | 48 | 4/8 | 39 | 3/8 |
| 4 | 64 | 6/8 | 53 | 5/8 | 43 | 4/8 |
| 4.5 | 69 | 6/8 | 58 | 5/8 | 46 | 4/8 |
| 5 | 75 | 7/8 | 62 | 5/8 | 50 | 4/8 |
| 5.5 | 80 | 7/8 | 67 | 6/8 | 53 | 5/8 |
| 6 | 85 | 7/8 | 71 | 6/8 | 57 | 5/8 |
| 6.5 | 90 | 1 | 75 | 7/8 | 60 | 5/8 |
| 7 | 95 | 1 | 79 | 7/8 | 63 | 6/8 |
| 7.5 | 100 | 1+1/8 | 83 | 7/8 | 67 | 6/8 |
| 8 | 104 | 1+1/8 | 87 | 1 | 70 | 6/8 |
| 8.5 | 109 | 1+2/8 | 91 | 1 | 73 | 6/8 |
| 9 | 114 | 1+2/8 | 95 | 1 | 76 | 7/8 |
| 9.5 | 118 | 1+2/8 | 98 | 1 + 1/8 | 79 | 7/8 |
| 10 | 122 | 1+3/8 | 102 | 1 + 1/8 | 82 | 7/8 |