Cardiac
Complete dietetic feed for adult dogs.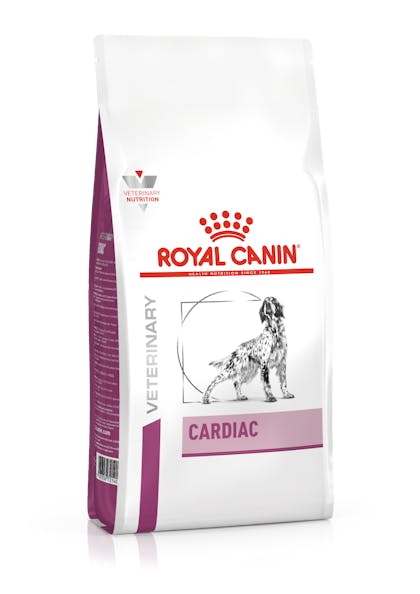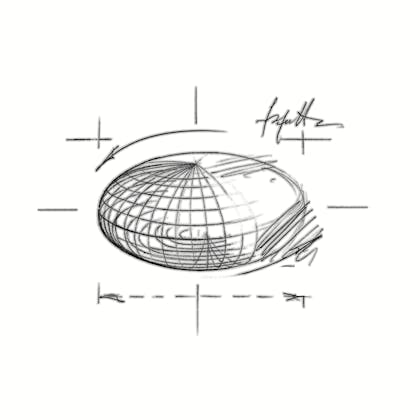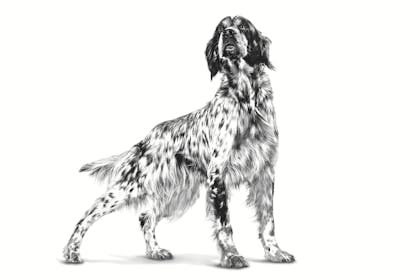 Cardiac support

Formulated with nutrients, such as taurineand L-carnitine, which contribute to maintaining the health of the cardiac muscle.

EPA+DHA

Omega 3 fatty acids (EPA & DHA) have ananti-inflammatory effect, help to reduce cardiac cachexia and can improve food intake.

Low sodium

Restricted sodium content to help minimise hypertension and reduce cardiac workload.

Cardiac support

Taurine and L-carnitine are essential formyocyte function and they also enhance heart contractility.

ROYAL CANIN® Cardiac is a dry kibble diet specially tailored to nutritionally support adult dogs with cardiac insufficiency. ROYAL CANIN® Cardiac is formulated with specific nutrients that help to support your dog's heart   function. ROYAL CANIN® Cardiac contains EPA and DHA, essential Omega-3 fatty   acids that benefit heart function. This formula contains a restricted sodium content to help reduce the workload of your dog's heart. Recommended in cases of: Cardiovascular disease, Congestive heart failure, Hypertension. Not recommended in cases of: Growth, gestation and lactation.
Composition: Rice, dehydrated poultry protein, maize flour, animal fats, maizegluten, egg powder, hydrolysed animal proteins, beet pulp,minerals, fish oil, vegetable fibres, soya oil, yeasts products, fructooligosaccharides,marigold extract (source of lutein).

Additives: Vitamin A: 18500 IU, Vitamin D3: 1200 IU, Iron: 43 mg, Iodine: 4.3 mg,Copper: 13 mg, Manganese: 56 mg, Zinc: 137 mg, Selenium: 0.08 mg -Sensory additives: Tea extract (source of polyphenols): 1250 mg -Preservatives - Antioxidants.

Analytical constituents: Per 1000 kcal: Moisture: 22.93g, Protein: 62.76g, Fat content: 48.27g, Crude fibre: 4.10g, Ash: 11.83g, NFE: 91.48g, Dietary fibre: 13.28g, Omega 6: 9.51g, Omega 3: 2.05g, EPA + DHA: 0.92g, L-carnitine: 200.34mg, calcium: 2.00g, Phosphorus: 1.35g, Sodium: 0.36g, Potassium: 1.93g, Magnesium: 0.36g, Taurine: 0.82g, Vitamine E: 120.69IU. Metabolisable energy: 414.30 kcal (per 100g fed).

For RSA: Guaranteed analysis g/kg: Crude protein (min) 240 - Moisture (max) 110 - Crude fat (min) 180 - Crude fibre (max) 27 - Crude ash (max) 54.

Feeding instructions: see table. Water should be available at all times. Batch number, factory registration number and best before date: see information on packaging. To be stored in a cool, dry place.​

| | | Adult weight | | | | |
| --- | --- | --- | --- | --- | --- | --- |
| | Thin | | Normal | | Overweight | |
| Dog weight (kg) | grams | cup(s) | grams | cup(s) | grams | cup(s) |
| 2 | 51 | 4/8 | 45 | 4/8 | 39 | 3/8 |
| 4 | 85 | 7/8 | 75 | 6/8 | 65 | 5/8 |
| 6 | 116 | 1+2/8 | 102 | 1+1/8 | 88 | 7/8 |
| 8 | 144 | 1+4/8 | 126 | 1+3/8 | 109 | 1+1/8 |
| 10 | 170 | 1+6/8 | 149 | 1+4/8 | 129 | 1+3/8 |
| 11 | 182 | 1+7/8 | 160 | 1+5/8 | 139 | 1+4/8 |
| 15 | 230 | 2+3/8 | 202 | 2+1/8 | 175 | 1+7/8 |
| 20 | 285 | 3 | 251 | 2+5/8 | 217 | 2+2/8 |
| 25 | 337 | 3+4/8 | 297 | 3+1/8 | 256 | 2+5/8 |
| 30 | 387 | 4 | 340 | 3+4/8 | 294 | 3+1/8 |
| 35 | 434 | 4+4/8 | 382 | 4 | 330 | 3+4/8 |
| 40 | 480 | 5 | 422 | 4+3/8 | 365 | 3+6/8 |
| 45 | 524 | 5+4/8 | 461 | 4+6/8 | 398 | 4+1/8 |
| 50 | 567 | 5+7/8 | 499 | 5+2/8 | 431 | 4+4/8 |
| 55 | 609 | 6+3/8 | 536 | 5+5/8 | 463 | 4+7/8 |
| 60 | 650 | 6+6/8 | 572 | 6 | 494 | 5+1/8 |
| 70 | 730 | 7+5/8 | 643 | 6+6/8 | 555 | 5+6/8 |
| 80 | 807 | 8+3/8 | 710 | 7+3/8 | 613 | 6+3/8 |