Dental
Complete feed for adult dogs with dental concerns or a tendency for dental problems. Recommended for (indications): Daily oral hygiene in dogs over 10kg Limits the development of dental plaque and tartar Helps fight bad breath Not recommended for (contraindications): Puppies under 6 months Pancreatitis or history of pancreatitis Hyperlipidaemia.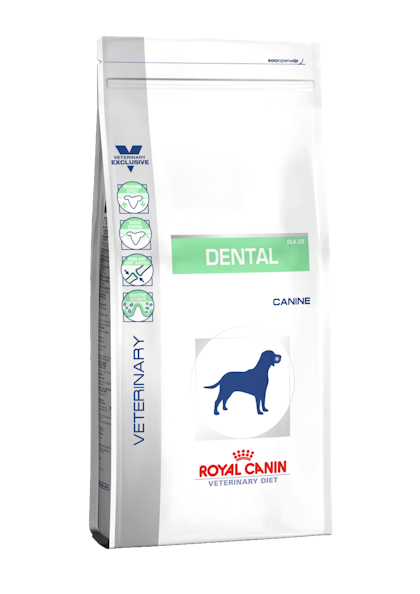 Tatar control

Nutrient that traps the calcium in saliva so reducing tartar deposits.

Brushing effect

The kibble's shape, texture and size help produce a mechanical brushing effect on teeth.

Bone and joint support

Helps maintain healthy bones and joints.
COMPOSITION: rice, maize flour, dehydrated poultry meat, animal fats, wheat gluten*, vegetable fibres, hydrolysed animal proteins, beet pulp, fish oil, minerals, soya oil, yeasts, fructo-oligo-saccharides, green tea extracts (source of polyphenols), hydrolysed crustaceans (source of glucosamine), marigold extract (source of lutein), hydrolysed cartilage (source of chondroitin). Additives (per kg): Nutritional additives: Vitamin A: 11600 IU, Vitamin D3: 1000 IU, E1 (Iron): 46 mg, E2 (Iodine): 3.6 mg, E4 (Copper): 10 mg, E5 (Manganese): 60 mg, E6 (Zinc): 198 mg, E8 (Selenium): 0.08 mg - Technological additives: Pentasodium triphosphate: 3 g - Preservatives - Antioxidants. Analytical Constituents: Protein: 22% - Fat content: 16% - Crude ash: 5.1% - Crude fibres: 3.4%. *L.I.P.: protein selected for its very high assimilation.

| Dog's | thin | thin | normal | normal | overweight | overweight |
| --- | --- | --- | --- | --- | --- | --- |
| weight | grams | cups | grams | cups | grams | cups |
| 10 kg | 225 | 2 6/8 | 180 | 2 2/8 | 135 | 1 5/8 |
| 12 kg | 255 | 3 1/8 | 205 | 2 4/8 | 155 | 1 7/8 |
| 14 kg | 285 | 3 4/8 | 230 | 2 7/8 | 170 | 2 1/8 |
| 16 kg | 315 | 3 7/8 | 250 | 3 1/8 | 190 | 2 3/8 |
| 18 kg | 345 | 4 2/8 | 275 | 3 3/8 | 205 | 2 4/8 |
| 20 kg | 370 | 4 4/8 | 295 | 3 5/8 | 225 | 2 6/8 |
| 25 kg | 435 | 5 3/8 | 350 | 4 2/8 | 260 | 3 1/8 |
| 30 kg | 500 | 6 1/8 | 400 | 4 7/8 | 300 | 3 5/8 |
| 35 kg | 560 | 6 7/8 | 445 | 5 4/8 | 335 | 4 1/8 |
| 40 kg | 615 | 7 4/8 | 490 | 6 | 370 | 4 4/8 |
| 45 kg | 670 | 8 2/8 | 535 | 6 4/8 | 405 | 5 |
| 50 kg | 725 | 8 7/8 | 580 | 7 1/8 | 435 | 5 3/8 |
| 60 kg | 830 | 10 1/8 | 660 | 8 1/8 | 495 | 6 1/8 |
| 70 kg | 925 | 11 3/8 | 740 | 9 1/8 | 555 | 6 6/8 |
| 80 kg | 1020 | 12 4/8 | 815 | 10 | 615 | 7 4/8 |