Urinary S/O
Complete dietetic feed for adult dogs.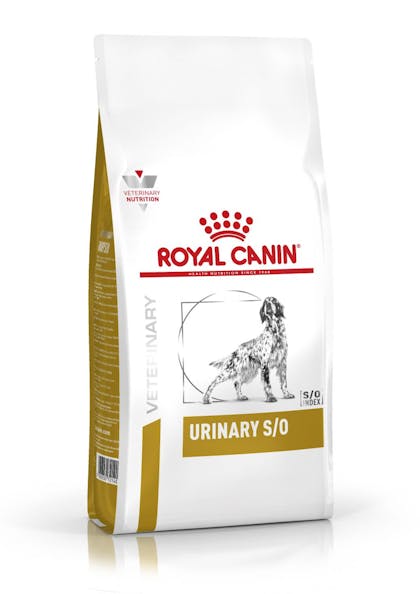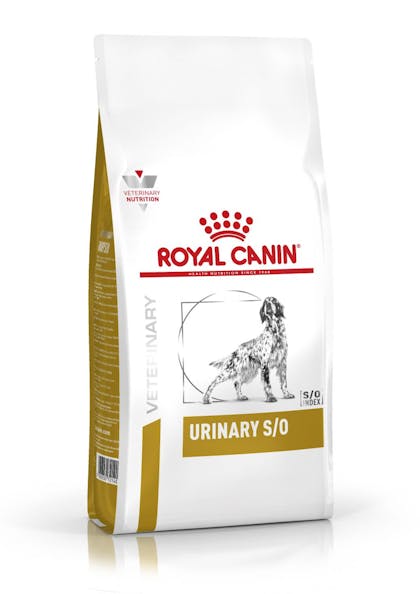 Struvite dissolution

Helps dissolve all types of struvite stones.

Low RSS

Helps lower the concentration of ions contributing to crystal formation.

Urine dilution

Urine dilution makes the urine less liable to form struvite and calcium oxalate stones.

Low magnesium

Reduced level of magnesium, a natural component of struvite crystals.

Urinary S/O is for the nutritional management of dogs with struvite or oxalate crystals and lower urinary tract disease.   RECOMMENDED FOR (INDICATIONS): Dissolution of struvite uroliths | management of recurrent struvite and calcium oxalate urolithiasis | bacterial cystitis.    NOT RECOMMENDED IN CASE OF: Chronic Kidney Disease (CKD) | Heart disease (when sodium restriction is sought) | Concurrent use of urine-acidifying drugs | Growth | gestation | lactation | Pancreatitis or a history of pancreatitis | Hyperlipidaemia.
Composition: Maize flour, rice, animal fats, dehydrated poultry protein, maize gluten, minerals, hydrolysed animal proteins, vegetable fibres, soya oil, fish oil, fructo-oligosaccharides, mono – and diglycerides of palmitic and stearic acids esterified with citric acid, marigold extract (source of lutein).

Additives (per kg): Nutritional additives: Vitamin A: 15500 IU, Vitamin D3: 1000 IU, E1 (Iron): 44 mg, E2 (Iodine): 4.4 mg, E4 (Copper): 13 mg, E5 (Manganese): 57 mg, E6 (Zinc): 147 mg, E8 (Selenium): 0.06 mg - Preservatives - Antioxidants.

Analytical constituents: Protein: 18.0% - Fat content: 17.0% - Crude ash: 6.4% - Crude fibres: 2.2% - Calcium: 0.5% - Phosphorous: 0.5% - Sodium: 1.1% - Chloride: 2.14% - Potassium: 0.8%- Magnesium: 0.04% - Sulphur: 0.5% - Urine acidifying substances: calcium sulfate (0.88%) DL - methionine (0.6%)- EPA and DHA: 0.21%.

| Feeding rules for 24h: | DRY ONLY | MIX : DRY + WET | DRY ONLY | MIX : DRY + WET | DRY ONLY | MIX : DRY + WET |
| --- | --- | --- | --- | --- | --- | --- |
| DOG WEIGHT KG / WEIGHT CONDITION | THIN | THIN | NORMAL | NORMAL | OVERWEIGHT | OVERWEIGHT |
| 2 | 54g | 28g + 1 pouch | 48g | 21g + 1 pouch | 41g | 15g + 1 pouch |
| 5 | 108g | 81g + 1 pouch | 95g | 69g + 1 pouch | 82g | 56g + 1 pouch |
| 10 | 181g | 155g + 1 pouch | 159g | 163g + 1 pouch | 138g | 111g + 1 pouch |
| 15 | 245g | 219g + 1 pouch | 216g | 190g + 1 pouch | 187g | 160g + 1 pouch |
| 20 | 305g | 278g + 1 pouch | 268g | 242g + 1 pouch | 232g | 205g + 1 pouch |