Frequently Asked Questions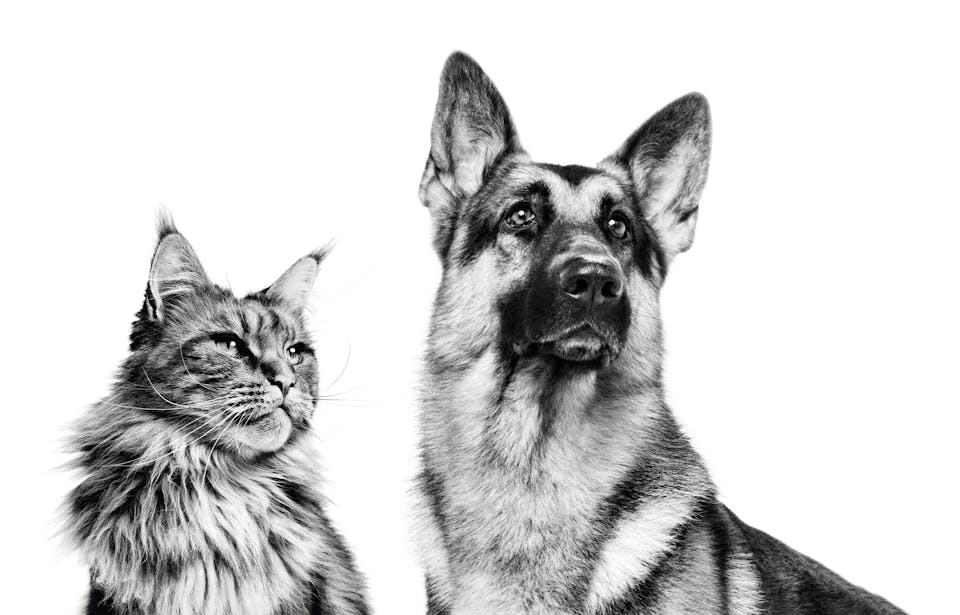 With pet obesity a growing concern reducing our pets' quality of life and life expectancy it is important to be as accurate as possible when it comes to feeding them.

Although measuring cups can be used as a guide, they offer significant daily variation between meals (on average 20% more or less food per serving*). Additionally 80% of owners overfeed when using a measuring cup* therefore we do not recommend using them.

Due to this level of inaccuracy, our recommendation is to weigh out the daily allowance of food using digital scales, this ensures your pet is receiving the correct amount of food each day. These amounts may change due to life stage, activity level or whether the animal has been neutered, therefore to maintain their ideal body condition throughout life we advise to weigh your pet regularly and adjust feeding amounts where necessary.

*AJ German et al. Imprecision when using measuring cups to weigh out extruded dry kibbled food. Journal of Animal Physiology and Animal Nutrition (2011); 3(11):368-373.

Occasional offers may be available on some of our products. To be kept up to date on any of these promotions, check with your local pet retailers or veterinarian, subscribe to our newsletter, or follow us on social media. We do not provide samples, however we are so confident that your pet will love our food that we have a Palatability guarantee . That means that, in the unlikely event your pet refuses to eat their Royal Canin diet, we can offer 100% money-back on all products, with support from our retail partners. Terms and conditions apply and are available in the "What is the palatability guarantee?" FAQ.

For dry diets, palatability of the kibble remains at its best for one month after the bag is opened, however will be fine for up to two months so long as the bag is stored properly, in a cool, dry, airtight container.

Once opened, wet food should be refrigerated and consumed within two days. If left out at room temperature, it should be discarded after two hours.

Dry diets should be stored in their original bags and resealed between feeding. Most small bags include a re-sealable zipper. If the bag does not have this feature, it's recommended to keep the product in the original bag and store in a dry, airtight plastic or steel container with a lid.

Canned, wet diets, once opened, need to be covered and refrigerated in a sealed plastic or ceramic container. If your pet doesn't like cold food, try warming it to room temperature before feeding. (please note: if you use a microwave put the product in an appropriate microwave-safe container and always check temperature before feeding).

ROYAL CANIN® prides itself on the quality and palatability of our diets and offers a full money back guarantee on all our diets.

We are so confident that your pet will love ROYAL CANIN® that we offer a 100% money back guarantee on the palatability of our food. However, to manage these claims, the below points must be adhered to in order to receive this money back guarantee.

1. Your pet is refusing to eat the food, and the food has been fed for the first time following a period of gradual introduction (we recommend a 5-7 days gradual transition between diets).

2. Palatability Guarantee (100% money back) is only applicable to a single bag of ROYAL CANIN® cat or dog food or a single purchase of wet food.

3. ROYAL CANIN® products bought in conjunction with a promotion will be refunded at the price purchased. Promotional giveaways must be returned in order for the full refund to be complete.

4. Although we offer the Palatability Guarantee to all retailers and veterinary practices, it remains at their discretion to honour it, and we therefore advise to discuss this guarantee prior to purchasing a product.

5. This offer is limited to a single refund of one bag per household and to persons living in the United Kingdom and Republic of Ireland, excluding ROYAL CANIN® staff.

6. For a refund to be made you will be required to supply your retailer with the remaining contents of the bag of food or a photo containing at least 75% of the food (by weight), and must still be in date, a valid proof of purchase (relating to the retailer through which you are claiming a refund), a written letter (at least five lines) explaining what happened when you introduced the food along with, your name, address and contact details.

7. You may be required to fill out a request form supplying your signature and ticking an authorisation box to confirm you have read and understood how your information will be held, giving your consent to ROYAL CANIN® to hold your information for verification and auditing purposes.

8. Please be aware ROYAL CANIN® will hold this form including the information you have supplied for verification and auditing purposes for a maximum of seven years.

9. ROYAL CANIN® will take all reasonable precautions to keep the details of your refund application secure, but unless ROYAL CANIN® is negligent, we shall not be liable for unauthorised access to the information you provide about yourself for the purpose of fulfilling your refund application, unless you agree otherwise.

10. ROYAL CANIN® reserves the right to end this activity at its discretion at any time without notice.

11. For more information about our Privacy and Legal information please visit: www.mars.com/privacy-policy and www.mars.com/legal


Our quality and food safety systems are state-of-the-art and we continually invest in new technology to ensure this remains the case. All our food is made to the strictest quality requirements to ensure absolute safety.

We manufacture every pet food we sell, in plants that we own; our plants are ISO 9001:2008 certified for Quality Management and ISO 22000 certified for Food Safety.

Because cats and dogs deserve the best nutrition to remain in the best of health, Royal Canin is committed to:

Selecting the suppliers of raw materials in accordance with very strict specifications. This rigorous selection process doesn't end with our first purchase.

Testing the quality of every ingredients before they are accepted for use in Royal Canin foods - we monitor every load delivered to our plants to verify the safety and quality of the ingredients we use to make pet food.

Only using meat from animals which are declared fit and healthy for human consumption

Quality control from the moment the raw materials enter the factory tight through to the packaging stage, thanks to systematic measures and analyses at all key stages. Rigorous testing is done on every batch of finished product in order to validate safety, nutrient composition, and quality, before our products are shipped to our customers

Providing complete traceability and identification of all ingredients

Ingredients for Royal Canin products are selected based on multiple different factors, including the suppliers' compliance with our quality and food safety requirements, consistent availability and nutrients available.

Royal Canin is making strides towards sustainability by attempting to obtain raw ingredients as close to each manufacturing facility as possible. Find out more about our

sustainability efforts

.

Grains are the seeds from wheat, maize, rye, oats, rice and millet and are an excellent source of amino acids, vitamins, minerals, carbohydrates, fibre and fatty acids that are essential for the health of dogs and cats. Not only do they support the health of our pets helping to provide complete and balanced nutrition, they can also be very sustainable. When it is not possible for pet food manufacturers to list individual ingredients, grains such as rice and maize will be listed under the category "Cereals". Grains used in pet foods are an excellent source of energy, helping to provide complete and balance nutrition. During the manufacturing process the outer husks are removed and the grain is finely ground and cooked, to ensure the grains are digestibility. Pet foods may include one or more grains such as rice, wheat, corn, barley, and oats. While grain-free pet foods have become a popular trend, the dietary value of grains is undeniable, except in very few cases where an allergy is diagnosed by a Vet. Adverse reactions to grains are actually very rare.

At Royal Canin, we do not use any artificial colourings in the diet formulations. As a result, there are natural variations in the raw ingredients which results in a variation in the kibble colour (this is comparable to different colour variations you see when you purchase meat, fruits and vegetables). While this variation exists, only diets meeting the highest of quality standards with regards to their nutritional composition are released to the market.

"Meat" claims in pet food can be confusing.

It is common for suppliers of cat and dog food to market their products by claiming the amount of "meat" or "fresh meat", particularly placing them as the first ingredient. According to current feed legislation, each ingredient / ingredient group in a pet food must be listed on the package based on weight before cooking in descending order. This means that "fresh meat" that naturally contains large amounts of water (approximately 75%) receives a high position on the ingredient list. This may give the impression that "meat" is the primary source of the nutritional content of the pet food. When reading an ingredient list, we should take into account that "fresh meat" contains 70-80% water. During the preparation of a "processed animal protein" as "dehydrated poultry protein" or "chicken meal", most of this water is removed. For example, this means that 1 kilogram of fresh poultry will provide approximately 250 grams of nutrients, compared to 1 kilogram of dehydrated poultry protein which provides more than 900 grams of nutrients. A list of ingredients containing raw materials with very different water content becomes difficult to understand. Overall, you should consider moisture content whenever reading a pet food label making diet comparisons. We also recommend looking at the 'guaranteed nutrient analysis (protein, fat, carbohydrate…) and at the nutrient digestibility when comparing diets.

Please contact our nutritional advisors team if you would like to discuss nutrition any further.

Dehydrated poultry can be a great source of protein. There are many misconceptions about using fresh meat vs dehydrated meat, but dehydration just means drying. This removes the excess water from the fresh meat which increases the overall percentage of protein, making it a more nutritionally concentrated ingredient. There are many benefits to dehydrating meat such as poultry, not only does it preserve the nutritional quality of the original fresh meat it also makes transport and storage safer, easier and less environmentally impactful. When excellent quality fresh meats are used and properly processed, the resulting dehydrated meat meal will also be of excellent nutritional quality. All animal protein used by ROYAL CANIN® is declared suitable for human consumption. Did you know, fresh meat can contain up to 85% water and only 10-30% protein. Where as dehydrated meats can provide up to 90% protein.




Meat and animal derivatives is a labelling category that describes animal based ingredients used in pet foods (not including dairy which has it's own category). Animal derivatives are by-products of the human food industry from species typically used in the human food chair such as beef, chicken, pork and fish.

By-products can be simply defined as materials that we have an excess of in society such as offal, which is a highly nutritious ingredient enjoyed around the world, but that's less popular to eat in the UK.


In all ROYAL CANIN products we only use high quality by-products - listed as animal derivatives in our ingredients list. Our high-quality by-products are not only safe and nutritious, they are also more sustainable as they do not compete with human food production.
The palatability of Royal Canin formulas is guaranteed. If you purchase a product and your pet refuses to eat it, please return the entire uneaten portion in the original packaging to the place it was purchased. The retail outlet or veterinary clinic will reimburse you the cost, issue a credit, or replace the product with a different Royal Canin product. We pride ourselves on the quality and palatability of our diets and offer a full money back guarantee on all of them, called palatability guarantee (read more in the "What is the palatability guarantee" FAQ). This means that in the unlikely event that your pet does not like our food, you can get your money back. It is important to remember that pets, particularly cats, may be occasionally sensitive to subtle variations in diets. For a smoother, more gradual transition from one bag to another, remember to buy your new bag a week in advance to enable mixing of the current bag and the new bag together. If your pet used to like our food and refuses to eat it unexpectedly despite a gradual change between bags, please contact one of our nutritional advisors by phone or email to advise you further.

Every ROYAL CANIN® diet has a feeding guide based on the age, weight and activity of your pet.

Growing puppies are to be fed the amount recommended for their expected adult bodyweight as indicated on the product's feeding guide.

As an example below (based on Medium Puppy), if your puppy is 4 months old, and you're expecting them to be an adult weight of 18kg (based on mum and dad's adult weight or veterinary advise), you should be feeding them 279g a day. We'd recommend feeding this between 2-3 meals if they're under 5 months old, so split 279g into 3 which is 93g per meal.

As an example below (based on Medium Adult), if your dog is over 12 months old, their adult weight is 16kg, and they are exercised between 1-2 hours a day, you should be feeding them 229g a day. We'd recommend feeding this between 2 meals (one in the morning, one in the evening), so split 229g into 2 which is 114.5g per meal.

It is important for all pets to have regular weight checks, but particularly for large and giant breed dogs. Their food intake needs to be monitored closely and adjusted if required to help maintain a safe and steady growth rate and to avoid the possibility of any excess weight gain.

If you are unsure about what your pet's expected adult bodyweight will be, your vet would be the best person to advise on this when you take your pet in for their initial puppy/kitten health check.

Use an appropriate weigh scale and/or the specific measuring cup as annotated on the bag. Always ensure that you measure food very carefully. A small measuring variation when feeding cats and small dogs can significantly increase their calorie intake.

Once your pet is eating the diet completely, it is important to weigh your pet approximately one month later. Remember to record your pet's weight and body condition, and highlight any changes to ensure you make appropriate adjustments in your pet's food intake based on your weigh-in records. (If you require any assistance with your weigh-ins and amounts to feed, please do not hesitate to contact your vet or specialist retail store.)

Based on size, age, lifestyle and breed, each cat and dog has unique nutritional needs. For healthy pets, use our

product filters

to find the right diet for your cat or dog.

If your pet is experiencing health issues, please refer to your veterinarian for more information. They will consider multiple factors when recommending an appropriate diet.

Introducing your pet onto a new diet should be done gradually over 5 - 7 days to avoid the possibility of digestive upset. We suggest:




Mix 25% of your new diet with 75% of your pet's previous diet for 2 or 3 days

Then mix the two diets 50% and 50% for 2 or 3 days

Then mix 75% of the new diet with 25% of the previous diet for 2 or 3 days

You can now try feeding with 100% of the new diet.




This guide is also useful for an easy transition of the same product from current bag to new bag.

Pet obesity is a disease. It is a growing problem.

If you are concerned your pet is overweight we would recommend speaking to your Vet or Veterinary Nurse who will be able to examine your pet and advise on how to move forward. When tackling pet obesity and looking at diet recommendation, it is important that we do not just simply reduce the cat or dog's current feeding amount as this can lead to a nutritional imbalance where insufficient levels of nutrients are being provided and your pet may also feel very hungry.

Royal Canin offers a range of diets to support healthy weight loss whilst keeping your pet full and satisfied and then maintain this loss once your pet is at their ideal weight.

Due to the nature of these diets, it is important they are fed under veterinary supervision. Regular weight checks and close monitoring are recommended to ensure the animal achieves the weight loss desired within a safe timescale. Your Vet or Veterinary Nurse will be able to support and advise on your individual pet.

For more information on this topic, visit Pet Obesity.
Royal Canin are constantly researching and developing environmentally friendly packaging. For example, we have changed our entire canned product line to recyclable packaging.

Our commitment by 2025 is for all our packaging to be 100% recyclable. Our challenge is to ensure that the packaging continues to protect the product from any possible contamination, and is a barrier to oxygen and light which can affect the quality of the product, as well as being strong and not easily damaged. The bags are designed to maintain the nutritional profile and freshness of the product throughout its entire shelf-life.

Currently, the recyclability of our packaging will depend on your local centres or local pet food plastic recycling initiative.

To access a Royal Canin website in a different country, click on the words "United Kingdom" located at the bottom right of every page of our website. This will bring you to a world map where you can chose your country of interest.

Click on the country of your choice and you will be automatically directed to the associated Royal Canin website.

Royal Canin is committed to producing formulas of the highest quality and performance to cats and dogs. While the total cost of our nutrition may seem high when compared to other diets, variation between bag sizes, feeding amounts, quality and digestibility means that we believe you will find the cost per day of our pet foods extremely reasonable.

We do not sell directly to consumers. Royal Canin veterinary diets should be fed following veterinarian recommendation and under veterinarian supervision. You can purchase them directly through your veterinary practice or through some online retailers.

Royal Canin products cannot be bought directly and are exclusively available in pet speciality stores. If your local retailer doesn't have the diet you require in stock, you can ask them to order the specific products. You can also use our stockist finder to localise retailers selling our products.
Loyalty and voucher questions
If you haven't done so already, you need to register to create a ROYAL CANIN® profile, and enter your details including the mobile number or email address you entered in-store when you received your card. You can then log in using your email address and chosen password. Once logged in you can add your card number by selecting the 'Loyalty Programme' tab, followed by the 'Your Loyalty Cards' tab. Enter the number and click 'Add'.

If you haven't registered your card you will not be able to view your points balance, recent transactions or redeem points. You will receive 400 introductory points as a thank you for registering.

In order to use your points for vouchers, you can do this in two ways.

1. Simply ask you loyalty retailer to redeem points in store instantly. They will be able to take money off of your purchase instantly.

2. You can also send yourself an email voucher from within your ROYAL CANIN® account. Login using your email address and password. Once you are logged in (as long as you are a registered Loyalty card customer), you will see a tab called Loyalty Programme. Click here where you can issue yourself a voucher by choosing the redemption value and the chosen retailer. Print this off and take it into store.

You don't actually need a physical card for our loyalty program.

The easiest way to have your membership card handy, is to download Stocard (our chosen loyalty card partner), there you can enter your loyalty card number and have a virtual card on your mobile phone with you at all times. You can find your loyalty card number by logging into your ROYAL CANIN® account and going to the loyalty tab.

You can download Stocard here:

Google Play or App Store,

Alternatively, if you prefer to have a physical card in your wallet, you can pop into your local loyalty stockist to get a replacement card and simply add the card to your account in the loyalty section.

Our Loyalty Programme is available in selected retailers and vets, allowing you to collect points from each purchase of ROYAL CANIN®. To find your local Loyalty stockist, please use the loyalty map.

If you registered for a voucher and haven't received it, here are a few things to check before you get in touch with us:

Check your spam/junk folder. Sometimes email programs incorrectly identify vouchers as spam. If necessary, add *@royalcanin.com to your 'safe senders' list.
Check you registered successfully. If you didn't complete the registration process, your voucher won't have been generated. The easiest way to check is to try registering again; most offers limit registrations to one per person, so if you try again and are not stopped then it's likely that you didn't register properly first time round.
Still no voucher? Contact us and ask us to resend your voucher.

If you received your voucher by email, simply open the email and print it off again.
If you accidentally deleted the email, check your deleted items to see if you can restore it.
If you cannot find it, Contact us and ask us to resend it.

Remember that if we resend your voucher it will be a copy of the same voucher – you will not be able to use both if you find your original.

If you have been given a unique code to access an offer or voucher, here are some possible reasons it's not working.

Check that you entered it correctly. Mistakes are easily made, so try typing it out again carefully.
Check for ambiguous characters. Is that a capital O, or a zero? Is that a lowercase L, or a number 1? We do our best to make the codes clear, but occasionally they can be mis-printed or scratched off. If you have tried several variations with no success, Contact us and tell us what web address you were on and what you think the code should be.
Check for spaces and other characters. It's easy to accidentally put a space or a full stop at the end of what you've just typed, but this can confuse the system. Make sure you're typing in only the characters you've been given.
Breeder recommendation questions
For a sustainable future
Sustainability is central to every aspect of Royal Canin's daily global operations.
Learn more