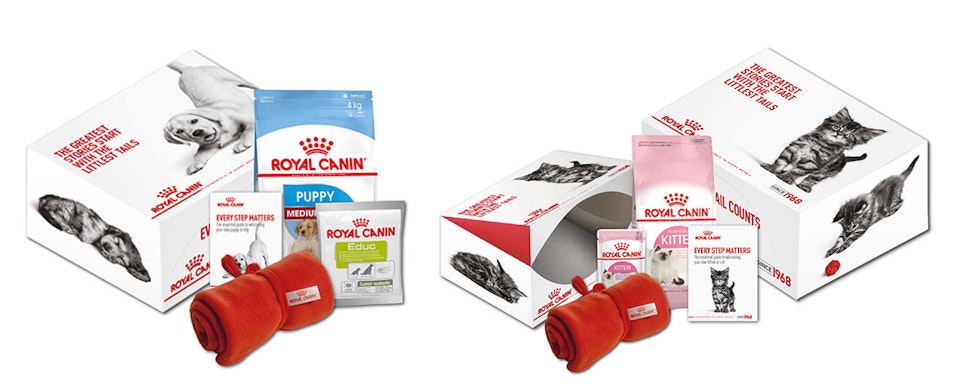 Breeder recommendation
If you have recently welcomed a new puppy or kitten into your home please accept our congratulations!
We recognise that getting things right throughout their growth is vital as this is one of the most intense and important stages in your new arrival's life.
We want to support both you and your pet as best we can throughout this rapidly changing period which is why we have our Breeder recommendation process.

If you have been handed a card about this from your breeder and are having problems, please check our FAQs below to see if these to help answer your query.
Please follow the instructions on the card to text us.

Please have available, the breeders ID number and also the food product that they have recommended for your new pet. This information should be written on the pop out part of the card you were given. If the breeder has not made a recommendation yet, please ask them for that information before sending your text. We will also ask you for details of your pet and yourself.

Texts will be charged at your network rate. We do not make an additional charge.

It is really important that we send you the right food for your pet

. Please contact your breeder to obtain this information before sending your text.

Yes, we can provide welcome boxes for up to 2 new pets in your household.If they are from the same breeder and being registered together, you only need send one text and our outbound team will collect the details of each pet.

We will ask you during your call whether you would like to stay in contact with us by email or phone and you have the option to agree or disagree to receiving information from us. We can assure you that we do not pass your details to any third party (apart from for the purpose of despatching your welcome box). For more information please refer to our privacy policy.

We will make the first attempt to call you within 48 hours of receiving your text. During busy times, this may take up to 5 working days. This includes working days only and does not include weekends or public holidays.

If you received a confirmation text from us, our outbound calling team will make 4 attempts to contact you. If they are not successful after the 4th attempt they will leave a voicemail asking you to re-text.

If you did not receive a confirmation text from us, we did not receive your text. Please check whether you included the word puppy or kitten, followed by the breeder's id number. If not, please resend with this information.

Unfortunately, some mobile providers prevent their subscribers from texting to promotional numbers. Please call our office or send a message via our Contact us link. You will need to let us know the breeder ID number and whether you have a puppy or a kitten when you call.

Calls are made on Monday to Friday (not including bank holidays)

between 08:30 and 21:00. You will be called 4 times on different days and at different times. After the 4th attempt you will be left a voicemail with instructions on what to do next.

Yes you are able to call back, please ensure you do so from the same phone that you sent your text from.

Your box would have been despatched by DPD who will have sent you a text advising that your parcel is on its way and giving you the option to re-arrange delivery if necessary. The text may appear to have been sent to you by Royal Canin.
Please follow the instructions on the card to text us.
Please have available, the breeders ID number and also the food product that they have recommended for your new pet. This information should be written on the pop out part of the card you were given. If the breeder has not made a recommendation yet, please ask them for that information before sending your text. We will also ask you for details of your pet and yourself.
Texts will be charged at your network rate. We do not make an additional charge.
It is really important that we send you the right food for your pet
. Please contact your breeder to obtain this information before sending your text.
Yes, we can provide welcome boxes for up to 2 new pets in your household.If they are from the same breeder and being registered together, you only need send one text and our outbound team will collect the details of each pet.
We will ask you during your call whether you would like to stay in contact with us by email or phone and you have the option to agree or disagree to receiving information from us. We can assure you that we do not pass your details to any third party (apart from for the purpose of despatching your welcome box). For more information please refer to our privacy policy.
We will make the first attempt to call you within 48 hours of receiving your text. During busy times, this may take up to 5 working days. This includes working days only and does not include weekends or public holidays.
If you received a confirmation text from us, our outbound calling team will make 4 attempts to contact you. If they are not successful after the 4th attempt they will leave a voicemail asking you to re-text.
If you did not receive a confirmation text from us, we did not receive your text. Please check whether you included the word puppy or kitten, followed by the breeder's id number. If not, please resend with this information.
Unfortunately, some mobile providers prevent their subscribers from texting to promotional numbers. Please call our office or send a message via our Contact us link. You will need to let us know the breeder ID number and whether you have a puppy or a kitten when you call.
Calls are made on Monday to Friday (not including bank holidays)
between 08:30 and 21:00. You will be called 4 times on different days and at different times. After the 4th attempt you will be left a voicemail with instructions on what to do next.
Yes you are able to call back, please ensure you do so from the same phone that you sent your text from.
Your box would have been despatched by DPD who will have sent you a text advising that your parcel is on its way and giving you the option to re-arrange delivery if necessary. The text may appear to have been sent to you by Royal Canin.