It's important to book an appointment for your new puppy to see a vet shortly after they arrive in their new home. Find a vet that you trust to ensure your puppy's wellbeing is taken care of as they grow and throughout their later life.
Choosing a vet for your puppy
Selecting a vet before your new puppy arrives can ensure their wellbeing is taken care of immediately. If you don't already have a vet there are a number of places you can look. Friends and family may be able to recommend a vet they use, however, if you're choosing a new veterinary practice, there are things you should consider:
Reputation - Is it recommended by people in the local area? Are there any reviews online?
Location - How close is it? Is it easily accessible by car and public transport?
Equipment - What kind of equipment do they have? Is it clean and well maintained?
Services - Is there an out of hours service? What preventative medicine services do they offer?
Preparing for your visit to the vet
In order to thoroughly assess the health of your dog and give tailored advice, your vet will need as much information as possible. Before the consultation there are a number of key things to note down:
A record of any vaccinations
What food your dog is currently eating, including brand, quantities, etc.
Parasite treatment, again with brand and the date of the last dose administered
Any observed changes in your dog's demeanour, behaviour, appetite, thirst, weight, etc.
Any documentation you have relating to your puppy
Traveling to the vet with your new puppy
Your puppy should be safely secured in the car when traveling to the vet, in a dog carrier or a crate that is appropriate for their size. Dogs can develop motion sickness, so it's best not to feed your puppy immediately before traveling in the car.
To help reduce stress make sure you spend some time getting your puppy used to travelling in the car outside of visits to the vet. Puppies are very receptive to their environment and negative experiences will have a lasting effect so it's important that your puppy doesn't come to associate the car with going to the vet.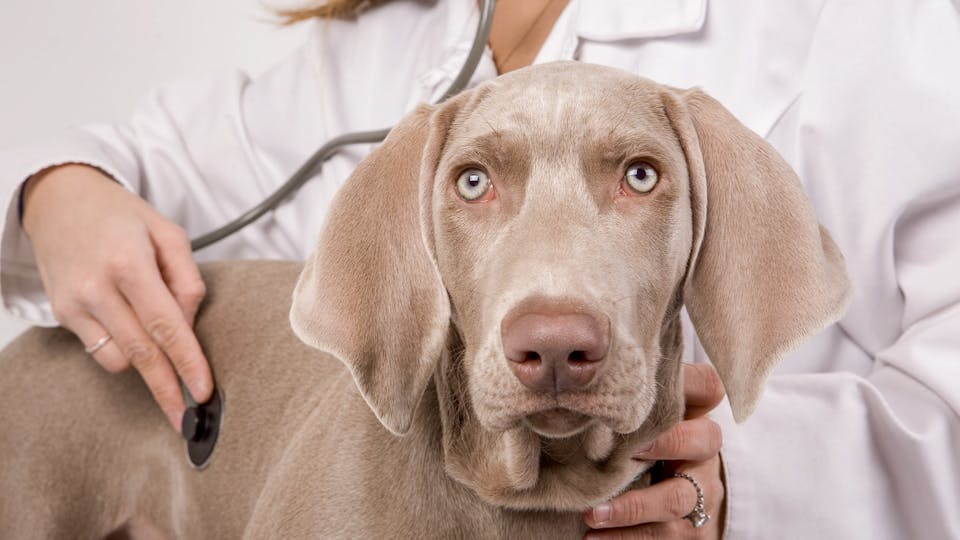 How to handle your new puppy in the waiting room
To ensure your puppy's wellbeing, and so they can be controlled if required, it's best to keep your puppy on a lead. Waiting rooms can be busy places, so be mindful of other pets, especially cats.
Making your puppy comfortable on the examination table
Health examinations can be stressful. Try and keep the experience as positive as possible for your puppy. If your puppy is food motivated, using treats to reward calm behaviour can make the experience on the examination table more positive and help with future visits.
What to expect at your puppy's first vet appointment
Your puppy's first visit to the vet is an in-depth examination rather than just a simple consultation. By the end of the appointment your vet will be able to:
Confirm the health of your puppy and make sure there aren't any issues that might affect their wellbeing
Complete your puppy's health record, which is important to keep up to date
Advise on any breed-specific behaviours to watch out for
Offer advice on anti-flea and de-worming treatments
Recommend a vaccination programme best suited for your puppy and their lifestyle
Advise the most appropriate diet based on your puppy's lifestyle and their surroundings
Microchipping your new puppy
If your new puppy is not yet microchipped then take your first visit to the vet as an opportunity to do so. Microchipping is a quick, safe and effective way to identify dogs.
Your puppy's first visit to the vet doesn't need to be a negative experience. Taking the time to choose a vet you trust will ensure the wellbeing of the puppy as they grow and develop.