Feline Appetite Control Care Dry Cat Food
Royal Canin Appetite Control Spayed/Neutered dry adult cat food is formulated to help maintain a healthy weight in cats 1-7 years old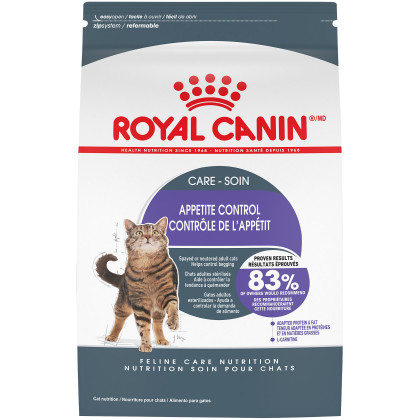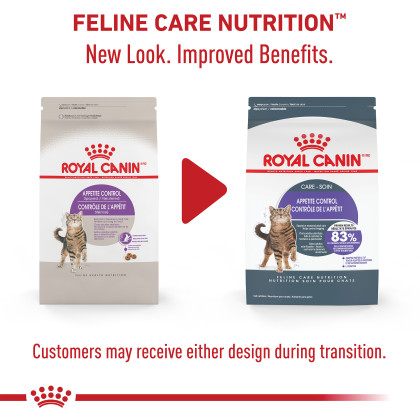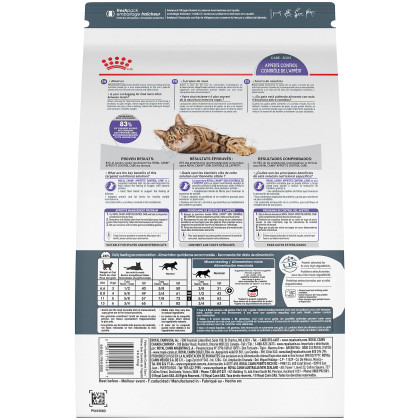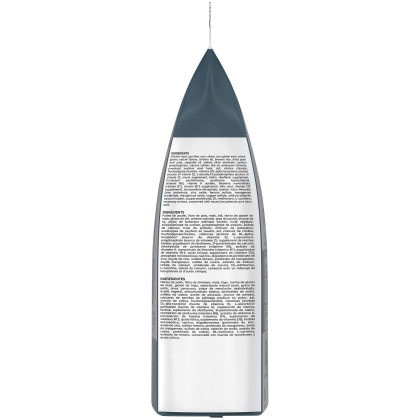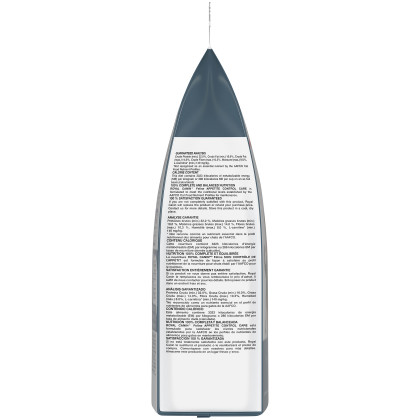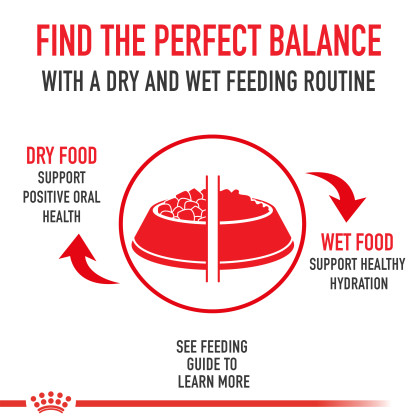 Satisfies a spayed or neutered cat's increasing appetite

Contains a high level of fibers to help cats feel more full

Supports healthy metabolism and helps manage weight with an optimal amount of L-carnitine

Perfect complement to Royal Canin Spayed/Neutered wet cat food formulas

Does your cat meow for more even after they've emptied their bowl? They may not be feeling full. That's because of a common hormonal change that happens after a cat is spayed or neutered. This change causes a spike in hunger and decline in energy needs, which could lead to your cat putting on excess pounds.

Royal Canin Appetite Control Spayed/Neutered dry cat food is specifically tailored for the unique nutritional needs of your adult cat (and is the perfect transition from Royal Canin Kitten Spayed/Neutered cat food). This complete and balanced formula is designed to help satisfy a cat's increased appetite that can occur after surgery. High levels of fibers give your cat the feeling of fullness and help reduce the risk of overeating. Moderate fat levels help limit excess weight gain. And L-carnitine ensures their metabolism works hard, burning through calories and helping your cat stay at a healthy weight. Try pairing with Royal Canin Appetite Control Spayed/Neutered wet cat food for a meal your cat will love.
Working towards a sustainable future
Our belief that pets make our world better inspires and gives life to our purpose of making a better A BETTER WORLD FOR PETS ™
Discover more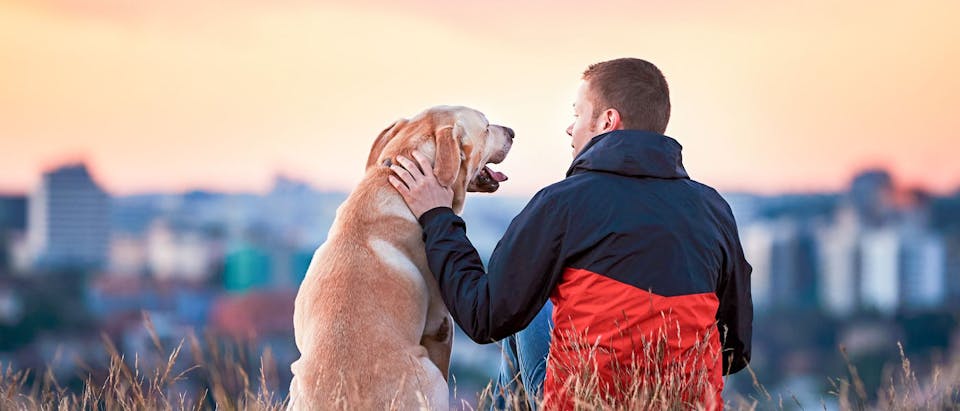 | Nutrient | Amount |
| --- | --- |
| Crude Protein (min) | 32.0% |
| Crude Fat (min) | 10.0% |
| Crude Fat (max) | 14.0% |
| Crude Fiber (max) | 10.3% |
| Moisture (max) | 8.0% |
| L-Carnitine* (min) | 140 mg/kg. |

*Not recognized as an essential nutrient by the AAFCO Cat Food Nutrient Profiles.

| Cat Weight | Low Activity | Medium Activity | High Activity |
| --- | --- | --- | --- |
| 6.6 lb (3 kg) | 1/2 cup (40 g) | 5/8 cup (50 g) | 3/4 cup (60 g) |
| 8.8 lb (4 kg) | 5/8 cup (49 g) | 3/4 cup (62 g) | 7/8 cup (74 g) |
| 11 lb (5 kg) | 5/8 cup (58 g) | 7/8 cup (72 g) | 1 cup (87 g) |
| 13 lb (6 kg) | 3/4 cup (66 g) | 1 cup (82 g) | 1 1/8 cups (99 g) |
| 15 lb (7 kg) | 7/8 cup (74 g) | 1 1/8 cups (92 g) | 1 1/4 cups (110 g) |
| 18 lb (8 kg) | 1 cup (81 g) | 1 1/8 cups (101 g) | 1 3/8 cups (121 g) |
| 20 lb (9 kg) | 1 cup (88 g) | 1 1/4 cups (110 g) | 1 1/2 cups (132 g) |
sarap
01 Nov 2019
My cat loves it
I bought this a few months ago and my cat loves it and her coat looks great. I have been trying to get her to lose weight for a long time and she is finally moving in the right direction.
eppie
31 Oct 2019
GREAT BOY'S FOOD
MY 4 BOYS AND 1 GIRL LOVE WATCHING ME OPEN A NEW BAG OF CANIN
Martina
30 Oct 2019
shape of kibble perfect size
Put my indoor cats on this and can see the difference in them
30 Oct 2019
Our boys easily transitioned to this new formula of Royal Canin!
Redboys
30 Oct 2019
Quality food that helps!
My daughter and I have been buying Royal Canin for years! Its high quality food and helps with their appetites and weight control.
Winks Mommy
30 Oct 2019
My Kitty's Favorite
Found a tiny, very sick kitty alongside the road 2years ago. Never owning a cat before, we didn't know how to care for her. Our vet recommend the Royal Canin BabyCat food & when she became healthier, I tried other reputable, but less expensive brands. They ether didn't agree with her tummy, or she just plain refused to eat them. Since she is now a spayed kitty, we feed her the Appetite Control for Spayed & Neutered Cats dry food. It keeps her appetite satisfied and her coat is shiny & soft. I'll never buy her another brand!
mykerry30
30 Oct 2019
She's likes it. She really does.
Ever since I got coupon for free bag. I have gotten Sketchy anything else. She loves it. It's been about three years now.
Lilherc23
30 Oct 2019
Happy cats
I bought this just over a year ago and our Siberian cats still eat it up.
kquick101
30 Oct 2019
Great food!!
I bought this food for my spayed calico who ised to be free fed while in the care of my parents. She was overweight and while being on this food she's back down to her recommended weight and she's not screaming at us to feed her
Miguel78912
30 Oct 2019
Well formulated
My cat absolutely loves this food. She does not leave a single kibble in the bowl anymore. Her coat looks so much better than before. Quality food does make a difference for our little fur babies. I will from now on be buying only royal canin for my Calypso.