Bengal Adult Dry Cat Food
Royal Canin Bengal breed-specific dry cat food is formulated to meet the nutritional needs of this purebred cat 1 year and older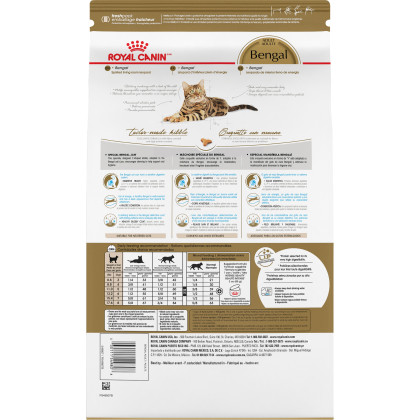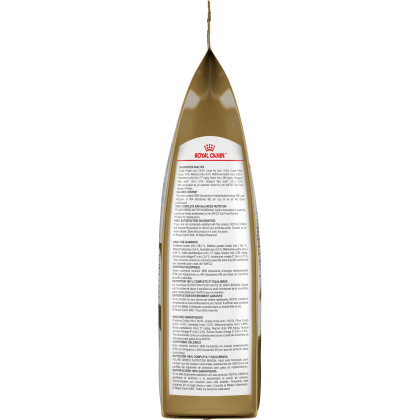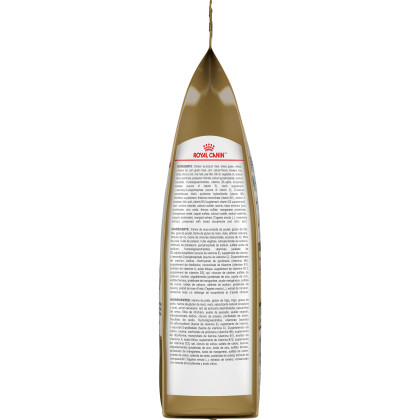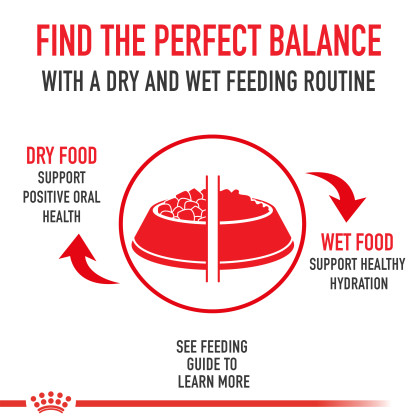 Promotes healthy skin and helps keep coats shiny and bright with breed-specific nutrients

Maintains the muscle mass of a Bengal's sleek, athletic body with high levels of protein

Supports healthy digestion with highly digestible proteins and prebiotics for sensitive stomachs

Exclusive Y-shaped kibble designed specially for a Bengal's wider jaw while also supporting oral health

To you, no other breed is more magnificent than your Bengal cat. To Royal Canin, there's no other way to feed that magnificence than with precise nutrition. With their exotic coats, Bengal cats can be just as wild as they appear. Forget long catnaps, these athletic felines are full of energy—often leaping, tumbling, and climbing high. It takes the right diet to maintain muscle tone, support sensitive stomachs, and bring out their distinctive coat's striking patterns and shine.

Royal Canin Bengal dry cat food is tailor-made nutrition created just for the Bengal breed. This exclusive formula contains an optimal ratio of high protein and fat content to support their well-muscled, sleek physiques. Highly digestible proteins and prebiotics support these cats that can be prone to digestive sensitivities. Essential nutrients like amino acids, vitamins, and omega-6 and omega-3 fatty acids give their exotic coats a luxurious shine. And the Y-shaped cat kibble is specially designed for a Bengal cat's wide, strong jaw—encouraging them to chew and crunch away tartar buildup. Mix in or complement with Royal Canin Adult Instinctive wet cat food for a meal that's sure to please.
Working towards a sustainable future
Our belief that pets make our world better inspires and gives life to our purpose of making a better A BETTER WORLD FOR PETS ™
Discover more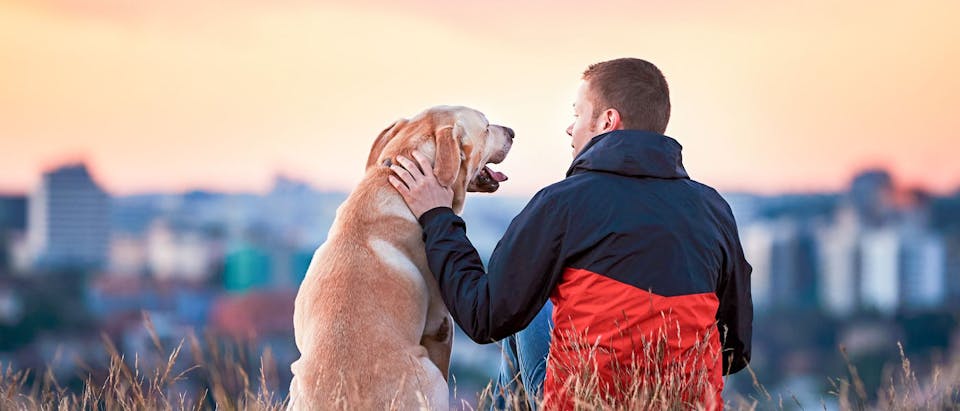 Nutrient
Amount
Crude Protein (min)
38.0%, Crude Fat (min)
16.0%, Crude Fiber (max)
5.4%, Moisture (max)
8.0%, Methionine-cystine (min)
0.98%
Pantothenic acid (min)
77 mg/kg, Niacin (min)
256 mg/kg, Omega-6 fatty acids* (min)
2.4%, Omega-3 fatty acids* (min)
0.5%.

*Not recognized as an essential nutrient by the AAFCO Cat Food Nutrient Profiles.

| Cat Weight | Low Activity | Medium Activity | High Activity |
| --- | --- | --- | --- |
| 6.6 lb (3 kg) | 1/4 cup (33 g) | 3/8 cup (42 g) | 1/2 cup (50 g) |
| 8.8 lb (4 kg) | 3/8 cup (41 g) | 1/2 cup (51 g) | 5/8 cup (62 g) |
| 11 lb (5 kg) | 1/2 cup (48 g) | 1/2 cup (60 g) | 5/8 cup (72 g) |
| 13 lb (6 kg) | 1/2 cup (55 g) | 5/8 cup (69 g) | 3/4 cup (82 g) |
| 15 lb (7 kg) | 5/8 cup (61 g) | 3/4 cup (76 g) | 7/8 cup (92 g) |
| 18 lb (8 kg) | 5/8 cup (67 g) | 3/4 cup (84 g) | 7/8 cup (101 g) |
Boos mom
01 Dec 2021
Babou loves it!
I haven't been able to find this formula in months and my 4 YO Bengal is now losing His fur! His belly is almost completely bald and legs have lost 1/2 their fur. We tried indoor adult cat formula (which he likes) but it isn't good for his health.
Washington Bengal
10 Nov 2021
My Bengal won't eat anything else
My poor kitty has constant diarrhea without this food. Please begin production again or at least put out a statement if this food will come back or not. same statement on the website for the last 6+ months. Gave a 2 because there is no alternative to this food
Chills3696
24 Oct 2021
This is sad
How do you just stop making this food? And without even a recommendation what to use as a substitute. I'll buy a different brand from now on, even if it's not Bengal specific.
Rob51
21 Sep 2021
Cat's love it.
Our cats love the kibble shape. They don't want to eat anything else. Their coats improved after switching to the Bengal food. Please, please bring it back!
Megan1234
06 Sep 2021
Please come back
My bengals won't eat any other food.. we have tried every other food recommended.. please continue to make it. We have been loyal for years.
TKandMAD
23 Aug 2021
No Bengal Food
Obviously, we have been abandoned - is there another suitable food?
rick20011
08 Aug 2021
Can't find it ANYWHERE……
My guy has been eating the Bengal food for years…… Now I can't find it anywhere…. He's soooo picky… Hopefully he'll eat the new brand… I sure hope RC will start production on this very soon…
TimTuck
21 Jul 2021
Cats love it but can no longer find it
My 2 F1's love this food! They have been eating for several years. Now, it is impossible to find! Discontinued????
Tullo
20 Jul 2021
Where is the specialty foods??
Store shelves are emoty for months. Was advised it was a "6 week" production hold. It has been a LONG wait. Would recommend it IF I could get it again. DM
Tomcats
26 Jun 2021
Where's the bengal food?
Too bad all these reviews are fake and they don't have bengal food anywhere. Also they don't answer emails.