Feline Selected Protein PR Loaf in Sauce Canned Cat Food
Royal Canin Selected Protein PR is a veterinary-exclusive wet cat food for cats with food sensitivities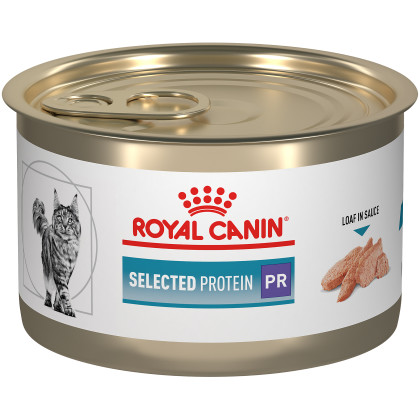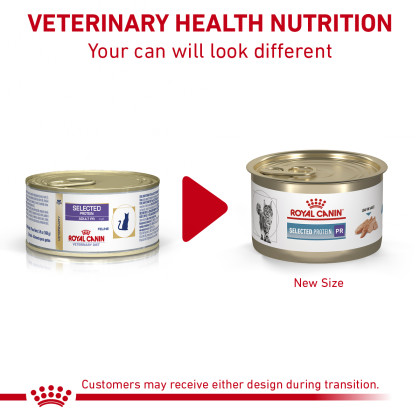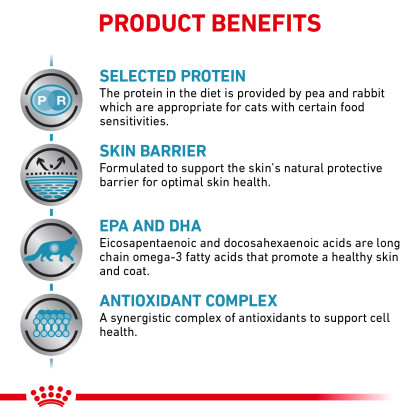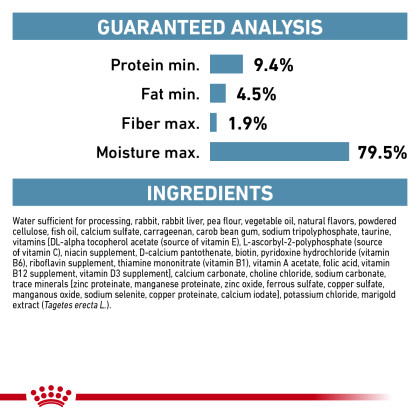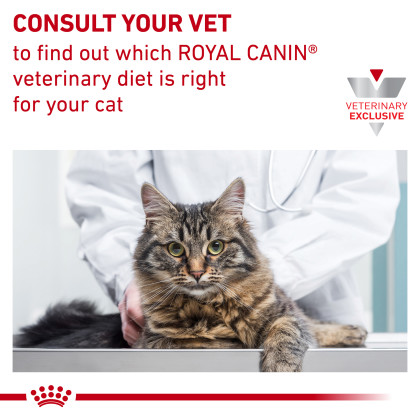 Complete and balanced diet that can be used for elimination diet trials and long-term nutrition

Limited ingredient diet made with pea and rabbit, which are rarely associated with food sensitivities in cats

Promotes healthy skin and a shiny coat with EPA & DHA, omega-3 fatty acids from fish oil

Reinforces the skin barrier with essential nutrients to support healthy skin in cats with skin sensitivity and irritation

Whether a veterinarian has determined through an elimination diet trial that your cat has food sensitivities or that she requires long-term support for her skin issues, your vet recommended Royal Canin Selected Protein Adult PR wet cat food for a reason. This highly palatable, highly digestible, complete and balanced diet can help your cat live her most magnificent life. It's formulated with a novel protein, rabbit, to help cats with food sensitivities resulting from common proteins. And omega-3 fatty acids EPA and DHA help promote healthy skin and coat. Ask your vet about feeding your adult cat Royal Canin Selected Protein Adult PR dry cat food as a complement.
Water sufficient for processing, rabbit, rabbit liver, pea flour, vegetable oil, natural flavors, powdered cellulose, fish oil, calcium sulfate, carrageenan, carob bean gum, sodium tripolyphosphate, taurine, vitamins [DL-alpha tocopherol acetate (source of vitamin E), L-ascorbyl-2-polyphosphate (source of vitamin C), niacin supplement, D-calcium pantothenate, biotin, pyridoxine hydrochloride (vitamin B6), riboflavin supplement, thiamine mononitrate (vitamin B1), vitamin A acetate, folic acid, vitamin B12 supplement, vitamin D3 supplement], calcium carbonate, choline chloride, sodium carbonate, trace minerals [zinc proteinate, manganese proteinate, zinc oxide, ferrous sulfate, copper sulfate, manganous oxide, sodium selenite, copper proteinate, calcium iodate], potassium chloride, marigold extract (Tagetes erecta L.).

Calorie Content

This diet contains 1000 kcal ME/kg; 145 kcal ME/can on an as fed basis (calculated).

| | |
| --- | --- |
| Crude Protein (min) | 8.5% |
| Crude Fat (min) | 4.5% |
| Crude Fiber (max) | 1.0% |
| Moisture (max) | 78.0% |
Marhsa G
23 Jun 2021
NOT HAPPY WITH NEW PR FORMULA
My cat, who has allergies to many foods, would only eat Royal Canin's canned PR, but then he suddenly became averse to it. Please consider returning to the older formula. Thank you!!!
Jennifer NH
20 May 2021
Changed their formula!
I have a very finicky cat who needs Cosequin for his arthritis, and he would always eat it if I mixed it in with the PR. That's the only canned food he'll eat, and he's been on it for years. However, now that Royal Canin switched the formula, he turns his nose up at it. I've tried heating up the new PR, other food, mixing it with a little dry food, the Cosequin chewies, pill pockets, and nothing works. Short of buying 25 kinds of food to see if he'll eat it, which he won't, I don't know what else to do to get the Cosequin in him. Knowing how finicky cats are, why would Royal Canin change the formula?? I'm very upset, because now my cat isn't getting the Cosequin he needs.
Virginia B
17 May 2021
Not a good change
My cat has been eating this for awhile and it has made a huge difference in her; however, I could not find it anywhere and finally ordered it on Chewy. The can is smaller, but the main problem is the formula has changed. She just looks at it and walks off. Why would a company change a formula? To save money? But that just shows us all who use this that our cat's health is not important, just to probably put a cheaper ingredient in the formula. Also, I agree that the smaller can size for the same price is a poor move and not being able to find it at any vet or local pet stores (I live in Atlanta, not a small area) is ridiculous.
Sturn658
06 May 2021

Not available at any stores. This is extremely difficult for the loving cat owners who depend on this particular food. I have a 13 year old with stomach problems who was really doing well after we switched her to this product. Now that we can't find it anywhere and are being told that it may not be restocked for a while I'm very worried. I hope this gets resolved soon, or hopefully I can find a new brand that suits her needs. I wish everyone reading this the best of luck.
bryceman01
05 May 2021
No Stock, Smaller Cans, Different Formula
As many other recent comments indicate, Royal Canin changed the formula, reduced the size of the cans, kept the same price but then all stock of this product vanished. I have a cat that has been on this food for 5+ years and cannot eat anything else due to IBS. Stock has always been an issue on this product, but has been 100% gone for over a month and had to do trial and error with other brands to find something that would work. What I have is not as good and equally expensive. Such a poor supply chain and product management by Royal Canin.
Sunny days
01 May 2021
Please go back to the old formulation!
My cat was vomiting many different foods and losing weight, until out vet suggested this canned food. Sammy was doing great until the label and filler type ingredients changed. He vomited with the very first serving. Tried once more and again, he vomited. Poor kitty. Really wish the older version was still available. Was interested to learn that others had a problem with the new version.
Lovemycat
12 Apr 2021
PLEASE Bring Back Old Formulation
WHY did you change the formulation? My cat has special needs, adapted to this food beautifully and was doing so well. After my last order, I found different formulation for PV and PR - and now my cat won't eat either one. AND.. smaller cans - which means I have to feed more to get same calories - but most importantly the only changes I can see in the formulation are fillers and gelatinous 'stuff' my cat won't eat. PLEASE bring back the old formula. PS - In the past I would have given this food 5 stars!
AMAP
07 Apr 2021
Sad
A company like this should at least answer emails. Ya ya covid this and covid that they can pay someone to work from home to explain why there isn't any of the pr left for our sick cats. You went to smaller cans and yet stay the same on price. I bet once you get the pr back you will go up on price. So sad you can't even answer the emails or even explain on your website. Our cats need this to stay alive and get and say healthy.
Nikkihoma
06 Apr 2021
Disgusted in RC
I have a senior cat who has been on this diet for over 5 years. This food has changed her life and has given her a better quality of life. Out of nowhere RC decides to 1) decrease the size 2) keep it the same expensive price and 3) change the formula. There's no way in hell this is the same formula I've been getting for 5 years. My cat wouldn't even look at the new can for at least a week. After finally getting her to eat it, she's been vomiting DAILY from this. I reached out to our vet. There is NOTHING wrong with her aside from her food allergies. And the fact that she was finicky to start this food confirms that it's different. BRING THE OLD FORMULA BACK. DO YOU NOT REALIZE OUR ANIMALS DEPEND ON THIS FOOD? This is THEIR lives in YOUR hands ROYAL CANIN!! Like how ignorant to just change an entire food product?!? No warning. No nothing. Jacked up the price, decreased the size? Like what were you even thinking. It's bad enough we as pet owners are forced to pay the price because our animals depend on this food. But the fact that you change the actual formula of a PRESCRIPTION diet blows my mind. Get your act together royal canin. You have a TON of angry costumers.
starvedkitty
25 Mar 2021
irresponsible company
The lack of communication and information on why this product has disappeared and if it will come back is insane. Emails for information are not returned (two weeks and counting) Since I'm being forced to find a replacement and given no reason why, I see little need to come back once it's available.