Selected Protein PR Loaf in Sauce Canned Cat Food (Packaging May Vary)
Royal Canin Selected Protein PR is a veterinary-exclusive wet cat food for cats with food sensitivities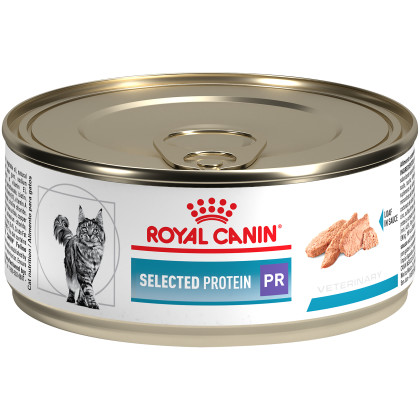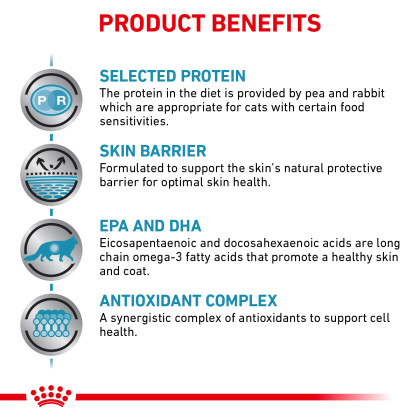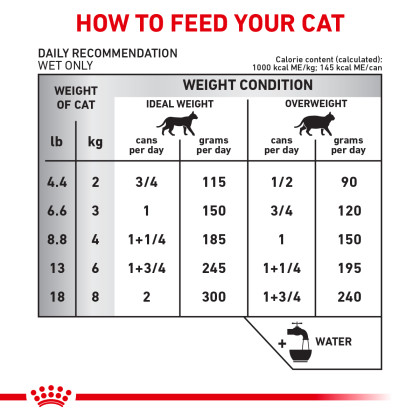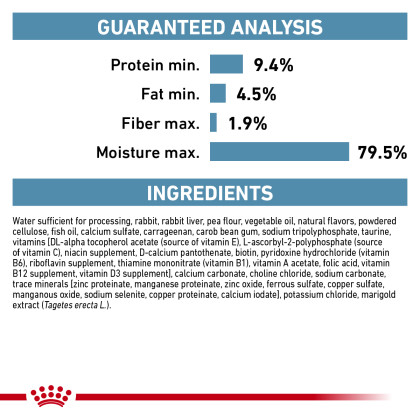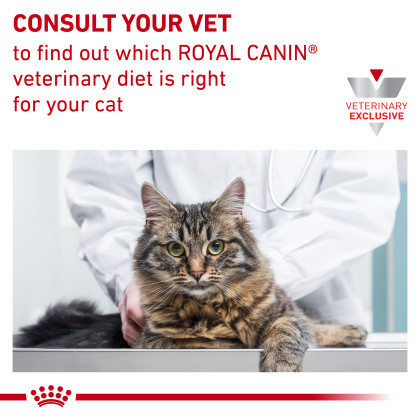 Complete and balanced diet that can be used for elimination diet trials and long-term nutrition

Limited ingredient diet made with pea and rabbit, which are rarely associated with food sensitivities in cats

Promotes healthy skin and a shiny coat with EPA & DHA, omega-3 fatty acids from fish oil

Reinforces the skin barrier with essential nutrients to support healthy skin in cats with skin sensitivity and irritation

Whether a veterinarian has determined through an elimination diet trial that your cat has food sensitivities or that she requires long-term support for her skin issues, your vet recommended Royal Canin Selected Protein Adult PR wet cat food for a reason. This highly palatable, highly digestible, complete and balanced diet can help your cat live her most magnificent life. It's formulated with a novel protein, rabbit, to help cats with food sensitivities resulting from common proteins. And omega-3 fatty acids EPA and DHA help promote healthy skin and coat. Ask your vet about feeding your adult cat Royal Canin Selected Protein Adult PR dry cat food as a complement.
Water sufficient for processing, rabbit, rabbit liver, pea flour, vegetable oil, natural flavors, powdered cellulose, fish oil, calcium sulfate, carrageenan, carob bean gum, sodium tripolyphosphate, taurine, vitamins [DL-alpha tocopherol acetate (source of vitamin E), L-ascorbyl-2-polyphosphate (source of vitamin C), niacin supplement, D-calcium pantothenate, biotin, pyridoxine hydrochloride (vitamin B6), riboflavin supplement, thiamine mononitrate (vitamin B1), vitamin A acetate, folic acid, vitamin B12 supplement, vitamin D3 supplement], calcium carbonate, choline chloride, sodium carbonate, trace minerals [zinc proteinate, manganese proteinate, zinc oxide, ferrous sulfate, copper sulfate, manganous oxide, sodium selenite, copper proteinate, calcium iodate], potassium chloride, marigold extract (Tagetes erecta L.).

Calorie Content

This diet contains 1000 kcal ME/kg; 168 kcal ME/can on an as fed basis (calculated).

| | |
| --- | --- |
| Crude Protein (min) | 8.5% |
| Crude Fat (min) | 4.5% |
| Crude Fiber (max) | 1.0% |
| Moisture (max) | 78.0% |

| Body Weight | Tendency to Become Overweight | Ideal Weight |
| --- | --- | --- |
| 4.4 lb (2 kg) | 1/2 can (90 g) | 3/4 can (115 g) |
| 5.5 lb (2.5 kg) | 3/4 can (105 g) | 3/4 can (130 g) |
| 6.6 lb (3 kg) | 3/4 can (120 g) | 1 can (150 g) |
| 7.7 lb (3.5 kg) | 3/4 can (135 g) | 1 can (170 g) |
| 8.8 lb (4 kg) | 1 can (150 g) | 1 can (185 g) |
| 9.9 lb (4.5 kg) | 1 can (160 g) | 1 1/4 cans (200 g) |
| 11 lb (5 kg) | 1 can (175 g) | 1 1/4 cans (215 g) |
| 12 lb (5.5 kg) | 1 can (185 g) | 1 1/4 cans (230 g) |
| 13 lb (6 kg) | 1 1/4 cans (195 g) | 1 1/2 cans (245 g) |
| 14 lb (6.5 kg) | 1 1/4 cans (210 g) | 1 1/2 cans (260 g) |
| 15 lb (7 kg) | 1 1/4 cans (220 g) | 1 3/4 cans (275 g) |
| 17 lb (7.5 kg) | 1 1/4 cans (230 g) | 1 3/4 cans (290 g) |
| 18 lb (8 kg) | 1 1/2 cans (240 g) | 1 3/4 cans (300 g) |
| 19 lb (8.5 kg) | 1 1/2 cans (255 g) | 2 cans (315 g) |
BGrape
01 Jan 2021
Food Quality Down and Price Increase!
I've been feeding my cat Royal Canin Selected Protein PR for years and she has always enjoyed it and done very well from a food tolerance perspective until now. With my most recent shipment received Dec. 29, 2020, I immediately noticed a changed in the quality of the product and so did my cat who turned up her nose up at it. This is concerning given that my cat has food allergies and thus very limited options of food sources that she can tolerate much less is willing to eat. The food appears more gelatinous now rather than proteinaceous. Could this have anything to do with the new addition of carob bean gum (a gelling agent made of indigestible fiber)? Or maybe the newly included powdered cellulose (an anti-caking agent that also does not get absorbed by the intestine and has zero nutritive value)? Carrageenan (can you guess? a thickener and gelling agent!) is present in both the old and new formulations. In addition, the two new additives seem to have replaced the pea protein in the older preparation. To sum that up, the new recipe has 3 ingredients that are fibrous fillers as opposed the prior recipe which only had one such additive. In addition, a protein source (albeit from a vegetable) has been removed in the new recipe. The price increase for such a product is inexcusable. Yes, there has been an increase in price because the amount of food in the can went down. Cans used to hold 5.9 ounces and now hold 5.1 ounces. For a case of 24 cans, I previously paid $0.56 per ounce but now am asked to pay $0.65 per ounce. So let me get this straight. I'm paying a higher price for food that contains more fiber and filler (as suggested by not only the ingredient list but confirmed by listed crude fiber content) and that my cat with food allergies previously enjoyed but will no longer eat. Not anymore!
r12345
30 Dec 2020
FOOD CHANGED! Now makes my cat SICK!
I have been feeding my cat (who has food allergies) Royal Canine Rabbit/Pea for 10 months now. She loved it an thrived on it. Her vomiting stopped, she put on weight. NOW, Royal Canin CHANGED the formulation and the size of the cans. I opened the first new can today and she IMMEDIATLEY vomited on it! GO BACK to the old formulation! This is very bad for pets with food allergies!!!
Collinka
09 Nov 2019
my cat(s) love it
When my cat was diagnosed with hypercalcemia, my vet recommended we switch her diet. She ultimately was recommended this diet and She loves it! I actually have 5 cats but she is the only one on this particular diet and I can tell after she eats, my other cats are in there licking the empty bowl. It's great that a food that helps keep her health condition in check and has the added benefit of being food she enjoys.
Puzzled
05 Nov 2019
No feeding guide on can or website however
I don't know how much to feed my cat, because it is not listed on the item or on this page's "Feeding Guidelines"
joyousone
30 Oct 2019
great canned food for sensitive kitty
we have bought for our kitty for 7yrs...perfect! George loves RC))
wig1910
30 Oct 2019
Keeping her healthy!
Been feeding to Wiggles for several years! She loves it and it is keeping her healthy, what more can I ask for!!
Rich 47
30 Oct 2019
Only food our cat can eat.
Our little calico cat, Cali has a severe auto immune disease and must eat prescription food. The protein loaf in sauce is the only wet food she can eat without having a reaction. She loves the smell and cleans her dish each time. Thank you Royal Canin!
faxrph
30 Oct 2019
Great features!
My cat has inflammatory bowel disease. This food has kept her symptoms under control.
DGB9
30 Oct 2019
My dear abby has been on this food for years!
Abby has horrible allergies, my vet suggested this food and things improved immensely! She is now 13 and her coat is still silky and she acts 5.
Sandy3214
30 Oct 2019
delicious dinner!
my cat is a very picky eater but she absolutly loves your product. She will eat the entire can and still keep going. Thank you for supplying a product I can trust and knoiw she loves!!