Ultamino Dry Cat Food
Royal Canin Feline Ultamino is a veterinary-exclusive dry cat food for adult cats with food sensitivities needing a short-term elimination diet or long-term nutrition As a result of increased demand, you may experience difficulty purchasing certain products in the coming months. If you need an alternative diet recommendation or help locating a product, please contact our Nutritional Advisors at 800-592-6687 or via our Live Chat function.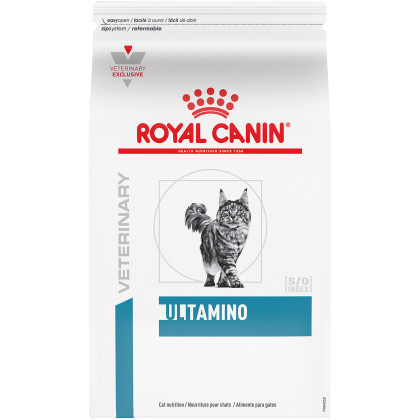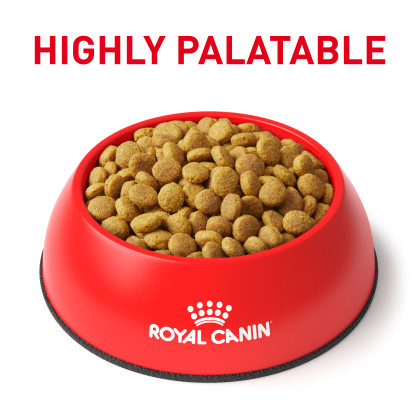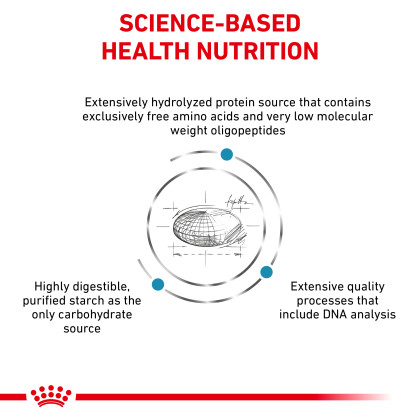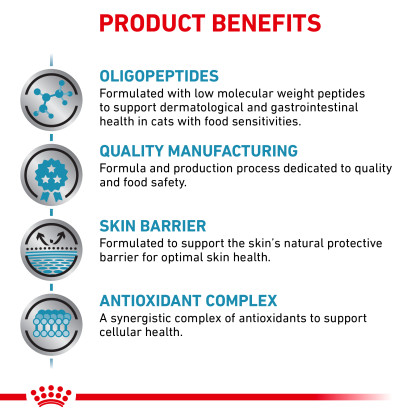 REDUCES SKIN REACTIONS: Clinically proven to help reduce skin reactions that may be due to sensitivities to common proteins found in adult cat foods

BREAKS DOWN PROTEINS: Innovative vet formula minimizes the risk of reaction with proteins extensively broken down to a size that's virtually unrecognizable by the immune system

SKIN SUPPORT: Specific nutrients reinforce the skin barrier and help support healthy skin in cats with sensitive skin and skin irritations

HEALTHY DIGESTION: An exclusive blend of fibers helps support digestive health

Your veterinarian may have put your cat on an elimination diet trial to test for food sensitivities. Or they believe your cat needs long-term support for their skin issues. In any case, your vet recommended Royal Canin Ultamino for a reason. This innovative diet is the result of years of extensive research, formulated as a nutritional solution for pets with severe food sensitivities. Its highly palatable formula contains a protein source that is broken down to an amino acid level so it can be absorbed in the digestive tract with reduced risk of triggering a food sensitivity. Optimal amounts of B vitamins and amino acids reinforce your cat's skin barrier. Omega-3 fatty acids EPA and DHA help promote healthy skin and coat. And Relative Supersaturation (RSS) methodology helps reduce the risk of struvite and calcium oxalate crystal and stone formation in the bladder. An exclusive blend of fibers helps support healthy digestion in cats prone to digestive upsets, including diarrhea. And with strict manufacturing procedures to help avoid cross contamination, you can confidently feed Royal Canin Ultamino long-term to cats with food sensitivities.
Working towards a sustainable future
Our belief that pets make our world better inspires and gives life to our purpose of making a better A BETTER WORLD FOR PETS ™
Discover more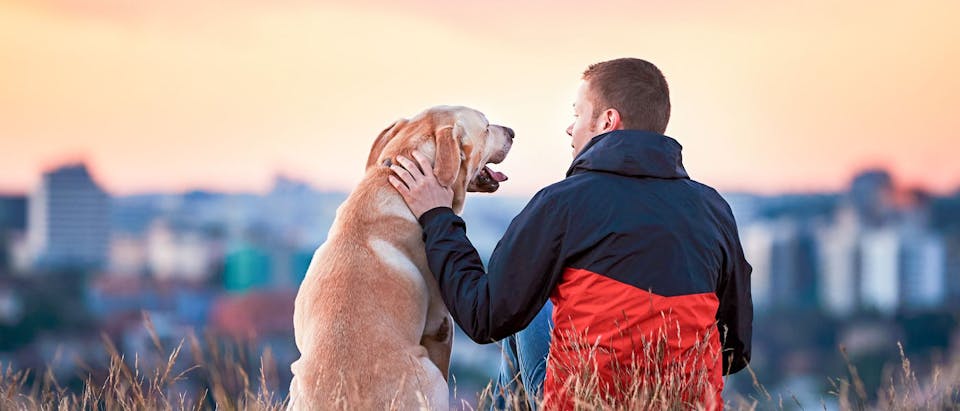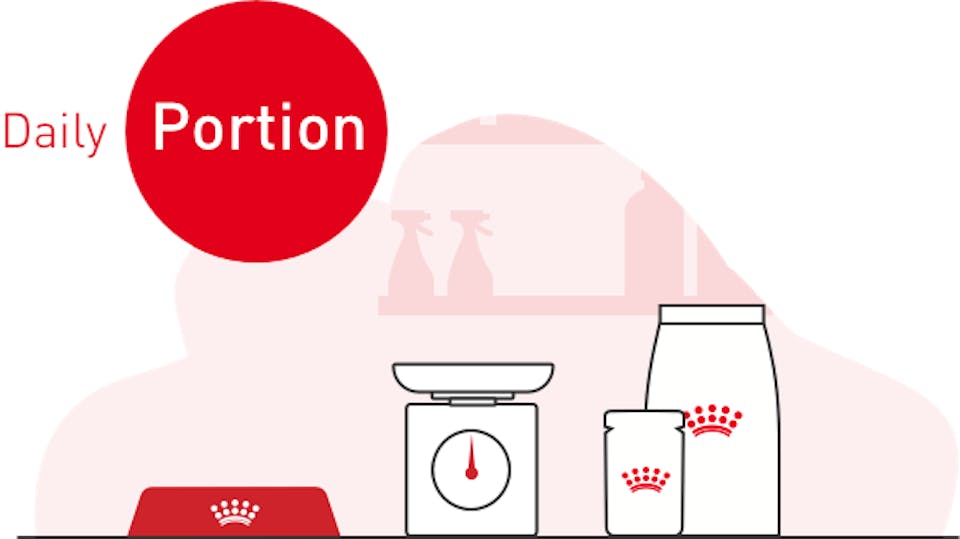 Discover our tool that calculates the daily portion for your pet. Fill in your pet's information and you will get their daily feeding recommendation. In case of weight issues, do not hesitate to consult your vet to adapt this portion. Note that this feeding recommendation is more precise than the feeding table, therefore the values may slightly differ.
Calculate
Corn starch, hydrolyzed poultry by-products aggregate, coconut oil, vegetable oil, powdered cellulose, natural flavors, dried chicory root, fish oil, calcium sulfate, sodium silico aluminate, potassium chloride, fructooligosaccharides, sodium pyrophosphate, monocalcium phosphate, DL-methionine, choline chloride, L-lysine, vitamins [DL-alpha tocopherol acetate (source of vitamin E), L-ascorbyl-2-polyphosphate (source of vitamin C), niacin supplement, vitamin B12 supplement, D-calcium pantothenate, biotin, pyridoxine hydrochloride (vitamin B6), riboflavin supplement, thiamine mononitrate (vitamin B1), vitamin A acetate, folic acid, vitamin D3 supplement], taurine, L-tryptophan, L-alanine, histidine, salt, trace minerals [zinc proteinate, zinc oxide, manganese proteinate, ferrous sulfate, copper sulfate, manganous oxide, sodium selenite, copper proteinate], marigold extract (Tagetes erecta L.), rosemary extract, preserved with mixed tocopherols and citric acid, glycine, magnesium oxide, potassium iodate.

Calorie Content

This diet contains 3766 kilocalories of metabolizable energy (ME) per kilogram or 335 kilocalories ME per cup on an as fed basis (calculated).

| Nutrient | Amount |
| --- | --- |
| Crude Protein (min) | 24.5% |
| Crude Fat (min) | 15.0% |
| Crude Fiber (max) | 5.7% |
| Moisture (max) | 8.0% |
| Vitamin E (min) | 413 IU/kg |
| Ascorbic acid* (min) | 160 mg/kg. |

*Not recognized as an essential nutrient by the AAFCO Cat Food Nutrient Profiles.

| Weight | Low Activity | Medium Activity | High Activity |
| --- | --- | --- | --- |
| 4 lb (2 kg) | 1/4 cup (26 g) | 3/8 cup (33 g) | 1/2 cup (39 g) |
| 6 lb (2.5 kg) | 3/8 cup (30 g) | 3/8 cup (38 g) | 1/2 cup (46 g) |
| 7 lb (3 kg) | 3/8 cup (35 g) | 1/2 cup (43 g) | 5/8 cup (52 g) |
| 8 lb (3.5 kg) | 1/2 cup (39 g) | 1/2 cup (48 g) | 5/8 cup (58 g) |
| 9 lb (4 kg) | 1/2 cup (43 g) | 5/8 cup (53 g) | 3/4 cup (64 g) |
| 10 lb (4.5 kg) | 1/2 cup (46 g) | 5/8 cup (58 g) | 3/4 cup (69 g) |
| 11 lb (5 kg) | 5/8 cup (50 g) | 3/4 cup (62 g) | 7/8 cup (75 g) |
| 13 lb (6 kg) | 5/8 cup (57 g) | 3/4 cup (71 g) | 1 cup (85 g) |
| 15 lb (7 kg) | 3/4 cup (63 g) | 7/8 cup (79 g) | 1 1/8 cups (95 g) |
| 18 lb (8 kg) | 3/4 cup (70 g) | 1 cup (87 g) | 1 1/8 cups (104 g) |
| 20 lb (9 kg) | 7/8 cup (76 g) | 1 1/8 cups (95 g) | 1 1/4 cups (113 g) |
| 22 lb (10 kg) | 7/8 cup (82 g) | 1 1/8 cups (102 g) | 1 3/8 cups (122 g) |
djazz42
16 Jan 2022
Price Increase
Last month, and all of the previous months we paid $20 a bag less than this month. Have you increased your prices?
Linda W
17 Dec 2021
primary ingredient is corn starch
First ingredient is corn starch, 2nd ingredient is hydrolyzed poultry by-products aggregate. No other "meat" is listed. It has an unattractive odor and hasn't helped with my cat's constant vomiting for which it was prescribed. He eats it reluctantly. I think it is overpriced for the lack of results and lack of protein. Protein content is listed as a minimal 24.5%.
Royal Canin response
Thank you for your feedback and for questions about the ingredients please reach out to our Consumer Care team at 800-592-6687
shoes
19 Oct 2021
What changed?
I've been feeding my cats a combo of Ultamino and Hydrolized Protein for four years (except for several times when it was out of stock). This was prescribed by vet soon after cat adoption from shelter to cope with sensitive tummies. But for the last month, they both vomit several times a week -- undigested food soon after morning feeding. They don't seem to be sick or uncomfortable. And they enjoy and tolerate their evening feeding of canned food. Did something change in the formula?
kdawson16
09 Jun 2021
Works I guess??
My cat gets urinary crystals, so I had to switch her to a prescription diet for that almost a year ago. She immediately threw up the royal canin SO food, so I switched to purina for a little while, until she developed skin allergies to that and refused to eat. After trying some others (science diet, rc urinary+hydrolyzied) she was still having allergic reactions and throwing up. I've had this for a few weeks and she still refuses to eat it on her own. I have to give her individual pieces like I'm giving her a treat, and even then she'll only eat maybe a tablespoon at a time. She hasn't been throwing up or having worsening skin allergies, but whether it's the smell or the HUGE pieces, she will not eat this like food. I wish there was a wet food version that I could try because she might actually eat that, but hopefully my vet and I will be able to find a food she'll eat and not be allergic to soon.
lklklk
07 Jun 2021
Inconsistent quality
This food has been a life saver for my cat with food sensitivities/protein allergies. However I find that the quality of food varies from batch to batch. Some bags I purchase are great, and sometimes I buy a new bag of food, and my cat reacts to it right away (gets itchy, moody, stool changes, she is obviously in pain). It's like there is no quality control at RC whatsoever. Getting seriously tired of this....
LaurelP
21 Mar 2021
Only food she can eat. She likes it. Wet version??
My kitty has IBD and eventually kept developing allergies to everything I tried to give her over time. Novel proteins, raw diet, you name it. I was using the Hills Z/D before because I REALLY didn't want to give her a kibble diet (especially bc she is prone to urinary issues), but she eventually started reacting to even that over time. She improved noticeably when I switched her to Ultamino. Unfortunately it's still not enough - she started having problems again after a year on this and is now on steroids and chemo (chlorambucil) for early stage small cell lymphoma and IBD. But the vets say this is the most hypoallergenic option, so I am glad it exists at least. However, I REALLY wish they would make a hypoallergenic pill pocket! SO many of us who need to use this RX food end up needing to medicate our purrbabies, and it would make life so much easier for them and us if there was a way to pill them with a pill pocket or even wet food. Please PLEASE work on developing a hypoallergenic wet food or pill pocket, or both! One last note - I really appreciate that I can just call and speak with a nutritionist at RC when I have questions. It was them more than my own vet that impressed upon me the importance of eliminating all other potential sources of allergens in her diet. I assumed it was OK to occasionally give other treats that as far as I knew didn't bother her system, but I didn't fully understand how allergies develop and wasn't warned enough by the vets that she could develop allergies to even the most hypoallergenic food if given a non-hypoallergenic treat occasionally that would make her body associate them. I wish I'd known sooner, but I'm glad I at least found out, thanks to a RC nutritionist.
Holly Fazio
24 Feb 2021
Did the formula change?
My cat has allergies and stomach ulcers. She's been on Ultamino for about four years now but with the latest bag with the new packaging, she's been throwing it up. Has the ingredients/formula changed? Not sure if I should just give her more time to acclimate or change brands.
owlie
17 Nov 2020
Keeps my cat's tummy issues at bay
My cat has tummy issues, we think it's a parasite, but just in case we give her this food plus probiotics. Just wish there was a treat or wet food option so she doesn't get bored so easily! Also this food has the distinct smell of tomato soup, but I wouldn't call it a bad smell especially because cat food normally smells much worse! Also it's super expensive, but what can ya do about that?
Lulamom
17 Nov 2020
Cat loves it
The vet recommended us this a month ago. We were using instinct from petsmart after our cat starting having awful reactions to her old food. She was scratching so hard, vomiting blood and was losing her hair. Instinct help the symptoms a lot but didn't get rid of them. After getting the ultamino food her symptoms are much better. Upon opening the bag I noticed how amazing it smells..like really it smells just like something I would eat. No nasty pet food odors to it. I gave my kitty 25% ultamino food and 75% instinct to give her a smooth transition. Welllll she literally ate all of the ultamino food instantly and refused to eat any of her old food. We added more of her new food and still the same thing. We ended up just tossing her old food. Her hair is finally growing back, absolutely no vomiting and she actually begs us for her morning food bowl to be full now. It is pricy but honestly it's worth it. Thank you royal canin.
gmres
21 Jul 2020
Did what it said it would...when she would eat it
My cat has a food allergy and gets super itchy. She also has a bad problem with hairballs. The Ultamino helped solve the itchiness to a certain degree, she still continued to over groom - making the hairball problem worse. She also hates, I mean hatesssss, this food. It smells terrible and I gag filling the bowl, so I can only imagine how she feels eating it. I have to monitor the feeding of my other cat, who can eat a much less expensive food, because Scout will steal her food if I don't stop her. Also the cost of this food is astronomical, but worth it to stop the gut problems.