Urinary SO Dry Cat Food
Royal Canin Urinary SO is a veterinary-exclusive cat food for cats with urinary health concerns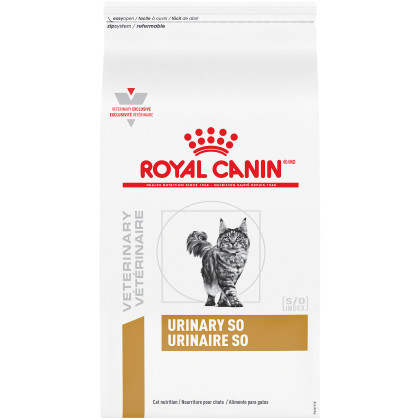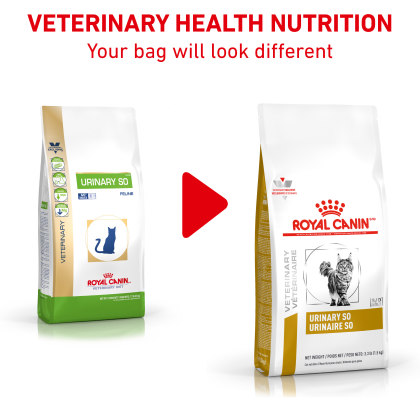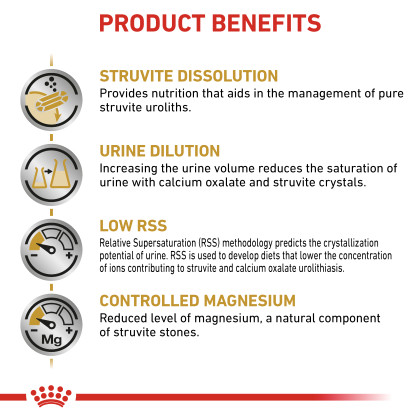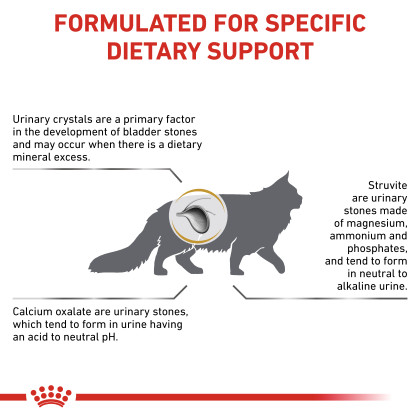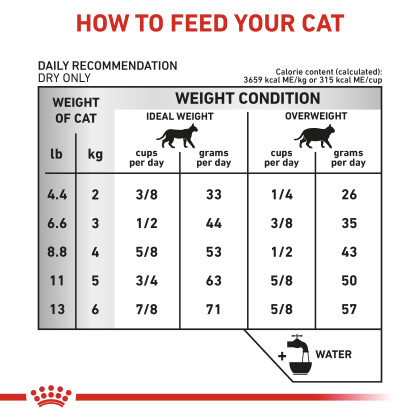 Helps dissolve pure struvite stones and helps prevent calcium oxalate stones

Lowers the risk of crystal formation using RSS methodology for bladder health

Supports urinary health with an exclusive S/O Index, and creates an environment unfavorable to crystal formation in the bladder

Helps prevent struvite stones from reoccurring

When your cat has urinary issues, easing their discomfort requires special care. But with the help of your veterinarian and Royal Canin, there's not just hope—there can be a true difference.

This veterinary-exclusive dry cat food was developed to nutritionally support your adult cat's urinary tract and bladder health. It increases the amount of urine your cat produces to help dilute excess minerals that can cause crystals and stones. Relative Super Saturation (RSS) methodology is used to help lower ion concentration in urine, which contributes to stone formation. This formula promotes a urinary environment unfavorable to the formation of both struvite and calcium oxalate crystals. And this specialized nutrition, with a reduced level of magnesium, helps dissolve pure struvite stones and prevent struvite stones from forming. Lower urinary tract issues may be a recurring concern for some cats. Talk to your veterinarian about keeping your cat on this urinary cat food for long-term urinary support. And ask them about the right Royal Canin wet cat food and treats to complement your cat's diet.
Chicken by-product meal, brewers rice, corn, corn gluten meal, chicken fat, wheat gluten, natural flavors, wheat, salt, powdered cellulose, fish oil, potassium chloride, sodium bisulfate, calcium sulfate, sodium pyrophosphate, vegetable oil, fructooligosaccharides, choline chloride, vitamins [DL-alpha tocopherol acetate (source of vitamin E), niacin supplement, biotin, riboflavin supplement, D-calcium pantothenate, pyridoxine hydrochloride (vitamin B6), vitamin A acetate, thiamine mononitrate (vitamin B1), vitamin B12 supplement, folic acid, vitamin D3 supplement], DL-methionine, taurine, monocalcium phosphate, trace minerals [zinc proteinate, zinc oxide, manganese proteinate, ferrous sulfate, manganous oxide, copper sulfate, calcium iodate, sodium selenite, copper proteinate], marigold extract (Tagetes erecta L.), rosemary extract, preserved with mixed tocopherols and citric acid.

Calorie Content

This diet contains 3659 kilocalories of metabolizable energy (ME) per kilogram or 315 kilocalories ME per cup on an as fed basis (calculated).

| | |
| --- | --- |
| Crude Protein (min) | 32.5% |
| Crude Fat (min) | 13.0% |
| Crude Fiber (max) | 4.0% |
| Moisture (max) | 8.0% |
| Calcium (max) | 1.26% |
| Phosphorus (max) | 1.26% |
| Magnesium (max) | 0.1%. |

Dry Feeding

| Cat Weight | Low Activity | Medium Activity | High Activity |
| --- | --- | --- | --- |
| 4.4 lb (2 kg) | 1/4 cup (26 g) | 3/8 cup (33 g) | 1/2 cup (39 g) |
| 6.6 lb (3 kg) | 3/8 cup (35 g) | 1/2 cup (44 g) | 5/8 cup (52 g) |
| 8.8 lb (4 kg) | 1/2 cup (43 g) | 5/8 cup (53 g) | 3/4 cup (64 g) |
| 11 lb (5 kg) | 5/8 cup (50 g) | 3/4 cup (63 g) | 7/8 cup (75 g) |
| 13.2 lb (6 kg) | 5/8 cup (57 g) | 7/8 cup (71 g) | 1 cup (85 g) |

Mixed Feeding

| Cat Weight | Cans / Day | Low Activity | Medium Activity | High Activity |
| --- | --- | --- | --- | --- |
| 4.4 lb (2 kg) | 1/2 | 1/4 cup (16 g) | 1/4 cup (24 g) | 3/8 cup (30 g) |
| 6.6 lb (3 kg) | 1 | 1/8 cup (15 g) | 1/4 cup (26 g) | 3/8 cup (35 g) |
| 8.8 lb (4 kg) | 1 | 1/4 cup (23 g) | 3/8 cup (37 g) | 1/2 cup (48 g) |
| 11 lb (5 kg) | 1 | 3/8 cup (31 g) | 1/2 cup (47 g) | 3/4 cup (60 g) |
| 13.2 lb (6 kg) | 1 | 3/8 cup (37 g) | 5/8 cup (57 g) | 7/8 cup (72 g) |
Kayt
09 Jul 2020
Bad change
Cat vomiting routinely recently and just discovered from other reviewers that product was changed and other owners experiencing same. All since last bag purchased. Shame on Canin
Ashlyn
06 Jul 2020
The formula change made 2 of my cats barf too :(
Some cats seem to be OK, but 2 of my cats starting barfing when the gold bag arrives... rregularly... My vet asked if there was any difference, and it wasn't until I went online and I found out about the formula change that I realised I'd have to change food... :(. I wish I'd been emailed when I had ordered it. They have been eating the food for 5 years, and have been sick for months before I knew.
Royal Canin response
I am sorry to hear that your pets have not been well. Please reach out to our Consumer Care team at 800-592-6687 to have this digestibility issue reported
Mitu
06 Jul 2020
NEW BAG/NEW FORMULA!!
Please read and act on it. Its NOT your imagination your pet is ill from the NEW FORMULA! My baby did great for over three years on royal canin food and but now has been on the NEW formula for 9 months and has been ill ever since. Vomiting, , lethargic, tummy pains etc. I suspected the food right away but my former vet said thats not possible. She was completely checked out by a regular and a internal vet and nothing was wrong with her. It is the food!! Please please pick up your phone and file a complaint with royal canin and do follow ups! Or message them via their facebook page to have it in writing. To me they said they are looking into what is causing the problem. There are many many more complaints all over facebook, not only on this website. After hundreds of phonecalls I finally managed to buy an OLD bag of food and my baby is no longer ill! Our furbabies dont lie!
Kate H
06 Jul 2020
Makes my cat sick
I bought this regularly, with no issues. I got a new bag last week, and fed my cat as normal, but she started being sick after every meal. I give her other brand meat twice a day, and the biscuits are a bedtime treat (she prefers biscuits, but they aren't good for cats, so it's a treat only). She is being sick after every meal, not just after the biscuits. Having read reviews, I realise that the new bag I have must be this new recipe other's have mentioned. Nothing else has changed, as far as I'm aware, and given the number of people reporting the same thing, I have to assume it is these biscuits that are causing the issues. RC - you HAVE to look at what's gone wrong. Your brand used to be reliable. I'm upset that I a/ missed all the previous reviews and have put my cat at risk, and b/ cannot find anything you've issued or stated to contest or dispute, or even agree, to the reports of this food making cats sick.
Grandma Kitty
22 Jun 2020
New Formula and Vomiting
After reading all the reviews as to why my two cats were vomiting more often, before it was just the weekly hairballs because of their grooming, now that has changed. I didn't realize the formula had changed until now. I personally think the pellets are now to hard to digest, that is why they were throwing it up almost immediately. I decided to put a weeks worth in my Nutrabullet and break it down to fine grains. I add a tiny bit of water to make a mash and everything seems to be fine, they will eat it and not turn up their noses. Still have the occasional throw up but I can see it is hairball related. I add a teaspoon of plain pumpkin to help move the hairballs through and that does also help. Don't want to change their food because they haven't had urinary issues in years. I've resorted to also buying the canned version but it is very expensive. The original formula was better and should be reevaluated because of all the complaints.
Tara17
21 Jun 2020
Explains the vomit
Like many others I depend on this formula to keep my boy safe. I noticed the vomiting start in March after we got him a new bag of food. The vet had mentioned the change in color on the bag, and thought it was just some rebranding work. After reading that there are others just like me, the sneaky change of formula is what is causing my 3 year old to throw up multiple times a week. The vet was puzzled because his vomiting doesn't accompany any signs or symptoms of every other reason a cat would vomit as much. This all makes sense, and it really upsets me. I wish I could feed my cat any other food but we are stuck due to his medical issues. Change back to what was, at least more apparently, safe and healthy for our babies.
Bowtieguy
02 Jun 2020
Good Product, But Increased Sodium Content
With all due respect to Royal Canin, who very promptly answered an email I sent them, they increased the amount of sodium in the new formulation (at least the moderate-calorie version) from 3.01 g/1,000 cal to 3.40 g/1,000 cal. That may not sound like a lot, but it's nearly a 13% increase. As a result, my cat not only drinks and urinates a lot more (which can be seen as an advantage, because increased urination should help clear the urinary tract), but also eats a lot more, as increases in sodium also increase appetite. I wonder if anyone else has experienced this.
SadCatOwner
13 May 2020
Cat vomits on new formula
Ever since the formula changed, my cat has been vomiting almost daily! He had previously been using the old formula for 6+ years with great success. Royal Canin, please consider changing the formula back!! To the other reviewers, what dry food are you using in place of this now?
Lyn890
13 May 2020
Formula Change and Vomit Everywhere
I've been feeding my cats the SO diet for years and it has done well in keeping them healthy, but since they changed the packaging (and the formula too, even though they don't say so) my cats have been vomiting after every meal. I am so upset that a pet food company would change the formula without telling their customers, since everyone knows that abruptly changing pet foods is a recipe for vomiting disaster. I confirmed the recipe change with the company, so I'm 100% sure the change has happened. Even if they change back to the old formula, I will never buy food from Royal Canin again as I can't trust them anymore. I switched to Purina UR food and the vomiting has stopped, but the verdict on the urinary crystals is still out. Time will tell.
Rbecka77
13 May 2020
Concerned owner of 2 cats
I just read the reviews from the unhappy cat owner (May 2020) re/ the change in your SO food for Urinary issues. I am in shock and have to agree with them. I never knew the recipe had changed and I have 2 cats, one male that needs it, and a female that is on it because it is very difficult trying to separate them and I do not want to risk my male cat eating the wrong food and getting sick. I have spent $3,000 for 2 different Urinary issues that my cat had, and was directed to feed him ONLY this food. Both my cats have been throwing up constantly everyday and I thought it was something they got into, and have since had to call to make a vet appointment. Bought them new dishes for anti-vomiting issues, and have limited their food to feeing them smaller amounts. If you are changing around the recipe and ingredients it definitely is not a good thing. I am shocked as well that you are not making a more conscience decision to inform the consumer and the vet offices from where we purchase it. I would really appreciate a follow up email on this issue in the next couple days. I am worried sick for my cats who are both 12 years old and should not have to continue to throw up and be in agonizing pain and not get the nutrients needed. Also, your food is not affordable, we are spending $80 for a 17 lb. bag. Most of it I am cleaning up as vomit and throwing out. Waste of money!!!!!!