Urinary SO Dry Cat Food
Royal Canin Urinary SO is a veterinary-exclusive cat food for cats with urinary health concerns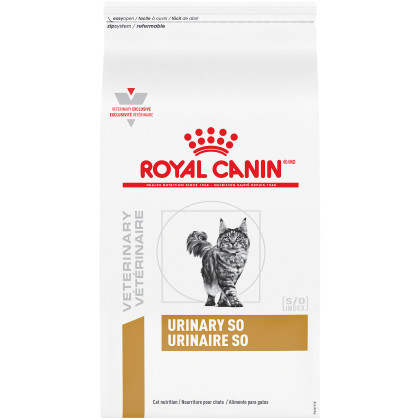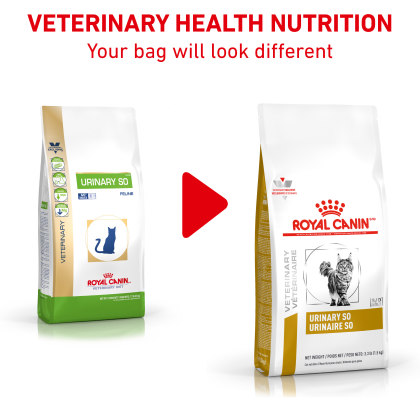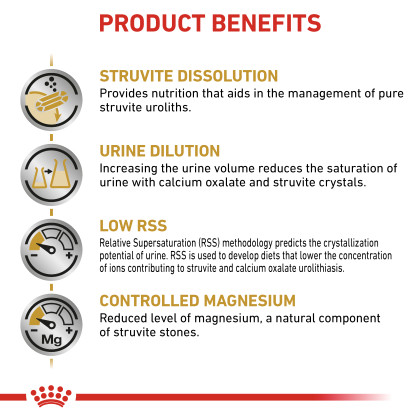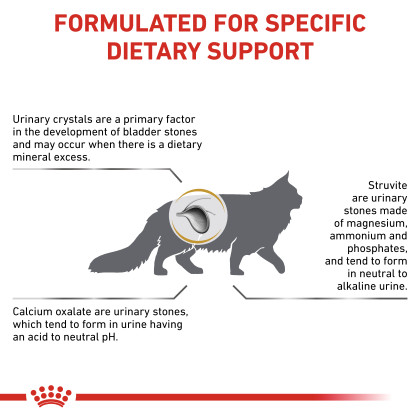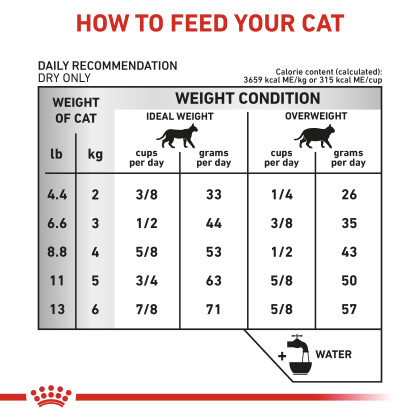 Helps dissolve pure struvite stones and helps prevent calcium oxalate stones

Lowers the risk of crystal formation using RSS methodology for bladder health

Supports urinary health with an exclusive S/O Index, and creates an environment unfavorable to crystal formation in the bladder

Helps prevent struvite stones from reoccurring

When your cat has urinary issues, easing their discomfort requires special care. But with the help of your veterinarian and Royal Canin, there's not just hope—there can be a true difference.

This veterinary-exclusive dry cat food was developed to nutritionally support your adult cat's urinary tract and bladder health. It increases the amount of urine your cat produces to help dilute excess minerals that can cause crystals and stones. Relative Super Saturation (RSS) methodology is used to help lower ion concentration in urine, which contributes to stone formation. This formula promotes a urinary environment unfavorable to the formation of both struvite and calcium oxalate crystals. And this specialized nutrition, with a reduced level of magnesium, helps dissolve pure struvite stones and prevent struvite stones from forming. Lower urinary tract issues may be a recurring concern for some cats. Talk to your veterinarian about keeping your cat on this urinary cat food for long-term urinary support. And ask them about the right Royal Canin wet cat food and treats to complement your cat's diet.
Chicken by-product meal, brewers rice, corn, corn gluten meal, chicken fat, wheat gluten, natural flavors, wheat, salt, powdered cellulose, fish oil, potassium chloride, sodium bisulfate, calcium sulfate, sodium pyrophosphate, vegetable oil, fructooligosaccharides, choline chloride, vitamins [DL-alpha tocopherol acetate (source of vitamin E), niacin supplement, biotin, riboflavin supplement, D-calcium pantothenate, pyridoxine hydrochloride (vitamin B6), vitamin A acetate, thiamine mononitrate (vitamin B1), vitamin B12 supplement, folic acid, vitamin D3 supplement], DL-methionine, taurine, monocalcium phosphate, trace minerals [zinc proteinate, zinc oxide, manganese proteinate, ferrous sulfate, manganous oxide, copper sulfate, calcium iodate, sodium selenite, copper proteinate], marigold extract (Tagetes erecta L.), rosemary extract, preserved with mixed tocopherols and citric acid.

Calorie Content

This diet contains 3659 kilocalories of metabolizable energy (ME) per kilogram or 315 kilocalories ME per cup on an as fed basis (calculated).

| | |
| --- | --- |
| Crude Protein (min) | 32.5% |
| Crude Fat (min) | 13.0% |
| Crude Fiber (max) | 4.0% |
| Moisture (max) | 8.0% |
| Calcium (max) | 1.26% |
| Phosphorus (max) | 1.26% |
| Magnesium (max) | 0.1%. |

Dry Feeding

| Cat Weight | Low Activity | Medium Activity | High Activity |
| --- | --- | --- | --- |
| 4.4 lb (2 kg) | 1/4 cup (26 g) | 3/8 cup (33 g) | 1/2 cup (39 g) |
| 6.6 lb (3 kg) | 3/8 cup (35 g) | 1/2 cup (44 g) | 5/8 cup (52 g) |
| 8.8 lb (4 kg) | 1/2 cup (43 g) | 5/8 cup (53 g) | 3/4 cup (64 g) |
| 11 lb (5 kg) | 5/8 cup (50 g) | 3/4 cup (63 g) | 7/8 cup (75 g) |
| 13.2 lb (6 kg) | 5/8 cup (57 g) | 7/8 cup (71 g) | 1 cup (85 g) |

Mixed Feeding

| Cat Weight | Cans / Day | Low Activity | Medium Activity | High Activity |
| --- | --- | --- | --- | --- |
| 4.4 lb (2 kg) | 1/2 | 1/4 cup (16 g) | 1/4 cup (24 g) | 3/8 cup (30 g) |
| 6.6 lb (3 kg) | 1 | 1/8 cup (15 g) | 1/4 cup (26 g) | 3/8 cup (35 g) |
| 8.8 lb (4 kg) | 1 | 1/4 cup (23 g) | 3/8 cup (37 g) | 1/2 cup (48 g) |
| 11 lb (5 kg) | 1 | 3/8 cup (31 g) | 1/2 cup (47 g) | 3/4 cup (60 g) |
| 13.2 lb (6 kg) | 1 | 3/8 cup (37 g) | 5/8 cup (57 g) | 7/8 cup (72 g) |
hanklupe123
16 Jan 2021
Cat has started vomiting every week
Just like most recent reviewers, my cat started projectile vomiting after the formulation changed for this food. AVOID!!
lmutt
10 Jan 2021
Our cat vomits right after eating.
I have been using this food for a few years, and the last couple of months he seemed to start vomiting more and more frequently. We purchased some Purina canned urinary food from the pet store and noticed he didn't vomit when he ate it, so we purchased the dry Purina urinary health food and he hasn't thrown up since. This product should be recalled after seeing other comments on this sight that show this is wide spread issues. Will not purchase this again.
FrustratedCatOwner
06 Jan 2021
Thank you for sending my cat to the vet vomiting
Bought the latest bag in December, My cat has used RC USO for 3 years without any issues. However, look at the comments, RC changed the formula and countless pets are getting ill. This is extremely despicable.
mel7188
04 Jan 2021
Bring back the old formula
Several of my cats have been vomiting for months ever since you changed the formula so we have switched to a different urinary dry food. They don't like it as much as the SO, so please please bring back the old formula. Why would you do this? So many of us have pleaded with you.
RaeT
02 Jan 2021
Vomiting
New bag of food this week and my cat is vomiting everything she eats.
Kavik01
30 Dec 2020
Cat vomits immediately after eating
I have been feeding all of my cats this food for over 3 years because one kitty has urinary crystals and up until now they have done wonderfully on it. They all loved it and and have been healthy. Then, the last bag 3 of my 4 cats began vomiting with one having to go into the vet and ending up on an iv. Her esophagus had to heal from all the vomiting from eating this food. Why would you change the formula? Why change something that works?
saundra7
30 Dec 2020
Great for urinary, but half my cats keep vomiting
We currently have 7 cats eating RC SO dry. We've noticed that at least half of them vomit multiple times a day after eating this. This has been going on for many months, but seems to have escalated these last few. After reading other recent reviews, this really has me concerned. I have 1 male who absolutely needs this food. Scheduled feeding vs free feeding may be in our future. but 7 cats? Please RC - find out what is happening and fix it!
Catmom123
21 Dec 2020
Beware
Reading the last few reviews really justifies my thinking on this food. I've been feeding this for years and when I started feeding a recent bag several of my cats got violently ill and one almost died! Tried another new bag after everyone recovered and they got sick again! I have reported it to the company and they are researching it, I hope they take it seriously because I am obviously not the only one having problems. Please stop feeding it if your cats seem to be reluctant to eat it or start to get sick.
jac k
20 Dec 2020
cat vomitting
really concerned to see the same reviews abt cats vomiting after eating this recently. happening to my cat also and i thought it was a growing intolerance. looks like it's something wrong with this batch. this also just happened recently - last few weeks (nov/dec 2020). going to take my cat off this food asap. if others are also experiencing the same thing, please share. impt for other cat owners who depend on this food to know
michelle16
10 Dec 2020
My cat is deathly sick!!!
My 8 year old cat has been on Urinary SO for 7 years and not a problem....got a new bag in September 2020 without being informed of the formula change and he immediately started to vomit. As the days went on it got worse until we went to the vet. He was taken off that food and since then was still very sick as he was on the food for four weeks! He has gone from a healthy happy cat to going to the vet again today because he is now not eating!!! This food should recalled and off the market immediatley!!! Thanks to the food change my cat could be dying....HELLO TAKE THIS FOOD OFF THE MARKET!!!! ARE YOU GUYS READING THE REVIEWS SINCE THE FORMULA CHANGE!!!