Urinary SO Dry Cat Food
Royal Canin Urinary SO is a veterinary-exclusive cat food for cats with urinary health concerns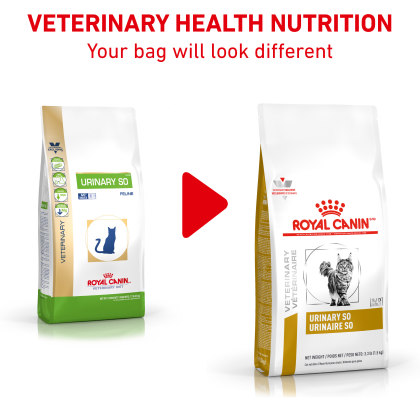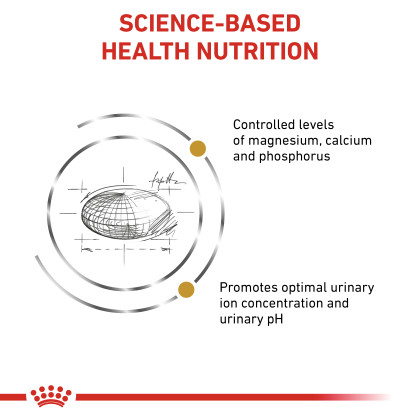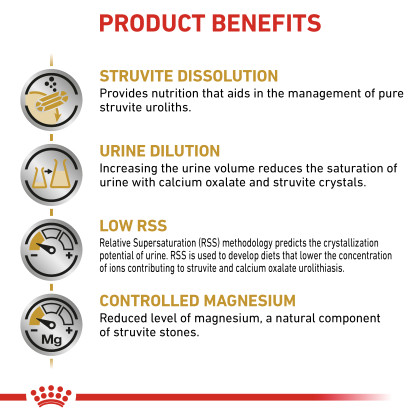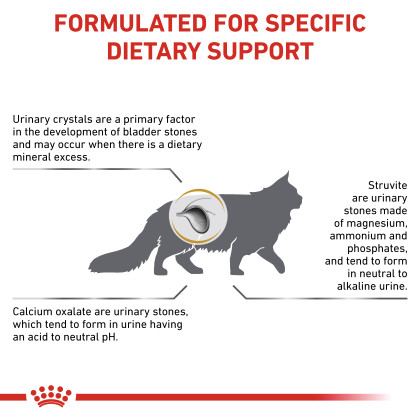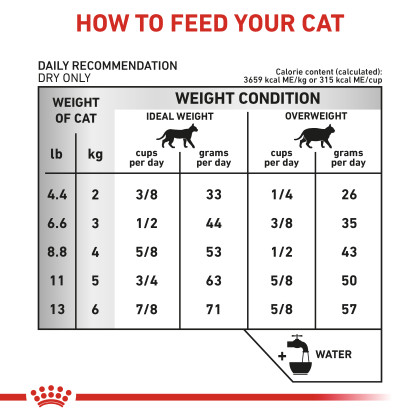 Helps dissolve pure struvite stones and helps prevent calcium oxalate stones

Lowers the risk of crystal formation using RSS methodology for bladder health

Supports urinary health with an exclusive S/O Index, and creates an environment unfavorable to crystal formation in the bladder

Helps prevent struvite stones from reoccurring

When your cat has urinary issues, easing their discomfort requires special care. But with the help of your veterinarian and Royal Canin, there's not just hope—there can be a true difference.

This veterinary-exclusive dry cat food was developed to nutritionally support your adult cat's urinary tract and bladder health. It increases the amount of urine your cat produces to help dilute excess minerals that can cause crystals and stones. Relative Super Saturation (RSS) methodology is used to help lower ion concentration in urine, which contributes to stone formation. This formula promotes a urinary environment unfavorable to the formation of both struvite and calcium oxalate crystals. And this specialized nutrition, with a reduced level of magnesium, helps dissolve pure struvite stones and prevent struvite stones from forming. Lower urinary tract issues may be a recurring concern for some cats. Talk to your veterinarian about keeping your cat on this urinary cat food for long-term urinary support. And ask them about the right Royal Canin wet cat food and treats to complement your cat's diet.
Chicken by-product meal, brewers rice, corn, corn gluten meal, chicken fat, wheat gluten, natural flavors, wheat, salt, powdered cellulose, fish oil, potassium chloride, sodium bisulfate, calcium sulfate, sodium pyrophosphate, vegetable oil, fructooligosaccharides, choline chloride, vitamins [DL-alpha tocopherol acetate (source of vitamin E), niacin supplement, biotin, riboflavin supplement, D-calcium pantothenate, pyridoxine hydrochloride (vitamin B6), vitamin A acetate, thiamine mononitrate (vitamin B1), vitamin B12 supplement, folic acid, vitamin D3 supplement], DL-methionine, taurine, monocalcium phosphate, trace minerals [zinc proteinate, zinc oxide, manganese proteinate, ferrous sulfate, manganous oxide, copper sulfate, calcium iodate, sodium selenite, copper proteinate], marigold extract (Tagetes erecta L.), rosemary extract, preserved with mixed tocopherols and citric acid.

Calorie Content

This diet contains 3659 kilocalories of metabolizable energy (ME) per kilogram or 315 kilocalories ME per cup on an as fed basis (calculated).

| Nutrient | Amount |
| --- | --- |
| Crude Protein (min) | 32.5% |
| Crude Fat (min) | 13.0% |
| Crude Fiber (max) | 4.0% |
| Moisture (max) | 8.0% |
| Calcium (max) | 1.26% |
| Phosphorus (max) | 1.26% |
| Magnesium (max) | 0.1%. |

Dry Feeding

| Cat Weight | Low Activity | Medium Activity | High Activity |
| --- | --- | --- | --- |
| 4.4 lb (2 kg) | 1/4 cup (26 g) | 3/8 cup (33 g) | 1/2 cup (39 g) |
| 6.6 lb (3 kg) | 3/8 cup (35 g) | 1/2 cup (44 g) | 5/8 cup (52 g) |
| 8.8 lb (4 kg) | 1/2 cup (43 g) | 5/8 cup (53 g) | 3/4 cup (64 g) |
| 11 lb (5 kg) | 5/8 cup (50 g) | 3/4 cup (63 g) | 7/8 cup (75 g) |
| 13.2 lb (6 kg) | 5/8 cup (57 g) | 7/8 cup (71 g) | 1 cup (85 g) |

Mixed Feeding

| Cat Weight | Cans / Day | Low Activity | Medium Activity | High Activity |
| --- | --- | --- | --- | --- |
| 4.4 lb (2 kg) | 1/2 | 1/4 cup (16 g) | 1/4 cup (24 g) | 3/8 cup (30 g) |
| 6.6 lb (3 kg) | 1 | 1/8 cup (15 g) | 1/4 cup (26 g) | 3/8 cup (35 g) |
| 8.8 lb (4 kg) | 1 | 1/4 cup (23 g) | 3/8 cup (37 g) | 1/2 cup (48 g) |
| 11 lb (5 kg) | 1 | 3/8 cup (31 g) | 1/2 cup (47 g) | 3/4 cup (60 g) |
| 13.2 lb (6 kg) | 1 | 3/8 cup (37 g) | 5/8 cup (57 g) | 7/8 cup (72 g) |
KaVV
27 Nov 2021
Blockage
My cat has been on this food exclusively since 2018 after he had a UTI. He doesn't even eat trays, just this food. Yesterday he waS admitted to the vet with a serious bladder blockage that required immediate action. This food was supposed to prevent that. It does not work.
Samjoo
15 Nov 2021
Vomiting too and cats aversion in past year
My cats had an aversion to some batches of this food on and off. I have switched between moderate calorie and regular. Something has happened to the production of these products over the past year. Prior to that, I had essentially no issue. I am beyond disappointed to look here and find so many ill cats affected by this. Now my cat is very ill and I'm not sure it isn't from this food. I should have listened to my gut instincts when the cats were averse to it. However, at $90 for a large bag, it is hard for to just toss it. Some serious QC issues need to be addressed.
Donuts
31 Oct 2021
Vimiting
My cat has been on this for 10 years but the new formula is causing vomiting. He is on a timed feed of three times per day and vomits once a day. This did not happen with the old formula. He does not have urinary issues anymore, even with the new formula, and he gobbles it up, but he vomits daily. What happened? Why did you change the formula? I mean it is working as far as crystals is concerned, but the vomiting must be so uncomfortable for him.
Burnsy
19 Oct 2021
Vomiting
My cat was put on this for urinary crystals.after spending a fortune on this food for several months hardly a day went by that I wasnt cleaning up vomit...finally switched to a different brand and there hasnt been vomit since..something is not right with this food! My cat is a much happier and healthier guy since switxhing brands
John in NY
30 Sep 2021
Helps my male cats
So far has kept my male cats out of the vet's office with urinary issues. My only complaint is that the feeding guide only goes up to 13.2 pounds. My cat is a little over 20. A large cat, yes overweight, but large. How much should I feed? The need to go higher on the feeding guide!
Cheezb
28 Sep 2021
Vomiting
Yep. My vet prescribed this for my kitty so I have fed it to both. They are both vomiting multiple times a day. I'm scared to feed him anything else but I'm going to try some other over the counter foods. Was there a bad lot of these? I think they did okay with the 1st bag I bought and it looked different.
Little red baron
28 Sep 2021

Percy has had all her shots. She has been on Urinary SO for over 4 years. She also has a water fountain. She hasn't had an UTI in over 4 years. She's a strange cat, doesn't eat any people or wet food(maybe a little tuna). She does love the Royal Canin treats Urinary.
Cimbadeo
20 Sep 2021
Mixed results between dry and canned food!
My 4yo cat had a complete urinary blockage and rising kidney levels and was a "true pet emergency." He was admitted to vet ICU and had surgery the next day with final diagnosis of calcium oxalate stone. Vet provided samples of this brand and one other brand in both dry and wet formulas. My guy did fine on this dry formula when mixed with the other brand's wet. But when I mixed this brands' dry and wet formula together, he threw up all his meals one day and the following morning. I switched the wet back to the other brand and he is no longer vomiting. I came to this website to research his dietary options and didn't realize vomiting is a reported issue. My cat has never vomited food or even hairballs. I was especially concerning when he vomited during his recovery when his appetite and weight gain was only slowly returning. My cat is used to a real meat diet and I am also concerned about by-product being the first ingredient in this product.
Real Food
17 Sep 2021
Feed your cats a raw diet. They are meat eaters.
Google the following: Cats raw diet obligate carnivore
tgruber
27 Aug 2021
Vomit
As soon as I purchased the urinary so dry cat food, both of my cats started to throw up.I should have read the 7+ pages of negative reviews regarding the same issue before I made this purchase.