Urinary SO Dry Cat Food
Royal Canin Urinary SO is a veterinary-exclusive cat food for cats with urinary health concerns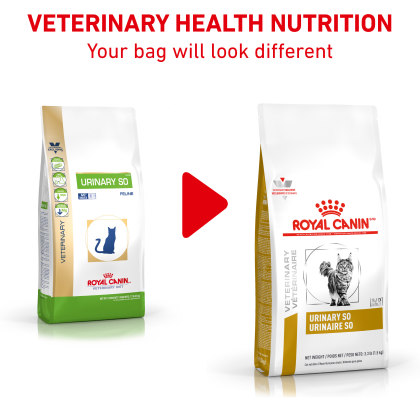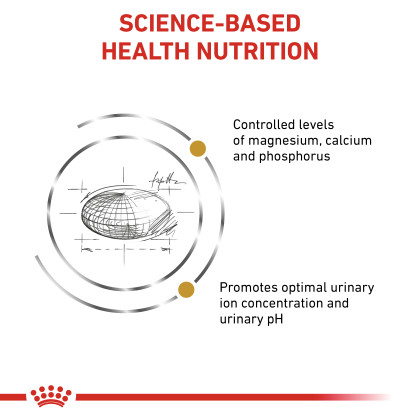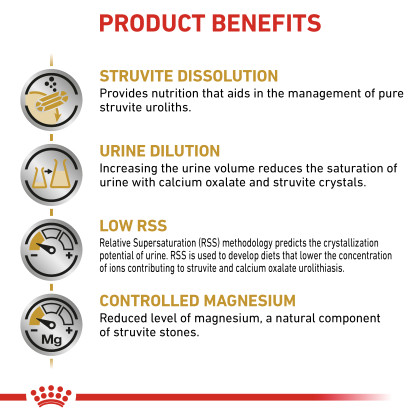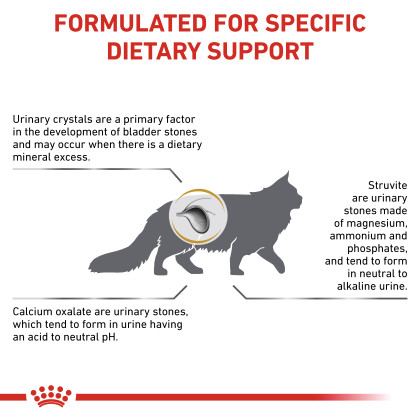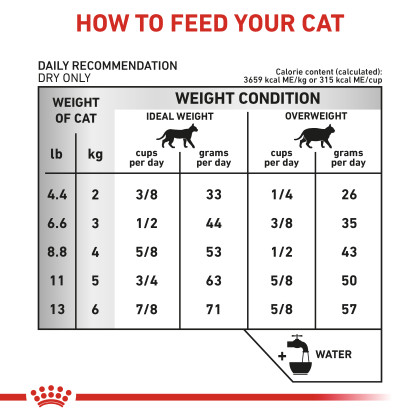 Helps dissolve pure struvite stones and helps prevent calcium oxalate stones

Lowers the risk of crystal formation using RSS methodology for bladder health

Supports urinary health with an exclusive S/O Index, and creates an environment unfavorable to crystal formation in the bladder

Helps prevent struvite stones from reoccurring

When your cat has urinary issues, easing their discomfort requires special care. But with the help of your veterinarian and Royal Canin, there's not just hope—there can be a true difference.

This veterinary-exclusive dry cat food was developed to nutritionally support your adult cat's urinary tract and bladder health. It increases the amount of urine your cat produces to help dilute excess minerals that can cause crystals and stones. Relative Super Saturation (RSS) methodology is used to help lower ion concentration in urine, which contributes to stone formation. This formula promotes a urinary environment unfavorable to the formation of both struvite and calcium oxalate crystals. And this specialized nutrition, with a reduced level of magnesium, helps dissolve pure struvite stones and prevent struvite stones from forming. Lower urinary tract issues may be a recurring concern for some cats. Talk to your veterinarian about keeping your cat on this urinary cat food for long-term urinary support. And ask them about the right Royal Canin wet cat food and treats to complement your cat's diet.
Chicken by-product meal, brewers rice, corn, corn gluten meal, chicken fat, wheat gluten, natural flavors, wheat, salt, powdered cellulose, fish oil, potassium chloride, sodium bisulfate, calcium sulfate, sodium pyrophosphate, vegetable oil, fructooligosaccharides, choline chloride, vitamins [DL-alpha tocopherol acetate (source of vitamin E), niacin supplement, biotin, riboflavin supplement, D-calcium pantothenate, pyridoxine hydrochloride (vitamin B6), vitamin A acetate, thiamine mononitrate (vitamin B1), vitamin B12 supplement, folic acid, vitamin D3 supplement], DL-methionine, taurine, monocalcium phosphate, trace minerals [zinc proteinate, zinc oxide, manganese proteinate, ferrous sulfate, manganous oxide, copper sulfate, calcium iodate, sodium selenite, copper proteinate], marigold extract (Tagetes erecta L.), rosemary extract, preserved with mixed tocopherols and citric acid.

Calorie Content

This diet contains 3659 kilocalories of metabolizable energy (ME) per kilogram or 315 kilocalories ME per cup on an as fed basis (calculated).

| Nutrient | Amount |
| --- | --- |
| Crude Protein (min) | 32.5% |
| Crude Fat (min) | 13.0% |
| Crude Fiber (max) | 4.0% |
| Moisture (max) | 8.0% |
| Calcium (max) | 1.26% |
| Phosphorus (max) | 1.26% |
| Magnesium (max) | 0.1%. |

Dry Feeding

| Cat Weight | Low Activity | Medium Activity | High Activity |
| --- | --- | --- | --- |
| 4.4 lb (2 kg) | 1/4 cup (26 g) | 3/8 cup (33 g) | 1/2 cup (39 g) |
| 6.6 lb (3 kg) | 3/8 cup (35 g) | 1/2 cup (44 g) | 5/8 cup (52 g) |
| 8.8 lb (4 kg) | 1/2 cup (43 g) | 5/8 cup (53 g) | 3/4 cup (64 g) |
| 11 lb (5 kg) | 5/8 cup (50 g) | 3/4 cup (63 g) | 7/8 cup (75 g) |
| 13.2 lb (6 kg) | 5/8 cup (57 g) | 7/8 cup (71 g) | 1 cup (85 g) |

Mixed Feeding

| Cat Weight | Cans / Day | Low Activity | Medium Activity | High Activity |
| --- | --- | --- | --- | --- |
| 4.4 lb (2 kg) | 1/2 | 1/4 cup (16 g) | 1/4 cup (24 g) | 3/8 cup (30 g) |
| 6.6 lb (3 kg) | 1 | 1/8 cup (15 g) | 1/4 cup (26 g) | 3/8 cup (35 g) |
| 8.8 lb (4 kg) | 1 | 1/4 cup (23 g) | 3/8 cup (37 g) | 1/2 cup (48 g) |
| 11 lb (5 kg) | 1 | 3/8 cup (31 g) | 1/2 cup (47 g) | 3/4 cup (60 g) |
| 13.2 lb (6 kg) | 1 | 3/8 cup (37 g) | 5/8 cup (57 g) | 7/8 cup (72 g) |
busterbadcat
12 Jul 2021

Our 2yo cat started taking this food just 3 weeks ago after his urinary issue diagnosis. He seems to like it, but I am finding that I need to mix the food with water or make sure he doesn't take it on an empty stomach... otherwise he will vomit almost immediately. The veterinarian noted that it is a very rich food high in fat. We will cross our fingers and hope that things settle.
Royal Canin response
Thank you for the feedback and if you have any questions please reach out to our Consumer Care team at 800-592-6687
Hulu
12 Jul 2021
Really Good, But Recent Vomiting
I used the Urinary SO Aging 7+ +Calm, but my experience is identical to many reviews of this dry food. My one cat had bladder crystal at only a few years old and we put him & his brother on a urinary diet. He had more crystals at 10 years old, and we switched to this brand, they're currently 14. Recently I noticed there was quite a lot of hairballs and vomiting, but I assumed it was because of age and a recent move. Then, I had to temporarily switch to a different dry food. They liked this dry food more, and hairballs had reduced. Now I've switched back to Urinary SO 7+ +Calm and the vomiting (of mostly water) and hairballs have continued. I am planning to switch dry food brands.
JCbyTheC
06 Jul 2021
Vomiting
We love the Royal Canin brand however this SO Urinary diet dry food caused all our cats to suddenly start vomiting it back up. We will not be using it anymore until something is investigated into what is going on with the food.
Royal Canin response
I am sorry to hear that your cat has been ill. We'd like to get this looked into for you, please reach out to our Consumer Care team at 800-592-6687 with the best by and batch details from the bag. We look forward to assisting you further.
meghanm
02 Jul 2021
new formula making my cat sick too!
My cat has lost two pounds and is now grossly skinny and they can't figure out what is wrong and now I'm seeing I'm not the only one! I think he might be dying. He has been on this food his whole life and now has bad hairballs and won't eat. What did you guys do to everyone's cats!?
Parkersmoms
28 Jun 2021
Used to love it, now vomiting like the rest
Similarly to all the reviewers below - my cat loved this food and has been on it for several years. Suddenly this Spring he started vomiting every other day or so, sometimes food, sometimes hairballs. We took him to the vet, did multiple tests, and nothing was really wrong with him. He wasn't behaving weirdly or anything, just vomiting all the time. We thought we were going crazy until we came here and saw all the reviews. This makes so much sense now. Royal Canin, what happened?!
Overly frustrated
24 Jun 2021
Vomiting
My two cats are both vomiting. The female daily and the male is not eating the wet food only the dry now and we just spent several thousand dollars on vet bills to clear the crystals. I know the female cat does not need the SO food for urinate issues Burt why are these cats getting sick now. We have now lost 3 cats over the past 5 years due to this
Father Ted
13 Jun 2021
Vomiting
Wow. Add my little guy to the list of vomiting cats. I thought it was age causing the issue as he's been on the food for years but now I have obvious doubts. Can anyone recommend another brand to try?
Debbie H
08 Jun 2021
Vomiting
My cat has been on this for 8 years. Now since this new bag, he's vomiting an average of every other day.
A cats pet human
04 Jun 2021
Has helped cat improve urinary health
7 months ago we adopted an almost 9 year old cat from a relative that could no longer care for him due to her own (not the cat's) health. Franklin the cat in the last several months at her home started urinating outside the litter box. He was brought to his regular vet. It was shown in his tests that we had struvites and calcium in urine, and a propensity for stones. The vet suggested Royal Canin Urinary S/O, the dry version as well as the morsels in gravy and the Urinary S/O Treats. Franlin loves the flavor of all 3 products. Save the first day here with us he missed the box twice in a short period of time. Since that one incident, Franklin has not missed his box. In both his annual visit to the vet in January of this year, and in May as a well visit just to monitor his condition. Vet reports all great! Blood and urine has lower levels of his condition. We don't give him human food as the vet recommended 100% Royal Canin Urinary S/O. Franklin is doing great and we are doing greater for having him
Simbaowner
02 Jun 2021
Add +3 more vomiting cats
My cat has been on Urinary SO for 2.5 years after successfully beating stones. He loved this food so much I had to keep him on an automatic feeder. Now he is like all the other reviews...hates it, vomiting. The automatic feeder just fills up day after day. Came here to verify I wasn't crazy. By my recommendation my mom put two of her cats on USO after the second one came down with stones (in early 2020). She had the same report (vomiting, wouldn't eat USO) and told me about the reviews. I thought her cats were just finicky until my USO ran out and I bought a new bag a couple months ago. Now we are both looking for something new. Not good.