Urinary SO Morsels in Gravy Canned Cat Food
Royal Canin Urinary SO is a veterinary-exclusive wet cat food for cats with urinary health concerns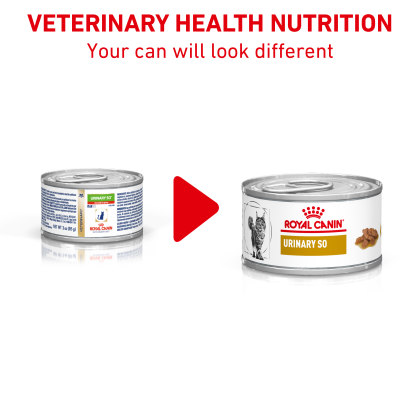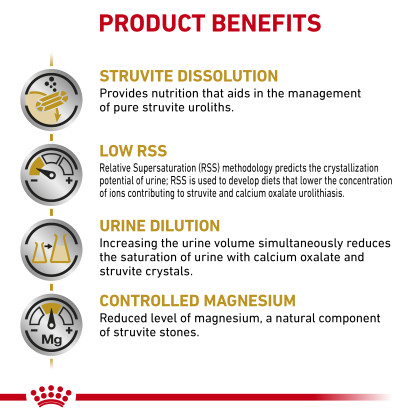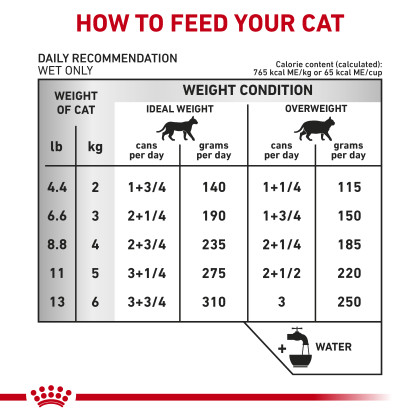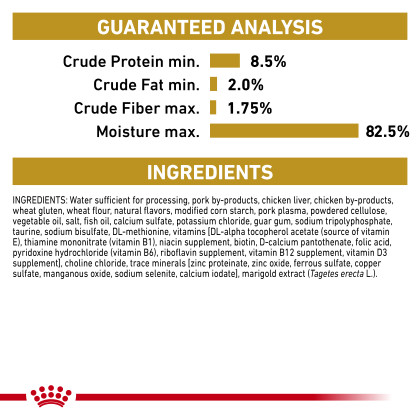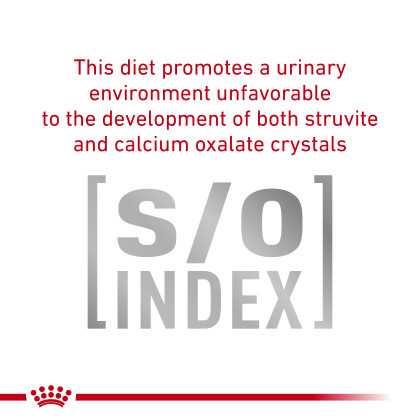 Helps dissolve pure struvite stones and helps prevent calcium oxalate stones

Lowers the risk of crystal formation using RSS methodology for bladder health

Supports urinary health with an exclusive S/O Index, and creates an environment unfavorable to crystal formation in the bladder

Helps prevent struvite stones from reoccurring

When your cat has urinary issues, easing their discomfort requires special care. But with the help of your veterinarian and Royal Canin, there's not just hope—there can be a true difference.

This veterinary-exclusive morsels in gravy wet cat food was developed to nutritionally support your adult cat's urinary tract and bladder health. It increases the amount of urine your cat produces to help dilute excess minerals that can cause crystals and stones. Relative Super Saturation (RSS) methodology is used to help lower ion concentration in urine, which contributes to stone formation. This formula promotes a urinary environment unfavorable to the formation of both struvite and calcium oxalate crystals. And this specialized nutrition, with a reduced level of magnesium, helps dissolve pure struvite stones and prevent struvite stones from forming. Lower urinary tract issues may be a recurring concern for some cats. Talk to your veterinarian about keeping your cat on this urinary cat food for long-term urinary support. And ask them about the right Royal Canin dry cat food and treats to complement your cat's diet.
Water sufficient for processing, pork by-products, chicken liver, chicken by-products, wheat gluten, wheat flour, natural flavors, modified corn starch, pork plasma, powdered cellulose, vegetable oil, salt, fish oil, calcium sulfate, potassium chloride, guar gum, sodium tripolyphosphate, taurine, sodium bisulfate, DL-methionine, vitamins [DL-alpha tocopherol acetate (source of vitamin E), thiamine mononitrate (vitamin B1), niacin supplement, biotin, D-calcium pantothenate, folic acid, pyridoxine hydrochloride (vitamin B6), riboflavin supplement, vitamin B12 supplement, vitamin D3 supplement], choline chloride, trace minerals [zinc proteinate, zinc oxide, ferrous sulfate, copper sulfate, manganous oxide, sodium selenite, calcium iodate], marigold extract (Tagetes erecta L.).

Calorie Content

This diet contains 765 kcal ME/kg; 65 kcal ME/can on an as fed basis (calculated).

| | |
| --- | --- |
| Crude Protein (min) | 8.5% |
| Crude Fat (min) | 2.0% |
| Crude Fiber (max) | 1.75% |
| Moisture (max) | 82.5%. |

Wet Feeding

| Cat Weight | Low Activity | Medium Activity | High Activity |
| --- | --- | --- | --- |
| 4.4 lb (2 kg) | 1 1/4 cans (115 g) | 1 3/4 cans (140 g) | 2 cans (170 g) |
| 6.6 lb (3 kg) | 1 3/4 cans (150 g) | 2 1/4 cans (190 g) | 2 3/4 cans (225 g) |
| 8.8 lb (4 kg) | 2 1/4 cans (185 g) | 2 3/4 cans (235 g) | 3 1/4 cans (280 g) |
| 11 lb (5 kg) | 2 1/2 cans (220 g) | 3 1/4 cans (275 g) | 3 3/4 cans (325 g) |
| 13.2 lb (6 kg) | 3 cans (250 g) | 3 3/4 cans (310 g) | 4 1/4 cans (370 g) |

Mixed Feeding

| Cat Weight | Cans/ Day | Low Activity | Medium Activity | High Activity |
| --- | --- | --- | --- | --- |
| 4.4 lb (2 kg) | 1/2 | 1/4 cup (16 g) | 1/4 cup (24 g) | 3/8 cup (30 g) |
| 6.6 lb (3 kg) | 1 | 1/8 cup (15 g) | 1/4 cup (26 g) | 3/8 cup (35 g) |
| 8.8 lb (4 kg) | 1 | 1/4 cup (23 g) | 3/8 cup (37 g) | 1/2 cup (48 g) |
| 11 lb (5 kg) | 1 | 3/8 cup (31 g) | 1/2 cup (47 g) | 3/4 cup (60 g) |
| 13.2 lb (6 kg) | 1 | 3/8 cup (37 g) | 5/8 cup (57 g) | 7/8 cup (72 g) |
31 Oct 2019
It has great edible chunks in it that my cats like
My cats really like this. They really like it but get a little tired of it after a couple weeks, but when I stop feeding it to them and give them another kind for a few days, then return to feeding this to them, they love it again!
MrPadre19
31 Oct 2019
Life Saver
10 years ago my maine coon, Kona was unable to urinate Our vet operated on Kona who had crystals in his urine. The operation was a success, but in order for Kona to continue to live a productive life he would need a special diet: Royal Canin Urinary SO. 10 years later Kona is still going strong and Royal Canin Urinary SO is ALL he eats. Thank you Royal Canin
MonaLS
30 Oct 2019
My Cats Love It, And It Smells Great
My cat that has urinary issues has been prescribed this food for years, and loves it. The cans are easy to open, the food scoops cleanly out of the can, and he never leaves any leftovers.
Twinmom
30 Oct 2019
The perfect fit!
My Devon Rex was having problems with urinary crystals and infections. Our Vet suggested that we should try RC Urinary SO. What a game changer, he hasn't had a single UTI or problems with crystals since starting this diet more than 2 years ago.
Frosty
30 Oct 2019
Saved our Kitty's life ! Avoided surgery!
Amazing product. Truly did save our kittys life, and avoided a costly surgery. Thank you!
RoQuin
30 Oct 2019
My cat favorite's flavor!
Rocco has UTI and he loves this flavor. He tried different brands but he prefer Royal.
michelle51
30 Oct 2019
Cats Like
One of my cats has been eating this food for 7 years and doing great. He had very serious issues at age 4 and is now 11. It was important for him to eat canned food and he prefers dry. This was the only wet food he would eat well. Now I have 2 cats eating. The only negative is it is very expensive and I never see coupons or discounts.
Ronda62
30 Oct 2019
Smells very good!!!
My cat had to have this everyday, it's his absalut favorite.
CatWhikerer13
30 Oct 2019
Prescription diet
One of my cats suffered from a urinary blockage and was prescribed a strict urinary diet. This was one of the only Rx canned foods he will eat consistently...but he doesn't ever finish it. The fact that he will eat it is the only the reason l gave it a "good" rating. I don't love the ingredients and really wish there was a more whole food diet available for him. He very rarely gets a tiny taste of real meat for a treat and he loves that so much! I wish l could feed him something he enjoys since its the only thing he ever gets to eat.
Glory575
30 Oct 2019
Happy cats!!
I have a brother and sister cat—one picky girl and the other one, the boy, who has the urinary problem, will eat anything. This is so nice because I know it's good for the boy's health but his sister loves it too and they can't gobble it up fast enough!!!