Ultamino Dry Dog Food
Royal Canin Ultamino is a veterinary-exclusive dry dog food for adult dogs with food sensitivities needing a short-term elimination diet or long-term nutrition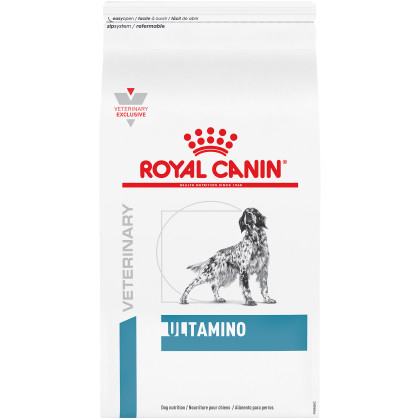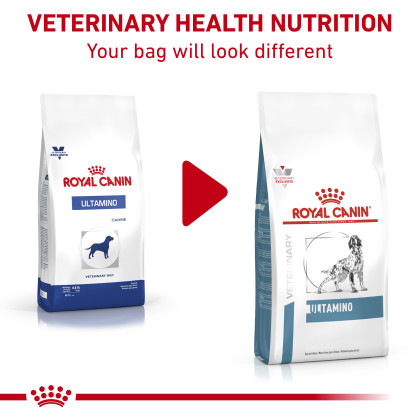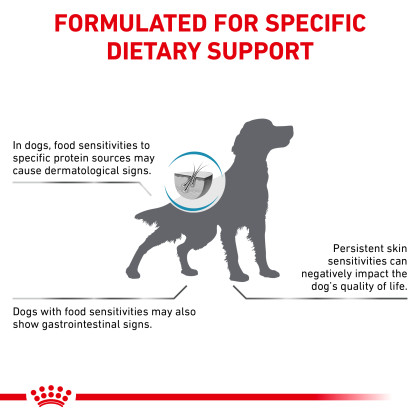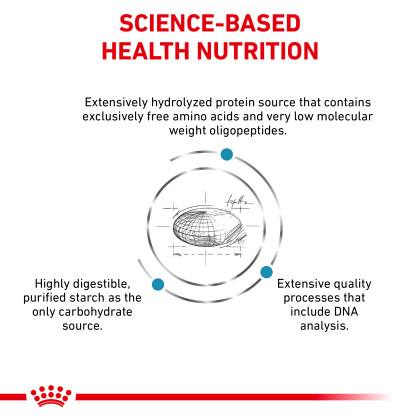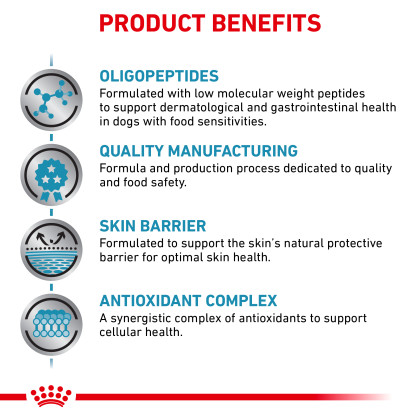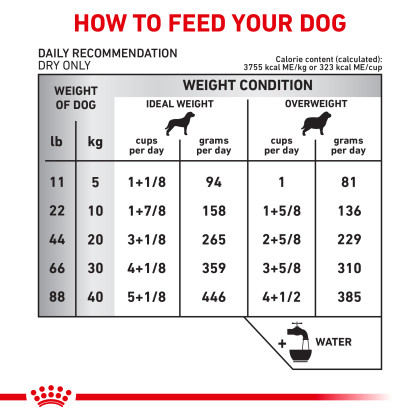 Clinically proven to help reduce skin reactions that may be due to sensitivities to common proteins found in pet foods

Minimizes the risk of reaction with proteins extensively broken down to a size that's virtually unrecognizable by the immune system

Reinforces the skin barrier with specific nutrients to support healthy skin in dogs with skin sensitivity and irritation

Helps support healthy digestion with an exclusive blend of fibers

Your vet may have put your dog on an elimination diet trial to test for food sensitivities. Or they believe your dog needs long-term support for their skin issues. In any case, your vet recommended Royal Canin Ultamino for a reason. This innovative diet is the result of years of extensive research, formulated as a nutritional solution for pets with severe food sensitivities. Its clinically proven and highly palatable formula contains a protein source that is broken down to an amino acid level, so it can be absorbed in the digestive tract with reduced risk of triggering a food sensitivity. Optimal amounts of B vitamins and amino acids reinforce your dog's skin barrier. Omega-3 fatty acids EPA and DHA help promote healthy skin and coat. An exclusive blend of fibers helps support healthy digestion in dogs prone to digestive upsets, including diarrhea. And with strict manufacturing procedures to help avoid cross contamination, you can confidently feed Royal Canin Ultamino long-term to dogs with food sensitivities.
Corn starch, hydrolyzed poultry by-products aggregate, coconut oil, vegetable oil, natural flavors, powdered cellulose, dried chicory root, sodium silico aluminate, potassium chloride, monocalcium phosphate, L-tyrosine, fructooligosaccharides, fish oil, choline chloride, L-lysine, calcium carbonate, vitamins [DL-alpha tocopherol acetate (source of vitamin E), L-ascorbyl-2-polyphosphate (source of vitamin C), niacin supplement, vitamin B12 supplement, D-calcium pantothenate, biotin, pyridoxine hydrochloride (vitamin B6), riboflavin supplement, thiamine mononitrate (vitamin B1), vitamin A acetate, folic acid, vitamin D3 supplement], DL-methionine, taurine, L-tryptophan, histidine, trace minerals [zinc proteinate, zinc oxide, manganese proteinate, ferrous sulfate, manganous oxide, copper sulfate, sodium selenite, copper proteinate], marigold extract (Tagetes erecta L.), rosemary extract, preserved with mixed tocopherols and citric acid, magnesium oxide, potassium iodate.

Calorie Content

This diet contains 3755 kilocalories of metabolizable energy (ME) per kilogram or 323 kilocalories ME per cup on an as fed basis (calculated).

| Nutrient | Amount |
| --- | --- |
| Crude Protein (min) | 17.0% |
| Crude Fat (min) | 14.5% |
| Crude Fiber (max) | 4.3% |
| Moisture (max) | 10.0% |
| Vitamin E (min) | 413 IU/kg |
| Ascorbic acid* (min) | 160 mg/kg. |

*Not recognized as an essential nutrient by the AAFCO Dog Food Nutrient Profiles.

| Weight | Low Activity | Medium Activity | High Activity |
| --- | --- | --- | --- |
| 4 lb (2 kg) | 1/2 cup (41 g) | 5/8 cup (48 g) | 5/8 cup (55 g) |
| 11 lb (5 kg) | 1 cup (82 g) | 1 1/8 cups (95 g) | 1 1/4 cups (109 g) |
| 22 lb (10 kg) | 1 5/8 cups (138 g) | 1 7/8 cups (160 g) | 2 1/8 cups (183 g) |
| 33 lb (15 kg) | 2 1/4 cups (188 g) | 2 1/2 cups (217 g) | 2 7/8 cups (248 g) |
| 44 lb (20 kg) | 2 3/4 cups (233 g) | 3 1/8 cups (270 g) | 3 5/8 cups (307 g) |
| 55 lb (25 kg) | 3 1/4 cups (275 g) | 3 3/4 cups (319 g) | 4 1/4 cups (363 g) |
| 66 lb (30 kg) | 3 3/4 cups (316 g) | 4 1/4 cups (365 g) | 4 7/8 cups (416 g) |
| 77 lb (35 kg) | 4 1/8 cups (354 g) | 4 3/4 cups (410 g) | 5 1/2 cups (467 g) |
| 88 lb (40 kg) | 4 5/8 cups (392 g) | 5 1/4 cups (453 g) | 6 cups (517 g) |
| 99 lb (45 kg) | 5 cups (428 g) | 5 3/4 cups (495 g) | 6 5/8 cups (564 g) |
| 110 lb (50 kg) | 5 3/8 cups (463 g) | 6 1/4 cups (536 g) | 7 1/8 cups (611 g) |
| 132 lb (60 kg) | 6 1/4 cups (531 g) | 7 1/4 cups (615 g) | 8 1/4 cups (700 g) |
Shammy
03 Jan 2021
A food of last resort—— worked!
My 11 yr old Portuguese Water Dog has suffered from diarrhea, vomiting, reflux, itching and scratching and pacing and panting of various proportions for years now. We have tried all kinds of food for her. In the last couple years we finally resorted to various Rx foods. Some from other food companies, and most recently from Royal Canin. She still had issues with PR and PW, and as a last resort for her (we were considering euthanasia to stop her severe discomfort!), we went with Ultamino. It took about a week to transition and then... nothing happened! No more reflux. no more vomiting. No more itching and scratching. No more pacing and panting (belly discomfort). Absolutely NOTHING! It has been a few months now that she's been on Ultamino, and still all good, it's a miracle for sure! Her coat is fluffy, soft and dark brown beautiful. I even use this food as her treats, and shes very happy about that, as the flavor is apparently delicious! I also transitioned my other two dogs (poodle and chihuahua) onto Ultamino recently, because something in another dog food brand was causing horrific bloody stool. After fully transitioning onto Ultamino, their diarrhea was completely cured! I am very grateful for this food!
Dara
01 Jan 2021
Best Pet Food Ever!
My 3-year-old Beagle was diagnosed with IBD. I was giving her the Royal Canin Hydrolized, but she kept having constant diarrhea and odor. I have been using Ultimino dry food and my dog loves the food and diarrhea and odor have stopped. I do have to add Omega- 3 to her food, but that is mainly due to allergies. I wish that Royal Canin would make a line of Ultimino canned/wet food, as well as treats to complement the dry food.
Gailtoo
15 Sep 2020
Last resort dog food for our boy
We had a dog that got poison by something in the yard and we all most loss him. With all the tests that Auburn Vet school recommended we never found out what was behind it, other than from mother nature. He was left w/neuralogical issues and food issues. We had bleeding internally for over a year. Meds would help and special diets, but with out the meds kept bleeding. After a consult at Auburn University they started him on a month of meds and Ultamino dog food. He finished his meds on Feb. 15th. It stopped the bleeding and 7 months later he still has no bleeding. In the scheme of things it is not a food that would be my first choice. Yet, for dogs like him it has been a life saver and I would recommend it.
John0400
12 Sep 2020
Caused excessive drinking/peeing
This food was prescribed for our german shepherd who has had allergy issues since birth. Within a short period on the food it caused excessive drinking and within days excessive and uncontrolled peeing. We gave this several weeks to get under control but it did not. We would much rather deal with the excessive scratching/itching that this. Back to his old food for us.
AbigailAshley
21 Jun 2020
Saved my dogs life
This food literally saved my dog Sawyer's life. I am a CVT and this food was recommended by my veterinarian after a "failed" trial of the Royal Canin Hydrolyzed protein. Years ago they presumed he had some form of IBD or food allergy. He would randomly vomit and had on and off loose stools. We elected to try the HP and for almost three years he did very well on it. However the last few months he started to have horrible smelling loose stools bad gas and a grumbly tummy pretty much every single day. We tried multiple medications, metronidazole, tylosin, enrofloxacin, endosorb, probiotics, omeprazole and even digestive enzymes with the thought he may have EPI. Since nothing was working we decided to try steroids. (we didn't want to use them as he has a systemic fungal infection called valley fever). When he didn't respond to the steroids I was preparing for the worst. Our last option was to switch his diet to see if it was food related. We switched him to strictly Ultamino and within two days his stool was solid, he had no gas and no rumbling stomach. It was a miracle. He also likes the taste! I am so grateful for this food, without it Sawyer would have wasted away. this product works! He's doing so well and I want to thank everyone at Royal Canin. We will likely keep him on this for the rest of his time here with us. You have a customer for life and I will continue to recommend to family, friends and clients at our clinic.
DalGal
03 Jun 2020
Wonderful product
This dog food made such a difference for our dog! He no longer had multiple loose stools a day after beginning this diet which was a huge relief as he'd been on multiple courses of antibiotics which only stopped the loose stools for a short time. If this diet didn't work, we were discussing putting our dog thru a laprascopic procedure. Ultramino also caused our dogs coat to be very shiny and soft.
A Max
21 May 2020
Highly palatable
Switched from so many other veterinary hypoallergenic dog foods to this one. Ultamino by far is delivering the best results with skin and GI health. My dog loves the flavor and drools for every meal!
unicornvet11
13 Nov 2019
Excellent results
I am using this for as many of my allergic patients as I can and clients seem very happy with the results. Excellent diagnostic tool and I'm grateful to have it as an option!
Finn Finn
01 Nov 2019
Finn's Favorite Food
My Finn loves his ultamino dog food. He lets us know when 5:00 rolls around and spins in circles until we put his food bowl down.
Tom K
01 Nov 2019
Saved Our Dog!
We have had our small dog on Ultamino for quite some time since he developed pancreatitus. He has survived because of this food (in our estimation). He likes the taste and we use it for treats as well. Thanks Royal Canine!