Dental
Complete feed for adult dogs with dental concerns or a tendency for dental problems. Recommended for (indications): Daily oral hygiene in dogs over 10kg. Limits the development of dental plaque and tartar-Helps fight bad breathNot recommended for (contraindications):-Puppies under 6 months, Pancreatitis or history of pancreatitis-Hyperlipidaemia. Feeding Advice: It is recommended that a veterinarian's opinion be sought before use or before extending the period of use.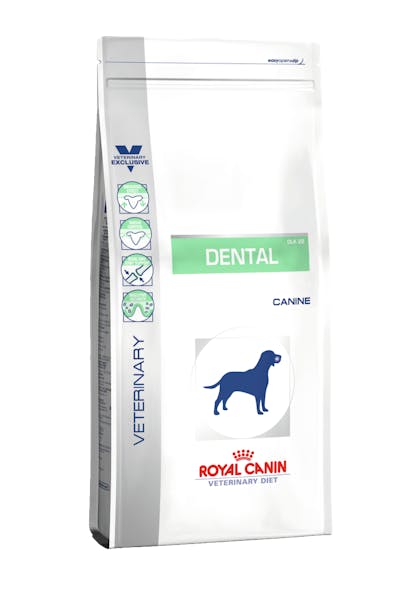 Tartar control

Nutrient that traps the calcium in saliva so reducing tartar deposits.

Brushing effect

The kibble's shape, texture and size help produce a mechanical brushing effect on teeth.

Bone & joint support

Helps maintain healthy bones and joints.
COMPOSITION: rice, maize flour, dehydrated poultry meat, animal fats, wheat gluten*, vegetable fibres, hydrolysed animal proteins, beet pulp, fish oil, minerals, soya oil, yeasts, fructo-oligo-saccharides, green tea extracts (source of polyphenols), hydrolysed crustaceans (source of glucosamine), marigold extract (source of lutein), hydrolysed cartilage (source of chondroitin). ADDITIVES (per kg): Nutritional additives: Vitamin A: 17400 IU, Vitamin D3: 1100 IU, E1 (Iron): 53 mg, E2 (Iodine): 5.3 mg, E4 (Copper): 10 mg, E5 (Manganese): 69 mg, E6 (Zinc): 208 mg, E8 (Selenium): 0.09 mg - Technological additives: Pentasodium triphosphate: 3.5 g - Preservatives - Antioxidants. ANALYTICAL CONSTITUENTS: Protein: 22% - Fat content: 16% - Crude ash: 5.2% - Crude fibres: 3.5%.*L.I.P.: protein selected for its very high assimilation.

| Dog's | thin | thin | normal | normal | overweight | overweight |
| --- | --- | --- | --- | --- | --- | --- |
| weight | grams | cups | grams | cups | grams | cups |
| 10 kg | 225 | 2 6/8 | 180 | 2 2/8 | 135 | 1 5/8 |
| 12 kg | 255 | 3 1/8 | 205 | 2 4/8 | 155 | 1 7/8 |
| 14 kg | 285 | 3 4/8 | 230 | 2 7/8 | 170 | 2 1/8 |
| 16 kg | 315 | 3 7/8 | 250 | 3 1/8 | 190 | 2 3/8 |
| 18 kg | 345 | 4 2/8 | 275 | 3 3/8 | 205 | 2 4/8 |
| 20 kg | 370 | 4 4/8 | 295 | 3 5/8 | 225 | 2 6/8 |
| 25 kg | 435 | 5 3/8 | 350 | 4 2/8 | 260 | 3 1/8 |
| 30 kg | 500 | 6 1/8 | 400 | 4 7/8 | 300 | 3 5/8 |
| 35 kg | 560 | 6 7/8 | 445 | 5 4/8 | 335 | 4 1/8 |
| 40 kg | 615 | 7 4/8 | 490 | 6 | 370 | 4 4/8 |
| 45 kg | 670 | 8 2/8 | 535 | 6 4/8 | 405 | 5 |
| 50 kg | 725 | 8 7/8 | 580 | 7 1/8 | 435 | 5 3/8 |
| 60 kg | 830 | 10 1/8 | 660 | 8 1/8 | 495 | 6 1/8 |
| 70 kg | 925 | 11 3/8 | 740 | 9 1/8 | 555 | 6 6/8 |
| 80 kg | 1020 | 12 4/8 | 815 | 10 | 615 | 7 4/8 |