AKC National Championship Dog Show presented by Royal Canin premieres on Animal Planet New Year's Day at 7PM ET with guest host Jerry O'Connell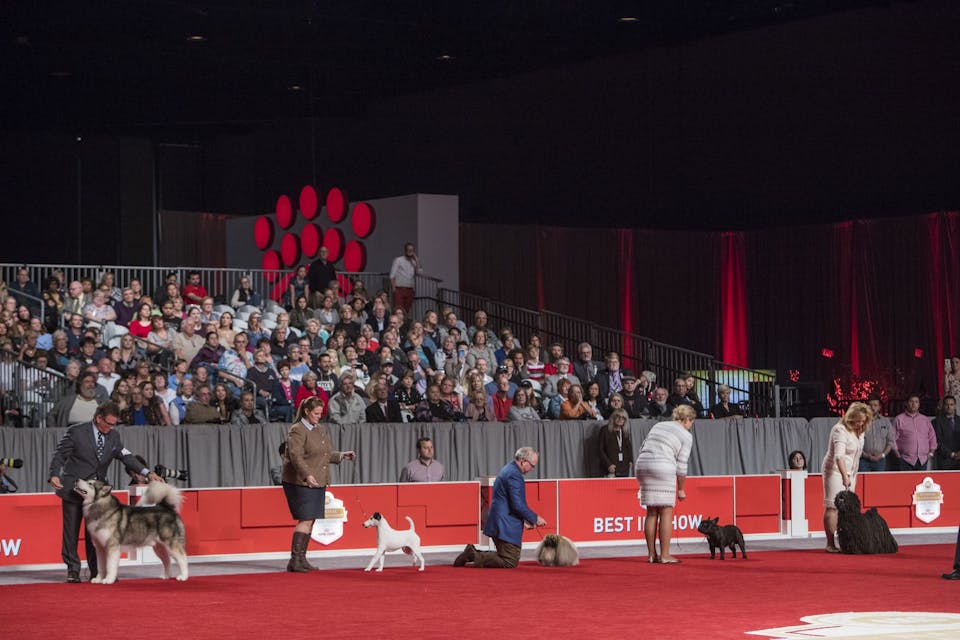 St. Charles, MO - New York (November 30, 2017) – , a global pet food leader, and Animal Planet today announced the will premiere on Animal Planet on New Year's Day, Monday, Jan. 1, 2018 at 7PM ET. An encore of the special will air at 11PM ET. Actor, television personality, and dog lover Jerry O'Connell serves as this year's guest host, joining co-hosts, sportscasters Jason Knapp and Sam Ryan and AKC Executive Secretary Gina DiNardo.
The AKC National Championship is one of the most prestigious dog shows in North America, with more than 8,600 entries from around the world expected to compete for various prestigious titles across events and thousands vying for the biggest monetary award in the world of dog sports. Animal Planet audiences will see highlights from each competition category, including agility, dock diving, and the highly-anticipated Best in Show. The competition takes place in Orlando, Fl. on Dec. 16 and 17, 2017.
"Animal Planet is excited to premiere the AKC National Championship on New Year's Day, which will allow our audiences across numerous platforms the opportunity to start 2018 with some of the world's most beloved dog breeds," said Erin Wanner, Vice President, Production, Animal Planet.
After experiencing the competition for the first-time last year, O'Connell is back to guest host parts of the competition, including the Best in Show finale, and take the Animal Planet audiences on a rare behind-the-scenes look at the largest dog show in the country.
"I'm honored to again be a part of the AKC National Championship presented by Royal Canin where dog lovers will be able to see hundreds of breeds competing for top honors in the conformation ring, as well as see the tremendous things dogs can do through companion events, including agility, obedience and dock diving," said O'Connell, owner of a German Shepherd Dog. "There is no better way to learn about these impressive dogs and all of their talents than by seeing this show firsthand. We're excited to create a great show for Animal Planet so the viewers at home will feel like they were there for every exciting moment."
Kamie Eckert, Royal Canin USA President added, "Royal Canin is a company passionate about purebreds. That's why we are thrilled to share this passion with audiences across the country this New Year's Day, as they tune in to the AKC National Championship on Animal Planet. Viewers can look forward to seeing a show that highlights the magnificent details that make dogs extraordinary."
This year's AKC National Championship takes place at Orlando's Orange County Convention Center and will introduce several new elements, including special appearances by U.S. Marine and Military Police K9 Handler Megan Leavey at the Eukanuba booth and other events throughout the show. Eukanuba, which helped the AKC create the event in 2001, returns as a sponsor of the companion events, as the AKC National Championship celebrates its 17th year.
"Each year, we continue to attract thousands of the best canine competitors from around the world," explained Dennis Sprung, Show Chairman and President & CEO of the AKC. "This year is no exception, and we look forward to the opportunity to show the human-canine bond to Animal Planet viewers. The network's long-standing commitment to animals and education makes them a perfect network partner, aligned with our mission of advocating for our canine companions."
Orlando attendees will also get the chance to see the first AKC Royal Canin National All-Breed Puppy and Junior Stakes. The new event was created exclusively for puppy and junior purebred dogs, ages six to 18 months, and will take place prior to the AKC National Championship on Friday, Dec. 15, 2017. For those who want to see the AKC National Championship activities live, events will be streamed online at www.royalcanin.com/akcdogshow.
This year's AKC National Championship will feature a dynamic line-up of broadcast sponsors including: Nature's Miracle®, ProSense®, Eukanuba™, Banfield Pet Hospital®, and AKC Pet Insurance. Each of the sponsors, along with the AKC and Royal Canin, share the same passion and support for purebred dogs, as well as a commitment to create the most successful dog show on television.
ANIMAL PLANET
Animal Planet, a multi-media business unit of Discovery Communications, is the network of hit franchise series and special programming dedicated to animals and the natural world that includes RIVER MONSTERS, DR. JEFF: ROCKY MOUNTAIN VET, PIT BULLS & PAROLEES, TANKED, TREEHOUSE MASTERS, THE VET LIFE, THE ZOO and PUPPY BOWL, the largest non-sports TV event on Super Bowl Sunday. Animal Planet is the premiere TV, digital and social community for all things animal, providing immersive, engaging, high-quality content across all Animal Planet platforms including: Animal Planet television network, available in more than 90 million homes in the U.S., that is complimented with a deep Video On Demand offering; online assets www.animalplanet.com, the ultimate online destination for animal lovers and pet owners; the Animal Planet Go app that allows viewers to catch up on full episodes of their favorite shows anytime anywhere; Animal Planet L!VE the go-to digital destination for round-the-clock, unfiltered access via live cameras around the globe in a variety of animal habitats; Animal Planet Social including Facebook, Twitter and Instagram via @AnimalPlanet and on Snapchat as AnimalPlanetTV.
DISCOVERY COMMUNICATIONS
Discovery Communications (Nasdaq: DISCA, DISCB, DISCK) satisfies curiosity and captivates superfans around the globe with a portfolio of premium nonfiction, lifestyle, sports and kids content brands including Discovery Channel, TLC, Investigation Discovery, Animal Planet, Science and Turbo/Velocity, as well as OWN: Oprah Winfrey Network in the U.S., Discovery Kids in Latin America, and Eurosport, the leading provider of locally relevant, premium sports and Home of the Olympic Games across Europe. Available in more than 220 countries and territories, Discovery's programming reaches 3 billion cumulative viewers, who together consume 54 billion hours of Discovery content each year. Discovery's offering extends beyond traditional TV to all screens, including TV Everywhere products such as the GO portfolio and Discovery Kids Play; over-the-top streaming services such as Eurosport Player; digital-first and social video from Group Nine Media; and virtual reality storytelling through Discovery VR. For more information, please visit www.discoverycommunications.com.
AMERICAN KENNEL CLUB
Founded in 1884, the American Kennel Club is a not-for-profit organization which maintains the largest registry of purebred dogs in the world and oversees the sport of purebred dogs in the United States. The AKC is dedicated to upholding the integrity of its registry, promoting the sport of purebred dogs and breeding for type and function. Along with its more than 5,000 licensed and member clubs and its affiliated organizations, the AKC advocates for the purebred dog as a family companion, advances canine health and well-being, works to protect the rights of all dog owners and promotes responsible dog ownership. More than 22,000 competitions for AKC-registered purebred dogs are held under AKC rules and regulations each year including conformation, agility, obedience, rally, tracking, herding, lure coursing, coonhound events, hunt tests, field and earthdog tests. Affiliate AKC organizations include the AKC Humane Fund, AKC Canine Health Foundation, AKC Reunite and the AKC Museum of the Dog. For more information, visit www.akc.org. Become a fan of the American Kennel Club on Facebook, and follow us on Twitter @AKCDogLovers. AKC, American Kennel Club, the American Kennel Club seal and design, and all associated marks and logos are trademarks, registered trademarks and service marks of The American Kennel Club, Inc.
ROYAL CANIN USA
Royal Canin USA is a leader in science-based cat and dog health nutrition. Founded by a veterinarian in 1968, Royal Canin has more than 40 years of experience in delivering individualized nutritional solutions. In collaboration with an expert team of nutritionists, breeders and veterinarians from around the world, Royal Canin places cats and dogs at the central point of the innovation process. The Royal Canin product line offers a range of diets based on size, age, breed, lifestyle and therapeutic requirements. Royal Canin diets are available at veterinary hospitals and pet specialty stores nationwide. Royal Canin is a subsidiary of Mars, Incorporated. To learn more about Royal Canin, visit www.royalcanin.com and "LIKE" us on Facebook at www.facebook.com/royalcaninus.
EUKANUBA
With over 45 years of research, EUKANUBA™ brand offers a complete food lineup, delivering exceptional nutrition by life stage and breed size to promote peak physical condition and activity. For more information, please visit www.eukanuba.com or at www.facebook.com/eukanuba.
SPECTRUM BRANDS
Pro·Sense and Nature's Miracle products are manufactured by Spectrum Brands Holdings (NYSE: SPB). Spectrum Brands, a member of the Russell 1000 Index, is a global, diversified consumer products company and a leading supplier of consumer batteries, residential locksets, residential builders' hardware, plumbing, shaving and grooming products, personal care products, small household appliances, specialty pet supplies, lawn and garden and home pest control products, personal insect repellents and auto care products. For more information, visit www.spectrumbrands.com.
BANFIELD PET HOSPITAL
Founded in Portland, Ore., in 1955, Banfield® is the largest general-veterinary practice in the world. In 2007, Banfield joined the Mars, Inc. family of businesses, and today has more than 1,000 hospitals across the United States. More than 3,500 Banfield veterinarians are committed to providing high-quality veterinary care for three million pets annually. Banfield's charitable arm, the Banfield Foundation, was established in 2015 as a 501(c)(3) nonprofit organization dedicated to improving the well-being of pets and communities. In 2017, Banfield Pet Hospital – including the work of the Banfield Foundation – was named among Points of Light's Civic 50 as one of the most community-minded companies in the U.S. Press seeking additional information are invited to visit Banfield.com or call the Media Hotline: (888) 355-0595.
AKC PET INSURANCE
AKC Pet Insurance, administered by PetPartners, Inc., has served as the exclusive pet insurance provider of the American Kennel Club since 2002. Based out of the AKC business offices in Raleigh, NC, AKC Pet Insurance offers affordable, comprehensive pet health insurance to dogs and cats of all ages and breeds in all 50 states. For more information, visit https://www.akcpetinsurance.com or call 866-725-2747.