Dental
Dental is a complete diet for adult cats with dental concerns or a tendency for dental problems. Recommended for (indications):-Daily oral hygiene in adult cats-Limits the development of dental plaque and tartar-Helps fight bad breathNot recommended for (contraindications):-Heart failure-HypertensionFeeding Advice:This diet is recommended for any cat that is prone to developing tartar or after teeth have been scaled. This diet can be fed throughout the cat's life. It is recommended that a veterinarian's opinion be sought before use or before extending the period of use.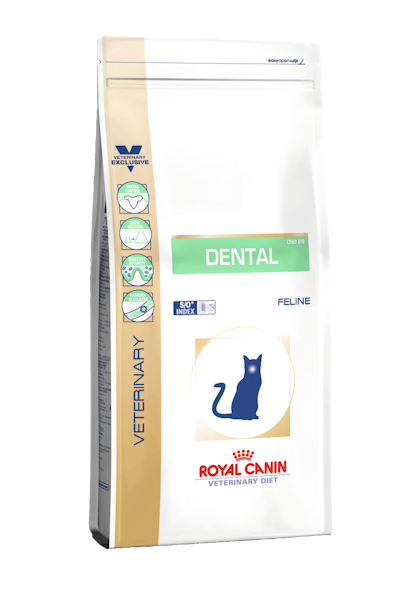 Tartar control

Nutrient that traps the calcium in saliva so reducing tartar deposits.

Urine dilution

Urine dilution makes the urine less liable to form struvite and calcium oxalate stones.

Digestive security

Nutrients which support a balanced digestive system.

Hairball regulator

A combination of fibre to facilitate intestinal transit and the elimination of hairballs in stools.
| Weight of cat | Thin | Thin | Normal | Normal | Overweight | Overweight |
| --- | --- | --- | --- | --- | --- | --- |
| | grams | cups | grams | cups | grams | cups |
| 2 kg | 40 | 4/8 | 33 | 3/8 | - | - |
| 3 kg | 53 | 6/8 | 44 | 5/8 | - | - |
| 4 kg | 65 | 7/8 | 55 | 6/8 | 44 | 5/8 |
| 5 kg | 77 | 1 | 64 | 7/8 | 51 | 5/8 |
| 6 kg | 87 | 1 1/8 | 73 | 1 | 58 | 6/8 |
| 7 kg | 97 | 1 2/8 | 73 | 1 | 65 | 7/8 |
| 8 kg | 107 | 1 3/8 | 89 | 1 1/8 | 71 | 7/8 |
| 9 kg | 116 | 1 4/8 | 97 | 1 2/8 | 78 | 1 |
| 10 kg | 126 | 1 5/8 | 105 | 1 3/8 | 84 | 1 1/8 |