Obesity Management
Complete dietetic feed for cats formulated to reduce excess body weight. Feed this diet until the target body weight is achieved.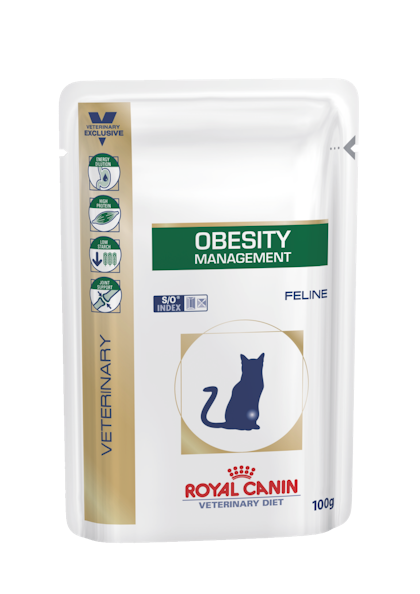 Energy dilution

Low energy density for maintaning the meal volume

High protein

A high protein content (116g/1000kcal ME) helps maintain muscle mass during a weight loss programme

Low starch

Reduced starch level, lower post-prandial hyperglycæmia.

Bone and joint support

Chondroitin sulphate and glucosamine help to maintain normal mobility in the highly stressed joints of obese pets.
Composition: Pig meats, poultry meats, rice flour, egg white dried, cellulose, minerals (including chelated minerals),taurine, gelling agent, Fructo-Oligo-Saccharides (FOS), L-carnitine, hydrolysed crustacean (source of glucosamine), hydrolysed cartilage (source of chondroitin), marigold meal (source of lutein),vitamins. Additives (per kg): Nutritional additives: Vitamin D3: 190 IU, E1 (Iron): 6.4 mg, E2 (Iodine): 0.2 mg, E4 (Copper): 1.7 mg, E5 (Manganese): 2 mg, E6 (Zinc): 20 mg - Technological additives: Pentasodium triphosphate: 2 g, Calcium sulphate: 1.2 g. Analytical constituents: Protein: 7.5% - Fat content: 2% - Crude ash: 1.9% - Crude fibres: 1.5% - Moisture: 84% - Metabolisable energy: 541 kcal/kg.

| Cat's weight | Start | Start | After 4 weeks | After 4 weeks | Maintenance | Maintenance |
| --- | --- | --- | --- | --- | --- | --- |
| | grams | cups | grams | cups | grams | cups |
| 2.5 kg | 160 | 1 + 1/2 | 125 | 1 + 1/4 | 165 | 1 + 3/4 |
| 3 kg | 180 | 1 + 3/4 | 140 | 1 + 1/2 | 190 | 2 |
| 3.5 kg | 200 | 2 | 160 | 1 + 1/2 | 210 | 2 |
| 4 kg | 220 | 2 + 1/4 | 175 | 1 + 3/4 | 235 | 2 + 1/4 |
| 4.5 kg | 240 | 2 + 1/2 | 190 | 2 | 255 | 2 + 1/2 |
| 5 kg | 260 | 2 + 1/2 | 205 | 2 | 275 | 2 + 3/4 |
| 5.5 kg | 275 | 2 + 3/4 | 220 | 2 + 1/4 | 290 | 3 |
| 6 kg | 295 | 3 | 235 | 2 + 1/4 | 310 | 3 |
| 6.5 kg | 310 | 3 | 245 | 2 + 1/2 | 330 | 3 + 1/4 |
| 7 kg | 330 | 3 + 1/4 | 260 | 2 + 1/2 | 345 | 3 + 1/2 |
| 7.5 kg | 345 | 3 + 1/2 | 275 | 2 + 3/4 | 365 | 3 + 3/4 |
| 8 kg | 360 | 3 + 1/2 | 285 | 2 + 3/4 | 380 | 3 + 3/4 |
| 8.5 kg | 375 | 3 + 3/4 | 300 | 3 | 400 | 4 |
| 9 kg | 395 | 4 | 310 | 3 | 415 | 4 + 1/4 |
| 9.5 kg | 410 | 4 | 325 | 3 + 1/4 | 430 | 4 + 1/4 |
| 10 kg | 425 | 4 + 1/4 | 335 | 3 + 1/4 | 445 | 4 + 1/2 |