Satiety Weight Management
Formulated for weight loss in cats, Satiety Weight Management is design to help reduce hunger. Satiety enables your cat to receive a 32% larger portion than your average high-fibre weight loss diet. This is achieved through a combination of high protein and a special blend of fibres.Recommended for (indications):-Obesity-Diabetes mellitus (both normal and overweight cats)-Hyperlipidaemia associated with obesityNot recommended for (contraindications):-Pregnancy, lactation and growth-Chronic disease requiring an increased energy intakeFeeding Advice:Prior to prescribing, individual target weight should be determined. The energy allowance (kcal) per kg target bodyweight is based on the cat's body condition score (BCS) however this is only an initial indication. The amount of food necessary to induce weight loss can varybetween individuals, which is why close monitoring is required to regularly adapt the ration and ensure continued weight loss. It is recommended that a veterinarian's opinion be sought before use or before extending the period of use. Satiety management is a complete dietetic feed for cats formulated to reduce excess body weight. Recommendations: Feed this diet until the target body weight is achieved.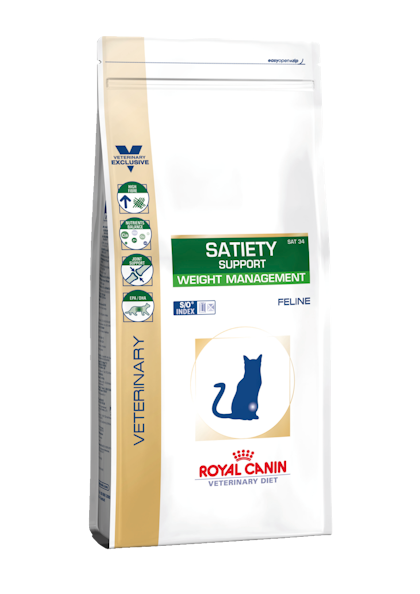 Satietogenic effect

Special blend of fibres that increases the volume of the stomach contents and promotes satiety (reduces the spontaneus consumption of food).

High protein

A high protein content (111g/1000kcal ME) helps maintain muscle mass during a weight loss programme.

Essential fatty acids

Essential fatty acids (Omega 3 and Omega 6) and trace elements (Cu, Zn) support healthy skin and coat.

Nutrients balance

Enriched with nutrients (proteins, minerals and vitamins) to compensate for the effect of energy restriction during a weight loss programme.
Composition: dehydrated poultry protein, vegetable fibres, tapioca, wheat gluten*, maize gluten, wheat flour, hydrolysed animal proteins, animal fats, minerals, chicory pulp, fish oil, psyllium husks and seeds, hydrolysed crustaceans (source of glucosamine), marigold extract (source of lutein), hydrolysed cartilage (source of chondroitin). Additives (per kg): Nutritional additives: Vitamin A: 25200 IU, Vitamin D3: 1000 IU, E1 (Iron): 37 mg, E2 (Iodine): 3.7 mg, E4 (Copper): 4 mg, E5 (Manganese): 48 mg, E6 (Zinc): 143 mg, E8 (Selenium): 0.06 mg - Preservatives - Antioxidants. Analytical constituents: Protein: 34% - Fat content: 9% - Crude ash: 8.8% - Crude fibres: 13.9% - Per kg: Metabolisable energy: 3066 kcal - Omega 6 fatty acids: 18.4 g - Omega 3 fatty acids: 3.9 g. *L.I.P.: protein selected for its very high assimilation. Metabolisable energy: 307.5 kcal.

| Target adult cat weight (kg) | Start | After 4 weeks if the cat did not lose weight | Maintenance |
| --- | --- | --- | --- |
| | grams | grams | grams |
| 2.5 kg | 33 | 26 | 35 |
| 3 kg | 38 | 30 | 40 |
| 3.5 kg | 42 | 33 | 45 |
| 4 kg | 46 | 37 | 49 |
| 4.5 kg | 50 | 40 | 53 |
| 5 kg | 54 | 43 | 57 |
| 5.5 kg | 58 | 46 | 61 |
| 6 kg | 62 | 49 | 65 |
| 6.5 kg | 65 | 52 | 69 |
| 7 kg | 69 | 55 | 73 |
| 7.5 kg | 72 | 57 | 77 |
| 8 kg | 76 | 60 | 80 |
| 8.5 kg | 79 | 63 | 84 |
| 9 kg | 82 | 65 | 87 |
| 9.5 kg | 86 | 68 | 91 |
| 10 kg | 89 | 70 | 94 |