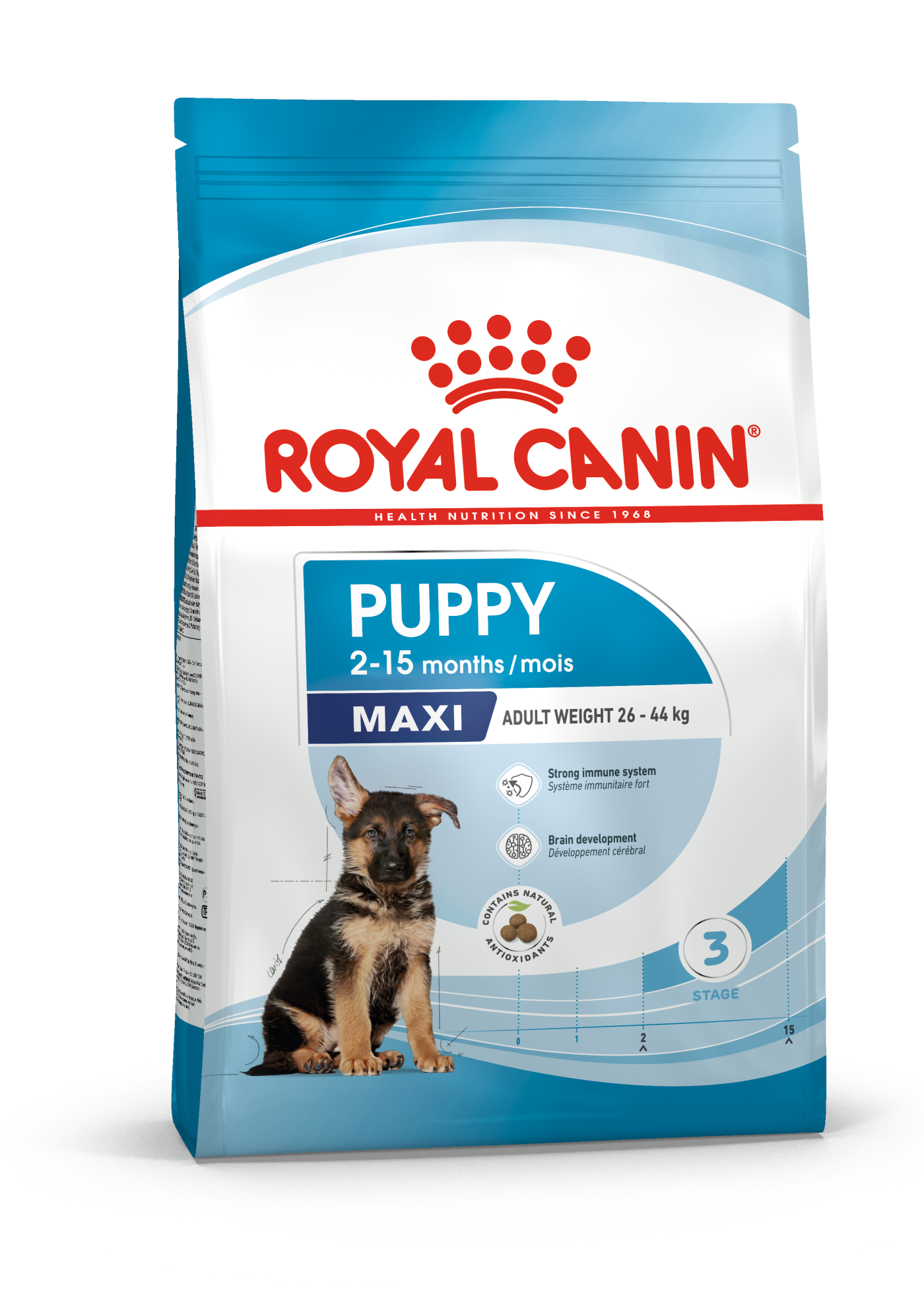 Maxi Puppy
Dry food for Dog
Complete feed for dogs - For large breed puppies (adult weight from 26 to 44 kg) - Up to 15 months old
STRONG IMMUNE SYSTEM
Helps support the development of the puppy's healthy immune system with the inclusion of specific nutrients such as Vitamins E and C.
BRAIN DEVELOPMENT
Enriched with an Omega-3 fatty acid (DHA) to help support the puppy's brain development and help promote learning during early puppy training.
MICROBIOME SUPPORT
Combination of prebiotics (MOS) and highly digestible proteins to help promote a balance of intestinal microbiota for digestive health.
Dehydrated poultry protein, rice, maize flour, wheat gluten*, animal fats, maize, wheat flour, hydrolysed animal proteins, beet pulp, maize gluten, vegetable fibres, minerals, soya oil, fish oil, fructo-oligosaccharides, psyllium husks and seeds, hydrolysed yeast (source of manno-oligosaccharides and betaglucans) (0.29%), algal oil Schizochytrium sp. (source of DHA), Yucca Schidigera juice, marigold meal, glucosamine from fermentation, hydrolysed cartilage (source of chondroitin). * L.I.P.: protein selected for its very high digestibility.
Nutritional additives: Vitamin A: 15500 IU, Vitamin D: 1000 IU, Iron: 39 mg, Iodine: 3.9 mg, Copper: 12 mg, Manganese: 51 mg, Zinc: 132 mg, Selenium: 0.06 mg – Technological additives: Clinoptilolite of sedimentary origin: 10 g – Preservatives – Antioxidants.
ANALYTICAL CONSTITUENTS: Protein: 30.0%, Fat content: 16.0%, Crude ash: 7.6%, Crude fibres: 2.5%, Omega-3 fatty acid (DHA): 0.17%, Vitamin E: 500 mg/kg, Vitamin C: 400 mg/kg. Metabolisable energy: 3812 kcal/kg.
| KIBBLE ONLY | Age (month) | | | | | | | | | | | | | |
| --- | --- | --- | --- | --- | --- | --- | --- | --- | --- | --- | --- | --- | --- | --- |
| Adult target weight | 2 months | 3 | 4 | 5 | 6 | 7 | 8 | 9 | 10 | 11 | 12 | 13 | 14 | 16 |
| 26 kg | 265g | 328g | 356g | 382g | 406g | 404g | 376g | 350g | 320g | 291g | 289g | 287g | 287g | Maxi Adult |
| 28 kg | 270g | 336g | 366g | 399g | 429g | 428g | 398g | 371g | 338g | 308g | 306g | 304g | 303g | Maxi Adult |
| 30 kg | 275g | 345g | 376g | 415g | 451g | 452g | 421g | 392g | 357g | 324g | 322g | 321g | 320g | Maxi Adult |
| 32 kg | 280g | 354g | 386g | 431g | 474g | 474g | 441g | 412g | 376g | 341g | 339g | 337g | 335g | Maxi Adult |
| 34 kg | 285g | 362g | 396g | 448g | 496g | 496g | 462g | 431g | 394g | 358g | 356g | 353g | 351g | Maxi Adult |
| 35 kg | 287g | 366g | 401g | 456g | 507g | 508g | 472g | 441g | 403g | 367g | 364g | 361g | 359g | Maxi Adult |
| 36 kg | 289g | 371g | 406g | 464g | 517g | 518g | 486g | 455g | 423g | 397g | 372g | 369g | 366g | Maxi Adult |
| 38 kg | 294g | 379g | 416g | 480g | 538g | 540g | 506g | 474g | 441g | 414g | 388g | 385g | 381g | Maxi Adult |
| 40 kg | 299g | 388g | 427g | 497g | 560g | 561g | 526g | 493g | 459g | 431g | 404g | 401g | 396g | Maxi Adult |
| 42 kg | 304g | 396g | 437g | 513g | 580g | 582g | 577g | 538g | 503g | 460g | 419g | 416g | 412g | Maxi Adult |
| 44 kg | 308g | 405g | 447g | 529g | 601g | 603g | 598g | 558g | 522g | 477g | 435g | 432g | 428g | Maxi Adult |
| MIX: KIBBLE + WET | Wet | Age (month) | | | | | | | | | | | | | |
| --- | --- | --- | --- | --- | --- | --- | --- | --- | --- | --- | --- | --- | --- | --- | --- |
| Adult target weight | Pouch 140g Puppy Maxi chunks in gravy | 2 months | 3 | 4 | 5 | 6 | 7 | 8 | 9 | 10 | 11 | 12 | 13 | 14 | 16 |
| 26 kg | 1 | 231g | 294g | 321g | 348g | 372g | 370g | 342g | 316g | 286g | 257g | 255g | 253g | 253g | Maxi Adult |
| 28 kg | 1 | 236g | 302g | 332g | 364g | 395g | 394g | 364g | 337g | 304g | 274g | 271g | 270g | 269g | Maxi Adult |
| 30 kg | 1 | 241g | 311g | 342g | 381g | 417g | 418g | 387g | 358g | 323g | 290g | 288g | 287g | 285g | Maxi Adult |
| 32 kg | 1 | 246g | 319g | 352g | 397g | 439g | 440g | 407g | 378g | 341g | 307g | 305g | 303g | 301g | Maxi Adult |
| 34 kg | 1 | 250g | 328g | 362g | 413g | 462g | 462g | 428g | 397g | 360g | 324g | 321g | 319g | 317g | Maxi Adult |
| 35 kg | 1 | 253g | 332g | 367g | 422g | 473g | 473g | 438g | 407g | 369g | 332g | 330g | 327g | 325g | Maxi Adult |
| 36 kg | 1 | 255g | 336g | 372g | 430g | 483g | 484g | 452g | 420g | 389g | 363g | 338g | 335g | 332g | Maxi Adult |
| 38 kg | 1 | 260g | 345g | 382g | 446g | 504g | 505g | 472g | 440g | 407g | 380g | 354g | 351g | 347g | Maxi Adult |
| 40 kg | 1 | 265g | 354g | 392g | 462g | 525g | 527g | 492g | 459g | 425g | 397g | 370g | 367g | 362g | Maxi Adult |
| 42 kg | 1 | 269g | 362g | 403g | 479g | 546g | 548g | 543g | 504g | 469g | 426g | 385g | 382g | 378g | Maxi Adult |
| 44 kg | 1 | 274g | 371g | 413g | 495g | 567g | 569g | 564g | 524g | 488g | 443g | 401g | 398g | 393g | Maxi Adult |
PRODUCT DETAILS
FOR LARGE DOGS, ADULT WEIGHT FROM 26 TO 44 KG, FROM 2 TO 15 MONTHS OLD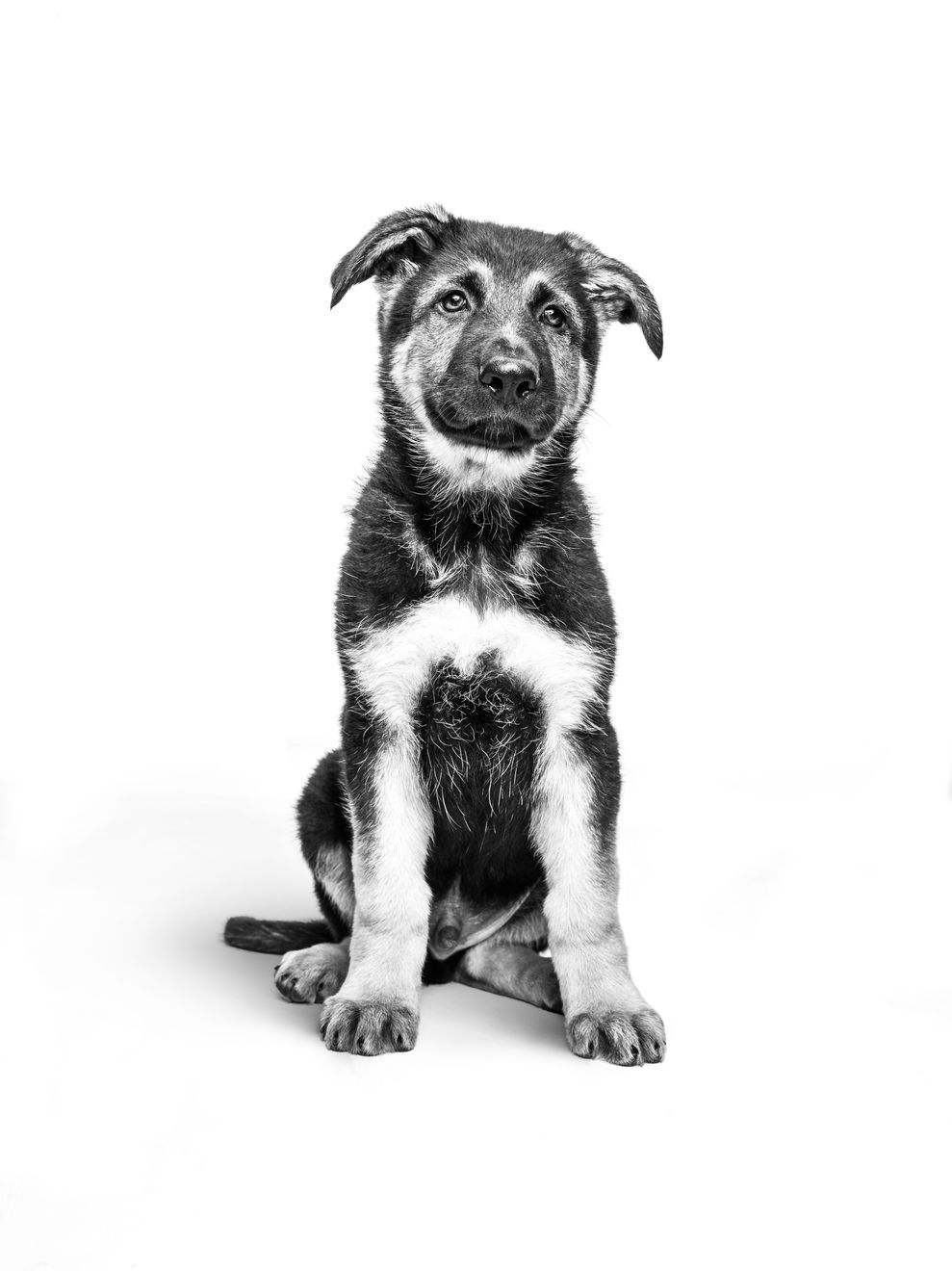 Promoting pet health and wellbeing
Creating value for our entire ecosystem
Committed to become certified carbon neutral by 2025