Neutered Junior Large Dog
Complete feed for dogs - For neutered large breed puppies (adult weight over 25 kg) or with a tendency to gain weight - From neutering up to 15 months old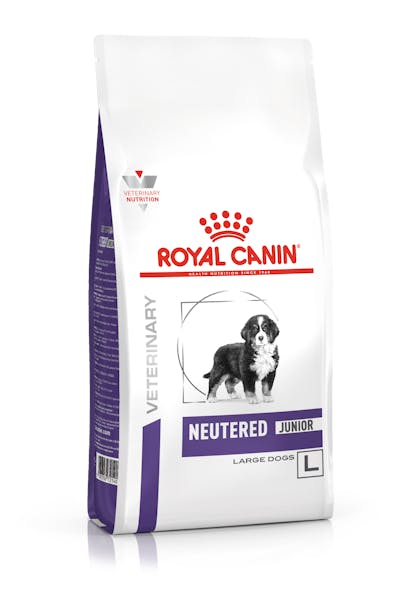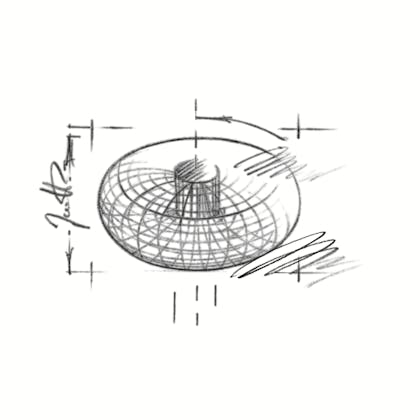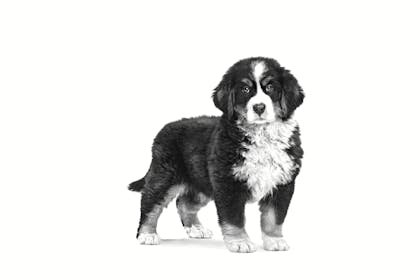 OPTIMAL GROWTH

An adapted energy content, balanced levels of protein and minerals, and the inclusion of appetite-regulating fibres, helps support healthy growth and limits excess weight gain.

NATURAL DEFENCE SUPPORT

A complex of antioxidants (including vitamin E)and prebiotics to help support natural defences during the growth period.

BONE & JOINT SUPPORT

Formulated to help maintain healthy bones and joints.
Working towards a sustainable future
Our belief that pets make our world better inspires and gives life to our purpose of making a better A BETTER WORLD FOR PETS ™
Discover more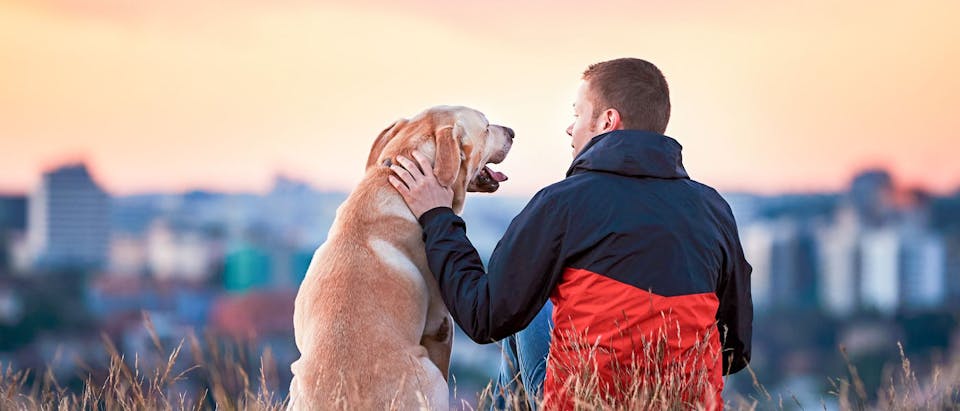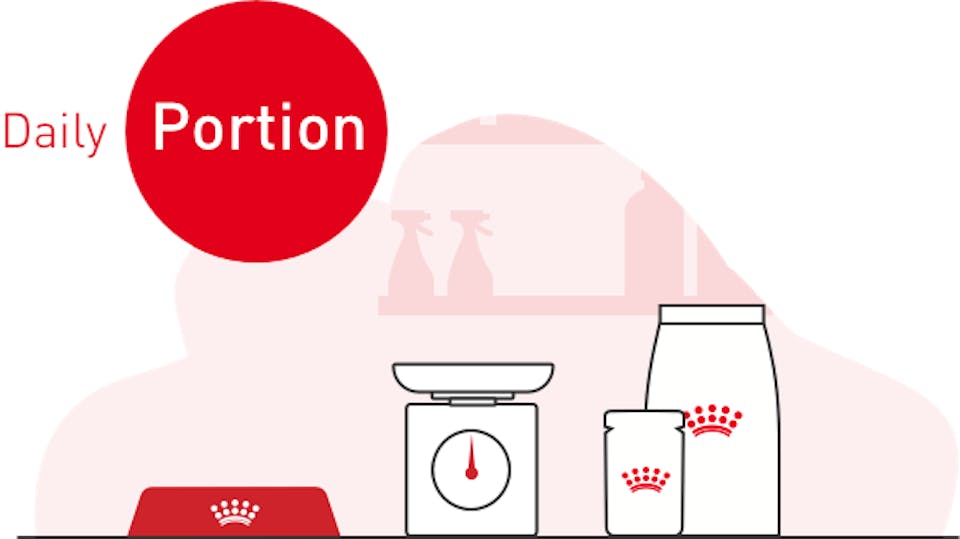 Discover our tool that calculates the daily portion for your pet. Fill in your pet's information and you will get their daily feeding recommendation. In case of weight issues, do not hesitate to consult your vet to adapt this portion. Note that this feeding recommendation is more precise than the feeding table, therefore the values may slightly differ.
Calculate
COMPOSITION : Dehydrated poultry protein, maize, wheat gluten**, wheat flour,barley, rice, animal fats, dehydrated pork protein, hydrolysed animal proteins, beet pulp, minerals, soya oil, vegetable fibres, fish oil,fructo-oligo-saccharides (0.5%), psyllium husks and seeds, yeasts (source of manno-oligo-saccharides and betaglucans), marigold meal, glucosamine from fermentation (0.05%), hydrolysed cartilage(source of chondroitin) (0.0005%).

RECOMMENDATIONS: Follow your veterinarian's nutritional recommendations. Recommended for neutered large breed puppies (adult weight over 25kg) from 6 to 15 months of age, Large breed puppies (adult weight >25kg) with a tendency to gain weight from 6 to 15 months.

| | | | | | ADULT WEIGHT | | | | | | | | | | | | | |
| --- | --- | --- | --- | --- | --- | --- | --- | --- | --- | --- | --- | --- | --- | --- | --- | --- | --- | --- |
| | 26kg | | 30kg | | 35kg | | 40kg | | 45kg | | 50kg | | 60kg | | 70kg | | 80kg | |
| PUPPY'S AGE (months) | grams | cups | grams | cups | grams | cups | grams | cups | grams | cups | grams | cups | grams | cups | grams | cups | grams | cups |
| 6-7 | 420-415 | 5 + 2/8 | 465 | 5 + 6/8-5+7/8 | 520 | 6+4/8 | 575 | 7+2/8 | 630 | 7+7/8 | 680-685 | 8+4/8 | 775-785 | 9+6/8 | 865-875 | 10+6/8-11 | 950-965 | 11+7/8-12+1/8 |
| 8-9 | 385-360 | 4+7/8-4+4/8 | 435-405 | 5+3/8 5 | 485-455 | 6+1/8 5+5/8 | 540-505 | 6+6/8-6+3/8 | 625-585 | 7+7/8-7+2/8 | 680-640 | 8+4/8-8 | 780-735 | 9+6/8-9+2/8 | 880-875 | 11 | 970 | 12+1/8 |
| 10-11 | 330-300 | 4+1/8 3+6/8 | 365-335 | 4+5/8-4+1/8 | 415-375 | 5+1/8 4+6/8 | 470-445 | 5+7/8-5+4/8 | 545-500 | 6+7/8-6+2/8 | 600-555 | 7+4/8 7 | 690-645 | 8+5/8 8 | 825-770 | 10-+3/8 9+5/8 | 930-880 | 11+5/8 11 |
| 12-13 | 295 | 3+6/8 | 330 | 4+1/8 | 375-370 | 4+5/8 | 415-410 | 5+2/8-5+1/8 | 455-450 | 5+6/8-5+5/8 | 525-490 | 6+4/8-6+1/8 | 605-565 | 7+4/8 7 | 720-675 | 9 8+4/8 | 830-785 | 10+3/8 9+7/8 |
| 14-15 | 295 | 3+6/8 | 330 | 4+1/8 | 370 | 4+5/8 | 410 | 5+1/8 | 450 | 5+5/8 | 490-485 | 6+1/8 6 | 560 | 7 | 635-630 | 7+7/8 | 740-700 | 9+2/8 8+6/8 |